Rubicon Reportedly Mulling IPO
Originally published December 6, 2013 at 11:46 a.m., updated December 6, 2013 at 2:12 p.m.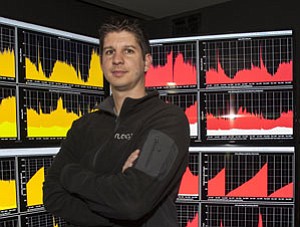 You can add Rubicon Project to the list of L.A. tech firms that could soon go public.
The Playa Vista ad tech firm is looking to debut on the stock market next year and has hired Morgan Stanley and Goldman Sachs to lead the initial public offering, Bloomberg News reported late Thursday.
Chief Executive Frank Addante has been open in the past about his plans to eventually take public the company he co-founded in 2007, though he has recently backed off on talk of an IPO.
A company spokeswoman declined to comment.
Rubicon, which develops technology to automate the buying and selling of online ads, has been growing at a steady clip in recent years. Though the company doesn't disclose annual revenue, Forbes has reported it at $292 million.
Meanwhile, Addante has beefed up his executive team. Rubicon's newly appointed executives – Chief Operating Officer Todd Tappin and President Greg Raifman – both have experience taking companies public. Addante, too, helped take a previous startup, ad server L90, public during the first dot-com boom.

Addante previously told the Business Journal that Rubicon was his chance to finish what he started at L90.

"The start of this company felt like unfinished business," he said. "It felt like L90 was a great success. But we were No. 2 to DoubleClick, so it was bittersweet. For me it was unfinished business. I want to be No. 1, and I think there's a real opportunity to be No. 1."
Few ad tech companies are publicly traded. Many in the industry say they worry about how the industry's complex technology would translate into investor interest.
But the market looks ripe for ad tech IPOs. Rocket Fuel, a Redwood City ad buying platform, had a successful debut on the Nasdaq in September when it began trading at nearly $60 a share.
In general, the tech IPO market appears to be thawing. Last month Bloomberg News reported that Santa Monica car buying site TrueCar was also mulling a public debut. The company has hired Goldman Sachs and JP Morgan & Chase and could file to go public during the first half of the year, according to the report.

For reprint and licensing requests for this article, CLICK HERE.