Towers Power Sky-High Offer
REAL ESTATE: $900 million bid for City National Plaza.
Monday, August 26, 2013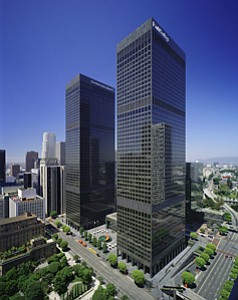 "High-rise office buildings in West L.A. (don't) trade very often, and in Century City, it's even rarer," he said. "The fact that CommonWealth Partners is back in the L.A. office market looking for acquisition opportunities is a positive sign."
CommonWealth, founded in 1995, today owns 15 office properties nationwide, including six in California. The pending purchase of City National Plaza marks a return to the downtown market for the private real estate company, headed by co-managing principals Michael W. Croft and Brett J. Munger.
In 1998, the firm acquired a 25-story office tower at 801 S. Figueroa St. for $87 million, selling it five years later for almost $105 million, according to CoStar Group Inc. The firm bought a second tower – a 52-story high-rise at 777 S. Figueroa – in 2004 for $250 million and sold it a year later for an undisclosed price.
The twin high-rise office buildings at City National Plaza were built in 1972 by New York real estate company Rockefeller Group. Together, they briefly held the distinction of being the tallest buildings in downtown and, as such, attracted droves of law and financial services tenants from buildings on nearby Spring Street. The complex served for a time as the global headquarters of Atlantic Richfield Co.
Acquired by Shuwa Investments Corp. for $650 million in 1986 during the run-up of Japanese investment in U.S. properties, the towers began to fall into disrepair in the '90s as Shuwa ran short of money to cover the debt incurred on the purchase. The buildings began to hemorrhage tenants, who fled for bigger and newer buildings that had risen downtown.
Thomas and CalSTRS acquired the property in 2003 for $270 million and have since invested millions of dollars into cleaning it up and renovating outdated systems.
High rents
Evan Moran, associate director at Newmark Grubb Knight Frank's downtown office, said City National Plaza has some of the highest asking rents of any building downtown, and at about 90 percent, a great occupancy rate.
"City National Plaza is considered probably the best project in downtown L.A. right now," he said. "It's a state-of-the-art building now."
Still, CommonWealth will face challenges if the sale closes. Law firm Paul Hastings LLP, an original tenant whose name is emblazoned on the top of the northern tower, 515 S. Flower, has a long-term lease coming up for renewal in the next several years.
As a tenant in the Paul Hastings Tower, CommonWealth is intimately familiar with the property and nearby amenities. Located midway between the city's government and financial districts, the property remains an attractive home to the attorney-accountant demographic of its past. The plaza's proximity to members-only social clubs Jonathan Club and California Club is another draw, particularly for the kinds of well-heeled tenants who could upgrade the towers' blue-chip roster.
Cassidy Turley's Larsen said he has confidence that CommonWealth could be the kind of landlord to further elevate the property.
"Thomas really turned this property around, but I think CommonWealth Partners will take it to a higher level," he said. "Thomas was probably 90 percent there, now CommonWealth will take it to 110."
For reprint and licensing requests for this article, CLICK HERE.
Prev Next