Towers Power Sky-High Offer
REAL ESTATE: $900 million bid for City National Plaza.
Monday, August 26, 2013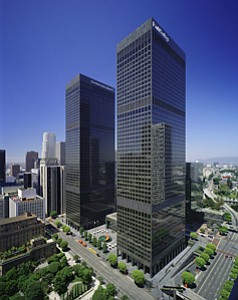 Downtown L.A. real estate investment firm CommonWealth Partners LLC is negotiating to buy City National Plaza, a massive twin-tower office and retail complex in the 500 block of South Flower Street, for more than $900 million, sources with knowledge of the transaction said.
CommonWealth's offer has been accepted by the buildings' owner, Sacramento-based California State Teachers' Retirement System, or CalSTRS. Sources said CommonWealth is in the midst of the due-diligence process, surveying the buildings and their operations, and is slated to close on the purchase by the end of September.
The twin 52-story office towers – known individually as City National Tower and Paul Hastings Tower – along with four levels of underground retail, a three-story window-wrapped "jewel box" structure and thousands of parking spaces, caught investors' attention earlier this month after CalSTRS and longtime investment partner Thomas Properties Group Inc. opted to liquidate a joint venture.
Jonathan Larsen, regional managing principal of real estate brokerage Cassidy Turley Inc., which has its offices at City National Plaza, said he thinks a $900 million price tag – or about $315 a square foot – makes sense for the 2.85 million-square-foot property, especially given the sale last summer of a 26-story office tower at 400 S. Hope St., which sold for about $340 a square foot.
"Between $300 and $325 a foot sounds about right," said Larsen, who was not involved in the transaction, "because $340 a foot was at the top of the mountain, and I just can't see anything else getting that high."
The South Flower property was appraised at approximately $850 million last year, according to one source.
Ricardo Duran, a representative for CalSTRS, declined to comment on the property's sale activity.
CommonWealth, whose offices are in City National Plaza, did not return requests for comment.
The firm's pending purchase of the property comes on the heels of its June acquisition of a 21-story office building at 1888 Century Park East in Century City in a $305 million deal. CommonWealth purchased that building in partnership with the California Public Employees Retirement System, or CalPERS, in a deal brokered by Eastdil Secured LLC. The seller was a limited-liability corporation associated with Blackstone Group of New York.
Michael Soto, research manager in the downtown office of real estate services firm Transwestern, said CommonWealth's Century City purchase was noteworthy, particularly because it indicated the company was eager to re-enter the L.A. real estate market after an eight-year absence.
Prev Next
For reprint and licensing requests for this article, CLICK HERE.