Taxis, Rideshares Both Seek Breaks
TRANSPORTATION: Cabbies fear apps have edge in fare fight.
Monday, August 19, 2013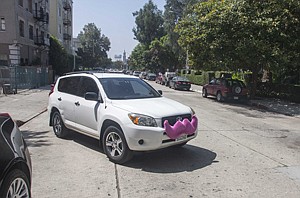 The summer might be winding down, but L.A.'s seasonlong drama between taxicabs and app-based ridesharing services is far from over.
The latest turn comes after proposed new rules from California's Public Utility Commission released last month. The agency, which has jurisdiction over the services offered by Lyft Inc., Uber Inc. and Side.cr, has given the San Francisco companies a provisional green light to drive on L.A.'s streets and beyond.
But as the rule of law nudges toward order, the rules of the road remain chaotic. Executives at L.A. taxi fleets are incensed by what they see as lax regulation of the newcomers and local officials are unclear where the state's jurisdiction ends and where the city's begins. Meanwhile, ridesharing drivers are forced to navigate this uncertainty with caution.
Occasionally, the enmity between taxis and ridesharing gets personal. Some Lyft drivers have chosen to put the company's emblematic "grill-stache" – a furry pink mustache that hooks on a car grill – into less conspicuous placement on the dashboard.
One local driver for Lyft chose to stash his 'stache after an altercation with a taxi driver who thought he was stealing a customer.
Although that Lyft driver, who wished to remain anonymous, chalks up the incident to a miscommunication, the lack of clarity has been troubling.
"There needs to be something so the layman, the business person and law enforcement can see it written so everyone understands the rules and is on the same page," the driver said. "Until then, it feels like hearsay."
The rules by the state agency are in a public comment period and wouldn't be enacted until next year at the earliest. Given the course of events from this year, it seems unlikely the issue will be easily resolved even then.
Tensions began escalating in June when the Los Angeles Department of Transportation issued cease-and-desist letters to the app companies, declaring their services to be bandit taxicab operations. The three offer a similar service that allows a person seeking a ride to use a smartphone app to hook up with a driver using a personal vehicle. The department warned drivers that people caught offering rides were subject to fines and their cars could be impounded.
The cease-and-desist order, however, wasn't enforced and the companies continued to operate in Los Angeles undeterred. None of the app companies reported that their drivers were arrested or fined.
That didn't improve sentiments among L.A. cab drivers, who have staged several protests in the city.
William Rouse, general manager of the L.A. branch of Yellow Cab Co., doubts confrontations involving cab drivers are widespread. But he echoes their anger, and not all of it is directed at the app companies.
"I'm telling our drivers Yellow Cab is here to stay no matter what, "Rouse said. "But we're going to have to take a long, hard look at ourselves and possible modifications to the regulatory structure."
New category
Under the proposed rules from the Public Utility Commission, Lyft, Sidecar and Uber will be filed under the new category of "Transportation Networks Companies."
The businesses will be required to perform background checks on drivers, inspect their vehicles and require more than the minimum liability insurance.
Representatives at all the ridesharing companies have said they take out supplemental insurance on all their drivers, and the proposed ruling by the PUC states that all drivers must have a $1 million insurance policy.
The state's proposed rules are strict on prearranging rides and forbid street hailing. For example, a Side.cr driver cannot pick up a passenger at Los Angeles International Airport without scheduling through the app.
But the prospect of any ridesharing services at the airport riles taxicab operators. Rouse of Yellow Cab said taxi companies in Los Angeles are paying in excess of $3 million a year in fees to the city to operate within the airport.
"Limos also pay their fair share and app companies are paying zero," Rouse said. "We're not willing to accept their presence there."
Representatives for Lyft and Uber have said their companies are operating legally at LAX and will continue to pick up and drop off passengers at the airport.
New tech
Taxi companies were blindsided by the speed that ridesharing won over customers.
"When I saw them coming around I made the mistake of dismissing them," said Steven Juliver, whose experience in the taxi dispatch world led him to found Tucson, Ariz.'s Universal TranWare LLC, which makes e-hailing apps for taxi fleets. "I just couldn't imagine any regulator approving them, even in a new category."
Juliver has watched innovation trickle through an industry that long resisted accepting credit cards.
He views the credit card issue, in particular, as exemplary of taxis' approach to technology. Many fleets have traditionally passed the credit card surcharge directly to the drivers – sometimes for as much as 10 percent – thus the reason few seem happy to accept them.
As a solution, Juliver found that drivers began swiping passengers' cards through a smartphone attachment such as Square, which charges a lower fee. Drivers then pay the fare to the fleet companies in cash out of pocket.
There has been some change. Juliver said Universal TranWare has signed an agreement with an L.A. taxicab company to provide its e-hailing and mobile payment service. He would not specify which one.
L.A. Yellow Cab works with Taxi Magic, an app developed by Ride Charge Inc. in Alexandria, Va.
Even with this late embrace of tech, taxis are fighting an uphill battle. The rideshare apps work nationwide while cab companies are local: Uber works the same in San Francisco as it does in Los Angeles. A regional taxi fleet can't offer that convenience without industrywide coordination.
"A passenger is only going to have one, maybe two e-hailing apps on his phone," Juliver said, "Unless they're local, they're not going to utilize it much, especially if it's not part of a national network."
Competitive edge
Fleets have also used the controversy with ridesharing apps to re-examine regulations.
Executives say many of the contract rules dull their competitive edge. Rouse points to a provision that prevents taxis and limousine services from offering any discounted rides. That runs directly counter to Uber's approach, which doles out coupons and freebies on a regular basis.
"Today Yellow Cab is forbidden from discounting trips or giving away trips," Rouse said. "Isn't that causing us to have to fight this fight with one hand behind our backs?"
It's telling that L.A. Mayor Eric Garcetti touched on that issue publicly. In a statement offering soft support for ridesharing apps, Garcetti mentioned that the industry churn will allow the city to "revisit our existing franchise agreements to adopt similar innovations."
Like much about this controversy, Garcetti's statement has been left open to interpretation. Representatives from the ridesharing apps applauded what they saw as support; taxicab executives argue that wasn't the case. For the mayor's part, his office said his sentiments are short of a full endorsement of Uber and the rest.
In either case, Rouse said he's come to accept the fact that ridesharing isn't going anywhere anytime soon.
"I share the frustration of all my drivers," Rouse said. "This year as president has been quite a challenging one to represent and work in this industry."
For reprint and licensing requests for this article, CLICK HERE.