Taxis, Rideshares Both Seek Breaks
TRANSPORTATION: Cabbies fear apps have edge in fare fight.
Monday, August 19, 2013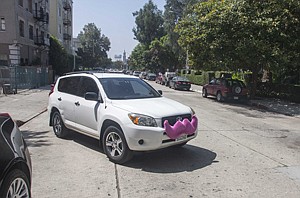 The summer might be winding down, but L.A.'s seasonlong drama between taxicabs and app-based ridesharing services is far from over.
The latest turn comes after proposed new rules from California's Public Utility Commission released last month. The agency, which has jurisdiction over the services offered by Lyft Inc., Uber Inc. and Side.cr, has given the San Francisco companies a provisional green light to drive on L.A.'s streets and beyond.
But as the rule of law nudges toward order, the rules of the road remain chaotic. Executives at L.A. taxi fleets are incensed by what they see as lax regulation of the newcomers and local officials are unclear where the state's jurisdiction ends and where the city's begins. Meanwhile, ridesharing drivers are forced to navigate this uncertainty with caution.
Occasionally, the enmity between taxis and ridesharing gets personal. Some Lyft drivers have chosen to put the company's emblematic "grill-stache" – a furry pink mustache that hooks on a car grill – into less conspicuous placement on the dashboard.
One local driver for Lyft chose to stash his 'stache after an altercation with a taxi driver who thought he was stealing a customer.
Although that Lyft driver, who wished to remain anonymous, chalks up the incident to a miscommunication, the lack of clarity has been troubling.
"There needs to be something so the layman, the business person and law enforcement can see it written so everyone understands the rules and is on the same page," the driver said. "Until then, it feels like hearsay."
The rules by the state agency are in a public comment period and wouldn't be enacted until next year at the earliest. Given the course of events from this year, it seems unlikely the issue will be easily resolved even then.
Tensions began escalating in June when the Los Angeles Department of Transportation issued cease-and-desist letters to the app companies, declaring their services to be bandit taxicab operations. The three offer a similar service that allows a person seeking a ride to use a smartphone app to hook up with a driver using a personal vehicle. The department warned drivers that people caught offering rides were subject to fines and their cars could be impounded.
The cease-and-desist order, however, wasn't enforced and the companies continued to operate in Los Angeles undeterred. None of the app companies reported that their drivers were arrested or fined.
That didn't improve sentiments among L.A. cab drivers, who have staged several protests in the city.
Prev Next
For reprint and licensing requests for this article, CLICK HERE.