Big Score for Borrowers?
ZestFinance's ratings could boost underbanked
Monday, August 12, 2013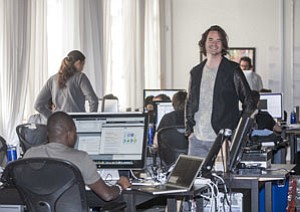 ''The technology behind credit scoring hasn't been updated since the 1950s," Douglas Merrill declared, invoking the image of the banker in a blue suit making decisions from behind a mahogany desk.
He's exaggerating, of course. The modern credit rating developed by Fair Isaac Corp., known popularly as the "FICO score," was developed in the 1980s. And the three companies that dominate the current scene – Equifax Inc., Experian PLC and TransUnion – jointly developed a proprietary rating that was unveiled in 2006.
Still, Merrill, who was once chief information officer at Google Inc. and a driver behind the search giant's fervid data collection, believes most credit scoring is outmoded.
His company, Hollywood's ZestFinance Inc., has developed an alternative model. It uses an algorithm that he said handles data "several orders of magnitude" greater than the other credit rating models. The company a couple of weeks ago announced a $20 million series C funding round, led by PayPal Inc. co-founder Peter Thiel, and brought its total raised to $112 million.
The venture is part of a class of financial tech companies that's using big data and big processing power to reinvent the microloan business.
To optimists in the field, Zest and its brethren have the potential to upend the way underbanked customers are able to access cash, perhaps even convince the average bank to start considering these people as potential customers.
"That will be the crowning glory for our kind of innovation," said Ryan Gilbert, co-founder and chief executive at San Francisco online financial service BillFloat Inc. "I'd love to see a day where large banks say, 'Let's try new models to bring these customers into the cycle of lending.'"
Zest claims that default rates of its approved borrowers are 60 percent lower than the average credit rating agency's.
That kind of accuracy is vital for the company given its target customer: sub-subprime borrowers looking for loans of a few hundred dollars and whose credit files range from thin to nonexistent.
The market is big, however. A report from the Center for Financial Services Innovation put the revenue from interest and fees from underbanked customers, including payday loan borrowers, at $78 billion in 2011. Refining the credit-scoring process would allow more established banks to start servicing those customers – and tap into a little of that $78 billion.
But Arjan Schütte, a managing partner at Core Innovation Capital, a venture capital firm focused on financial tech startups catering to the underbanked, remains unconvinced mainstream lenders will get onboard. Even with improved technology, a big bank's aversion to risk always gets in the way.
For reprint and licensing requests for this article, CLICK HERE.
Prev Next