What Kind of Game Are They Playing?
Riot scores athlete visas to field top names for 'e-sports' tourney.
Monday, August 5, 2013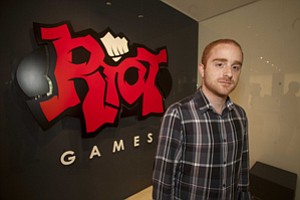 Video gaming is a sport and the people who play are athletes.
Disagree? Take it up with the U.S. government.
Riot Games Inc., a fast-growing Santa Monica game maker, was recently approved by the State Department to arrange special athlete visas for professional foreign players of its PC game "League of Legends."
So the same provision that allows Cuban-born Yasiel Puig to play for the Dodgers can now import gamers to compete in an American tournament league – weekly events that have almost singlehandedly taken the genre of "e-sports" into the mainstream.
For Riot, the Feds' stamp of approval was a major victory and the result of a highly engaged and calculated campaign to establish gaming beyond the margins of a niche hobby.
"This was a watershed moment for e-sports," said Dustin Beck, who heads Riot's newly minted e-sports department. "It's existed for a while but we've always been the red-headed stepchild in sports. This was big."
Real-time-strategy game "League of Legends," which pits teams of five against each other in a battle royale where the object is to destroy the opponent's base (or "Nexus"), might be abstruse for an outsider.
But the 12 million people around the world who play the game every day are a substantial, and growing, group of insiders, eager to establish the country's newest sport and what they see as a coming economic powerhouse.
Consider: Last year, the world championships for "League of Legends" were held at USC's Galen Center. This October, it will take place at Staples Center.
And the thousands of people of who are likely to sell out the arena are only a fraction of the worldwide audience. While Riot executives are loath to predict the numbers, more than one expert puts 18 million as a conservative estimate of how many people will stream the event. The overwhelming majority will be men in the coveted 18-24 demographic, which bests many other sports' audiences and has lured major sponsors.
Right now there are 40 professional "League of Legends" players in North America and Europe, with most making comfortable five-figure salaries in sponsorships and winnings. Riot does not have an ownership stake in any of the teams, but provides players a small stipend. The top franchises generate millions of dollars in sponsorship revenue on their own and members often live together in rented mansions, where they practice 10 to 12 hours a day.
The Kobe Bryant of "League of Legends," Andy Dinh (online handle: Reginald), earns $64,000 a year, according to esportsearnings.com.
The phenomenon is hardly new in other countries. In South Korea, competitive gaming has long surpassed other sports to be the country's true national pastime. Top players there are rock star popular with adoring mobs and lucrative sponsorship deals.
Koreans' love of competitive gaming emerged in the late '90s with seminal strategy-combat game "StarCraft," published by Irvine's Blizzard Entertainment Inc. Though Americans are arriving later to the scene, the newest generation of gamers could have the country fast catching up.
"Traditional sports are culturally ingrained with people when they grow up," said Jason Xu, co-founder of Battlefy, a Vancouver, Canada, startup that builds gaming communities. "This generation of kids is culturally ingrained to know what first-person shooters are. To them, 'StarCraft' and 'League of Legends' are more relevant than football."
Major 'League'
"League's" rise to becoming the most played computer game in the world has been fast.
Riot was formed in 2006 by Brandon Beck (Dustin's brother) and Marc Merrill, two friends from USC.
Released in 2009, "League" entered an already mature landscape of competitive gaming where "StarCraft" and "Defense of the Ancients," also known as "Dota," were the titles of choice.
Riot's game, with its comparatively simple game play and early stigma as a "Dota" knockoff, caused many in the community to overlook it.
"When the 'League' first launched it wasn't a massive out-of-box success," said Sundance DiGiovanni, co-founder of Major League Gaming, a gaming-specific broadcaster in New York. "What Riot did was iterate the game's development to keep it fresh and really take ownership over its community."
Riot has remained committed to "League of Legend's" free-to-play model, where downloading and playing the game costs nothing. All of Riot's revenue from "League" is from in-game purchases – largely cosmetic additions such as character skins. No purchases can improve a player's skill; that would be "pay to win," which is treif in a gaming community that fancies itself a meritocracy.
Riot executives did not disclose the company's revenue, but have reported in the past that the company has been profitable for the past two years.
In 2011, Tencent Holdings Ltd., a Chinese conglomerate with a collection of media and Internet properties, paid $400 million for a majority stake in Riot. Dustin Beck describes the Chinese firm as a silent partner that is uninvolved in the firm's day-to-day decisions.
Riot's growth as a company rides atop the massive success of its only product. The company has 1,000 employees worldwide, with 800 of them bursting the seams of the Colorado Center in Santa Monica. There are plans of moving as early as next year into a massive Playa Vista complex, which would feature a full studio for the weekly Championship Series tournaments.
The Championship Series is modeled closely after professional sports. The season is 22 weeks long, split by an all-star break (and even has a trading deadline). Beck said Riot has plans to build up an amateur and semiprofessional circuit.
While the gaming industry has struggled in the last few years, Battlefy's Xu sees Riot's success as the result of its close and abiding relationship to its fans.
The effort to get special visas was spurred by a Canadian player, Danny Le, of Team Coast.
"They built loyalty and that's rarely seen in the market," Xu said. "After that, it's like a snowball effect."
False starts
This isn't the first time the mainstream has started to take notice of gaming's plugged-in subculture. Major League Gaming once had a deal with ESPN through its streaming site ESPN360.com to live stream video-game tournaments; it has since lapsed. El Segundo's DirecTV, in a joint venture with News Corp., created the Champion Gaming Series sports league in 2007. But high costs and underwhelming ratings forced the league to fold in 2008.
Major League Gaming's DiGiovanni said early attempts to broadcast gaming didn't embrace the requirements of TV.
"It was very early in the lifecycle of monetizing these kinds of videos," DiGiovanni said. "Nowadays when we stream an event, we have commercial blocks like a traditional sports broadcaster."
Finding the right way to make money on the spectacle of gaming has been a balancing act for Riot.
Beck said the company is fiercely protective of its brand. It has avoided the siren call of Hollywood studios to quickly turn the property into a film.
Riot has also been open about rejecting certain advertisers it deems a poor fit for its young audience. When Daimler AG came calling for Mercedes-Benz spots, Riot gave them a pass.
"Our players aren't driving Mercedes-Benz; it just wouldn't make sense," Beck said. "We like to think of ourselves as 'The Masters,' which only features the right advertiser for its audience."
Riot has also taken full ownership over the broadcasts. "League of Legends" tournaments are wholly owned and streamed through partnerships with YouTube LLC and Twitch. Given that the audience is already online, the company has no plans to branch out into a TV deal.
Although more and more companies are lining up to advertise during Riot's broadcasts, Beck said its rates per one-thousand impressions still lags behind television.
That could be attributed in part to the sluggish growth of online video advertising. Beck argued that "League" broadcasts are an outlier in the video-streaming world; the average watcher of a YouTube video spends about seven minutes in front of the screen; tournament watchers are doing 10 times that.
The Staples Center event is a huge expense for Riot, one executives said will likely lose money for the company.
But looking at e-sports strictly as a revenue source misses the point. For Riot, e-sports, in way that seems to run directly counter to everything in professional sports leagues, is not about the money.
"Even when it does make us money we're just going to be reinvesting it back into e-sports," Beck said. "We're not just doing this for revenue. We're doing this to give our fans an awesome experience."
For reprint and licensing requests for this article, CLICK HERE.