Latino Channels' Accent on English
TV: Mun2, NuvoTV craft content with eye on younger viewers.
Monday, August 5, 2013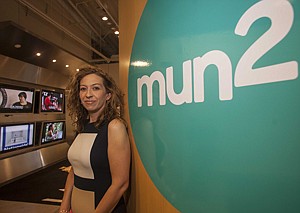 Latino broadcasters see a big opportunity in cable TV, where they're increasingly targeting a younger set of viewers and filling up channels with reality shows focused on music stars – often in English.
It's a departure from the Spanish-language telenovelas and perky morning shows that drive ratings for broadcast networks Univision and NBCUniversal's Telemundo.
This month, Telemundo's Universal City bilingual Mun2 cable channel will bring back two of its reality series for a second season: "Larrymania," which follows the life of Mexican-American musician Larry Hernandez, and "Dub Latino," which focuses on celebrity car customization.
The channel is also hoping it can edge out competition from NuvoTV in Glendale, which relaunched last month with a slate of original English-language programming after raising $40 million last year and bringing in Jennifer Lopez as a creative executive.
Diana Mogollon, general manager at Mun2, said the competition will only draw more attention from advertisers to Latino cable TV.
"The more folks that are in the space, the more it validates its importance for Madison Avenue," she said. "It's important for each of us to succeed, and we know there are others coming as well."
The channel scored its first breakout hit in 2011 with reality show "I Love Jenni," about the late singer Jenni Rivera. The show, which centered on the singer's work and family life in Encino, became the brand-defining program for the channel, she said.
But Mun2, pronounced mun-DOS, is at a turning point; Rivera died late last year in a plane crash. The final season of the show is still on the air; the April season premiere drew 366,000 viewers. Mogollon said the channel is considering spinoffs with Rivera's family. And "Larrymania" could continue that tradition: It was the channel's highest-rated series in its first season.
Mun2, which reaches about 38 million households, averaged 96,000 primetime viewers in the first quarter, according to ratings firm Nielsen. The channel is most commonly available as part of a Latino bundle in premium cable packages.
Those viewership numbers are tiny compared with the millions of people that tune in to broadcast behemoth Univision, which commands the largest share of Latino TV ad dollars. But Mun2 is banking on its fast growth – viewership was up 24 percent in prime time last year – and youthful viewers 18 to 34 to woo advertisers.
Breaking out
Latino cable channels are increasingly factoring into media buying plans as advertisers look for ways to reach more targeted audiences, said Garth Tiedje, a vice president at Horizon Media in New York who handles ad buying for brands such as Corona beer, Little Caesars pizza and promotions for Mun2 in other media.
Last year, roughly 10 percent of the $74 billion spent on TV advertising last year went to Latino outlets. And in the first quarter of this year, spending on Latino TV increased 14 percent over the year earlier period, according to research firm Kantar Media in New York.
"It is underrepresented, but it's growing at a much higher percentage than the general market," Tiedje said.
Telemundo launched Mun2 in 2001 and moved the channel to Los Angeles in 2005 from Telemundo's headquarters near Miami to take advantage of NBCUniversal's resources and Hollywood talent.
The channel featured music videos in heavy rotation in the early years. Those are still in the mix, but Mogollon is confident that reality TV, and specifically shows centered on musical celebrities such as Rivera and Hernandez, are sticking with viewers. Mun2 also carries content from Telemundo, including sports and telenovelas.
Next year, it plans to launch at least three new reality series, including one centering on two Latina real estate agents in Los Angeles. It also has plans for scripted shows.
Many of the current programs, such as "Dub Latino," use both English and Spanish and subtitles, depending on the preferred language of stars and guests.
Meanwhile, NuvoTV unveiled shows last month that target a similar Latino millennial audience. It relaunched July 18 with a special that featured Lopez. That night it rolled out four specials, as well as a new series, "House of Joy," a reality series about music producer Rodney "Darkchild" Jerkins and his wife, singer Joy Enriquez. It was the channel's most watched series premiere to date.
A main difference: NuvoTV is entirely English language.
"Most Latinos were born in this country and they're watching English-language programming," said NuvoTV Chief Executive Michael Schwimmer. "But there has been a huge void in culturally relevant content. This is a vastly underserved market."
On Oct. 28, Univision will roll out a joint-venture English-language news channel with Walt Disney Co.'s ABC News called Fusion.
Univision also owns cable property Galavisión, based in Miami, which carries Spanish-language comedy programming, news and telenovelas. The channel averaged 166,000 viewers during primetime in the first quarter. It is also investing in the launch of movie director Robert Rodriguez's English-language channel, El Rey, next year.
Schwimmer said he's confident the channels can all coexist.
But he said they have to increase their distribution to more cable systems, which pay channels a monthly fee per subscriber. NuvoTV reaches 32 million homes, Mun2 has distribution to about 38 million and Galavisión reaches about 68 million.
Mun2 is launching a campaign that will feature ads on buses, billboards and print media to promote the new season of "Larrymania." It's also launching a campaign based on a character who teaches people how to pronounce the channel's name.
Hanna Bolte, vice president of media and talent relations at Mun2, said that was the result of getting feedback from its young viewers, in their teens and twenties.
"It's their channel and not their parents' channel," she said.
For reprint and licensing requests for this article, CLICK HERE.