Banks Break Out Their Checkbooks To Buy Up Rivals
Monday, August 5, 2013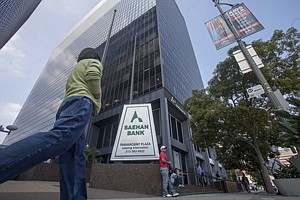 Bank earnings are up, bank stocks are soaring and local lenders are increasingly looking to buy – or sell.
The past few weeks have seen a flurry of merger and acquisition announcements from Los Angeles County banks, a sign that executives are ready to make deals and that a long-expected wave of consolidation among smaller banks has started to build.
Last month alone, four local deals were announced or closed, including a blockbuster that will combine two of the county's top 10 banks: Century City's PacWest Bancorp and downtown L.A. lender CapitalSource Inc.
John Ahn, president of Westwood brokerage and investment bank B. Riley & Co., said the deals show banks have put the recession behind them.
"That 2008-2009 period wasn't that long ago," Ahn said. "Banks were dealing with regulatory and liquidity problems. Now, guys are out of their penalty boxes and focusing on running their businesses rather than on putting out fires."
Figures from B. Riley and research firm SNL Financial of Charlottesville, Va., show 10 California bank acquisitions announced this year through July, nearly matching the 13 deals announced in all of last year. The value of this year's deals, boosted by the $2.3 billion PacWest-CapitalSource deal, far exceeds the value of deals announced in the previous three years combined.
Driving the deals, analysts said, is a realization by some banks that they are too small to compete in the long term coupled with improving balance sheets at larger banks, which have made buyers willing to pay more.
Though prices for banks are still well below prerecession levels, they have increased steadily over the past year. Rick Levenson, chief executive of San Diego investment bank Western Financial Corp., said more deals will likely be announced in the coming months as sellers are increasingly tempted.
"It has been a slow creep upward, but prices are getting to a level that's enticing to sellers," said Levenson, whose firm specializes in advising community banks. "I suspect we'll see more transactions come out. There's a lot of conversations and a lot of interest."
All those transactions are just the latest step in a remarkable evolution within the local banking scene, which once supported more than 200 banks. Over the past few decades, mergers, acquisitions and failures have shrunk that number to just 69 as of March 31.
If all the recently announced deals close by the end of the year, just 65 banks will remain in the county – the same number of banks based here in 1953.
Size matters
For years, analysts have been predicting a wave of bank mergers in response to the financial crisis and the new regulations developed in its wake. The idea is that it will be easier for big banks to absorb the added costs of regulations.
Steven Sugarman, chief executive of Irvine bank holding company Banc of California, which last month closed its acquisition of Century City lender Private Bank of California, said regulations require more specialized personnel to oversee loan origination and other basic bank functions.
To justify those additional hires, Sugarman said a bank has to be making enough loans to cover its costs.
"Once you staff the business appropriately, then the minimum number of loans you need in that business goes up," he said. "It becomes very hard to be in a specific type of asset class if you can't get to a certain scale."
Meanwhile, demand for loans is still low as economic growth remains slow, making it more difficult for smaller banks to reach that scale on their own and pushing executives to sell.
That was likely the case at Koreatown's Saehan Bank, which announced last month that it would be acquired by larger competitor Wilshire Bancorp Inc. The bank's assets and loan portfolio had both shrunk over the past few years.
Executives at Saehan did not return calls for comment for this article.
Despite its shrinking business, Saehan investors got a good price. The $106 million dollar cash-and-stock deal amounts to about 170 percent of Saehan's book value, according to B. Riley and SNL. Over the past year, the average California bank deal has been valued at 134 percent of book value.
Saehan was Wilshire's second recently announced purchase, following a June announcement that it would buy a small Korean-American bank in New Jersey. The acquisitions mark a return to the bank's prerecession strategy of snatching up smaller lenders in the crowded Korean-American banking market.
Alex Ko, Wilshire's chief financial officer, said the bank's balance sheet is now healthy enough to come back to the market.
It's competing for growth, both in Los Angeles and other markets, with Koreatown's BBCN Bancorp, the nation's largest Korean-American bank. BBCN earlier this year closed its acquisition of Seattle's Pacific International Bank and in April announced plans to purchase Chicago-area lender Foster Bank Shares Inc.
Unlike Saehan, Fairfax District lender Gilmore Bank had slowly grown its loan portfolio over the past few years. But it was still one of the county's smallest banks and leaders there likely saw limited potential for bigger growth. Gilmore announced last month that it would be acquired by downtown L.A. bank holding company Grandpoint Capital Inc., which has bought or merged with 10 banks since 2010.
Robert Albertson, a principal at New York bank consulting firm Sandler O'Neill Partners LP, which advised Gilmore, said executives at many small banks have realized it is time to cash out.
"What I see is board exhaustion on the part of some sellers," he said. "They're realizing they can't keep going without getting much larger. We've been in a period where they didn't find much motivation to sell, but now they're tired of waiting."
Loan focus
The biggest recent deal is PacWest's planned purchase of CapitalSource, which will create a massive institution with assets of $15 billion. Locally, only City National Bank, East West Bank and OneWest Bank will be bigger.
The deal is unlike other recent transactions. Wilshire, BBCN and Grandpoint all bought much smaller banks; CapitalSource and PacWest are both big players. Analysts say the deal illustrates another recent trend in bank acquisitions: a focus on loans rather than deposits.
Before the recession, banks had little problem finding homebuyers or businesses who wanted to borrow money, so finding deposits to fund those loans was their focus. Today, things are reversed: Banks have more deposits than they know what to do with and are struggling to write enough loans to keep up, said Ken Siegman, a director in the banking practice at Seattle consultancy West Monroe Partners.
"It's all about quality assets," he said. "They're looking for loans, looking for markets where they're weak."
In that sense, the PacWest-CapitalSource deal helps both banks. CapitalSource was licensed as an industrial bank, meaning it can't offer checking accounts and as a result pays higher rates for its deposits than a typical bank. But it has a solid book of business loans, including a specialized business of lending to doctors, dentists and other health care providers.
Those are mostly new business lines for PacWest. But PacWest also has a large branch network and access to low-cost deposits, meaning it can now fund CapitalSource's loans with cheap deposits.
Julianna Balicka, who follows PacWest for San Francisco brokerage and consulting firm Keefe Bruyette & Woods Inc., said the deal creates a powerful combination.
"You combine low deposit costs with the high-yield loans of CapitalSource and you get a combined margin that is going to outperform either company standalone," she said.
For reprint and licensing requests for this article, CLICK HERE.