Moving Seats Shake Up Mexican Film Exhibition
CINEMA: MediaMation signs deal for chairs with Cinemex theater chain.
Monday, April 29, 2013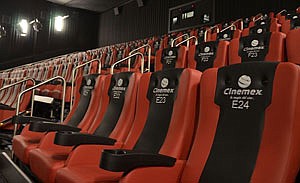 MediaMation has sold its "4-D" technology to theme parks and other attractions for more than two decades. Now, the Torrance company's moving seats and other sensory stimuli are making their way into movie theaters.
MediaMation, which sells blocks of seats that mimic onscreen action by vibrating or moving back and forth, announced its first cinema deal, with Mexico City-based Cinemex – one of Mexico's largest exhibitors. MediaMation will outfit one Cinemex theater each month this year with its technology.
It has already completed two installations in the Mexico City area this year.
Tracy Balsz, who handles marketing for MediaMation, said it was a big deal for the company and she expects more theaters to follow suit.
"Exhibitors know it's real and it's not going away," she said.
MediaMation has previously sold its technology to clients including LegoLand theme parks and the San Diego Air and Space Museum. The company collects an upfront fee for its installations and also makes money through maintenance fees and fees from studios for programming movies to trigger the seat movement and other effects.
The company's in-theater offerings also include mist, strobes, fog and even odor. The idea is to give moviegoers a reason to leave their homes in favor of a more immersive – and costly – viewing experience.
Theater patrons in Mexico City, where a ticket costs around $10, pay a premium of $8 for a 4-D ticket.
It might seem like a steep price to pay, but theaters must charge extra to cover the cost of the pricey installations, which run about $250,000 for a block of 100 seats. Balsz said some of Cinemex's theaters undergoing conversions seat more than 250 people.
The 4-D fad hasn't hit the United States, though a few theaters have installed technology from MediaMation's competitors.
The experience has made inroads overseas, especially in Mexico and South Korea. One reason might be the comparative dearth of theme park attractions in those countries compared with what is available here.
After the Cinemex deal, MediaMation programmed movies for the Mexican screens including Warner Bros.' "Jack the Giant Slayer" and Paramount Pictures' "Hansel and Gretel: Witch Hunters" so that the chairs would react to the films.
Vibing
SpinMedia of Hollywood added another storied music magazine to its arsenal last week when it purchased Vibe.
The deal gives SpinMedia ownership of the print product as well as associated digital sites, including Vibe.com. The properties cover hip-hop music, fashion and other aspects of urban culture.
When SpinMedia – then called Buzzmedia – purchased Spin magazine last year, it shut down publication of the print magazine in favor of a digital approach.
SpinMedia Chief Executive Steve Hansen said there will be layoffs at Vibe, for example in the circulation department. New ownership will also do an analysis to identify other costs that can be cut. Still, no final decision has been made about ceasing print publication.
"The print dimension for a property like Spin or Vibe has its place," he said. "You have to figure out the right construct."
The purchase of Vibe is a return to SpinMedia's growth-by-acquisition strategy. The company has purchased a variety of music sites over the years, including electronic-focused XLR8R. SpinMedia also owns pop culture-focused blogs including Celebuzz and operates 46 websites in total.
The company has been transforming in recent months. Its former chief executive, Tyler Goldman, took the position of executive chairman. In February, the company laid off about 50 of its 250 staffers and rebranded in March.
Hansen said the focus is back on growth and the company has begun to hire again.
SpinMedia is also looking to move into a larger space, he added. It occupies about 22,000 square feet on Sunset Boulevard, where it has offices and video production studios. Hansen said he is shopping around Los Angeles for a new corporate headquarters running about 30,000 square feet.
Going South
RealD Inc. announced last week that it has opened an office in Rio de Janeiro to capitalize on the growth of the Latin American moviegoing market.
The Beverly Hills 3-D technology firm already has regional offices in Russia, China and other countries, but this is its first Latin American outpost.
RealD said the Brazil market in particular has proved its appetite for 3-D content. Of the country's $839 million in box office revenue last year, some $250 million came from admission to 3-D films.
Staff reporter Jonathan Polakoff can be reached at jpolakoff@labusinessjournal.com or (323) 549-5225, ext. 226.
For reprint and licensing requests for this article, CLICK HERE.