Food Trucks Running Risk
INSURANCE: Operators moving faster than coverage.
Monday, April 29, 2013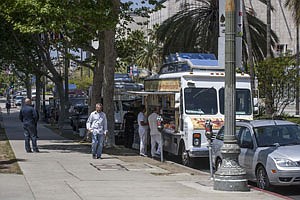 Victor Vargas last spring came across a flier advertising food truck insurance plastered to the windshield of his taco truck. He called the number on the flier and soon had $90,000 in coverage on the truck – higher than average due to a costly new stainless steel kitchen he installed.
It was a prudent purchase: A few weeks later an electrical fire totaled the truck.
But instead of paying off the full $90,000, his insurance company only offered him $47,000, setting off a legal dispute. The problem, Vargas' attorneys argue, is that Progressive Corp., his insurer, was treating his food truck more like a regular car, in which the insurance payouts typically equal only the depreciated value of the vehicle. Vargas expected the full $90,000 to get him back in business.
"It wasn't actually that different from most automobile policies, but it was marketed to be different," said Howard Shernoff, who is representing Vargas in a lawsuit against the insurer.
Progressive, which declined comment on the case, is fighting the allegations in court, but Vargas' case illustrates the lack of standardization in an insurance market struggling to keep pace with the booming food truck business.
Food trucks can range in value from $25,000 for a bare-bones model to $250,000 for a mobile kitchen tricked out inside and out. Insurance companies, too, offer widely different policies, some specifically tailored to the needs of food truck owners, others as reconfigured small-business or auto policies. Many truck owners are unaware of how to navigate what coverage is available or needed.
"It's an industry in its infancy I'm not sure the insurance companies have kept up with," said Jerry Prendergast, a Culver City restaurant consultant. "Things are constantly changing."
Indeed, insurance underwriters and their agents are more aggressively selling policies to the growing food truck industry, drawn to newer and more expensive gourmet trucks that can command higher premiums.
Several agencies specializing in food truck insurance have cropped up in Los Angeles, and some out-of-town agencies make trips here to secure clients. They paper food truck lots with fliers and use the same social networking tactics that have been so successful in the marketing of the trucks themselves.
Gaining traction
Tichard Gomez, who handles leasing at L.A. food truck company AA Cater Truck Inc., said calls from insurance companies and agents picked up last year.
"Food trucks are getting a lot more visibility and becoming nationwide and different insurance companies are trying to tap that market," he said.
Prev Next
For reprint and licensing requests for this article, CLICK HERE.