Food Trucks Running Risk
INSURANCE: Operators moving faster than coverage.
Monday, April 29, 2013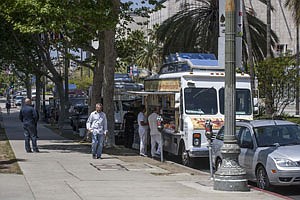 Victor Vargas last spring came across a flier advertising food truck insurance plastered to the windshield of his taco truck. He called the number on the flier and soon had $90,000 in coverage on the truck – higher than average due to a costly new stainless steel kitchen he installed.
It was a prudent purchase: A few weeks later an electrical fire totaled the truck.
But instead of paying off the full $90,000, his insurance company only offered him $47,000, setting off a legal dispute. The problem, Vargas' attorneys argue, is that Progressive Corp., his insurer, was treating his food truck more like a regular car, in which the insurance payouts typically equal only the depreciated value of the vehicle. Vargas expected the full $90,000 to get him back in business.
"It wasn't actually that different from most automobile policies, but it was marketed to be different," said Howard Shernoff, who is representing Vargas in a lawsuit against the insurer.
Progressive, which declined comment on the case, is fighting the allegations in court, but Vargas' case illustrates the lack of standardization in an insurance market struggling to keep pace with the booming food truck business.
Food trucks can range in value from $25,000 for a bare-bones model to $250,000 for a mobile kitchen tricked out inside and out. Insurance companies, too, offer widely different policies, some specifically tailored to the needs of food truck owners, others as reconfigured small-business or auto policies. Many truck owners are unaware of how to navigate what coverage is available or needed.
"It's an industry in its infancy I'm not sure the insurance companies have kept up with," said Jerry Prendergast, a Culver City restaurant consultant. "Things are constantly changing."
Indeed, insurance underwriters and their agents are more aggressively selling policies to the growing food truck industry, drawn to newer and more expensive gourmet trucks that can command higher premiums.
Several agencies specializing in food truck insurance have cropped up in Los Angeles, and some out-of-town agencies make trips here to secure clients. They paper food truck lots with fliers and use the same social networking tactics that have been so successful in the marketing of the trucks themselves.
Gaining traction
Tichard Gomez, who handles leasing at L.A. food truck company AA Cater Truck Inc., said calls from insurance companies and agents picked up last year.
"Food trucks are getting a lot more visibility and becoming nationwide and different insurance companies are trying to tap that market," he said.
Though food trucks are commonly perceived as a shortcut around the costs of running a brick-and-mortar restaurant, their insurance costs tend to add up quickly.
Trucks are required by law to have auto insurance. On top of that, many truck owners buy general liability coverage that can be used to cover other problems, such as customers getting sick from food poisoning or food allergies. There is also property insurance to cover equipment as well as workers compensation.
Truck owners can pay between $100 and $400 a month. Rates can vary based on an owner's driving record, business experience and volume of business.
A few hundred dollars a month might not sound like a lot, but it can add up for many trucks that are lucky to break even during the fall and winter when business slows down, said Ash Ube, chef at the No. 1 Currywurst Truck of Los Angeles.
Some food truck leasing companies, such as AA, require that clients buy their own insurance, while others buy the policy themselves and include it in the cost of the lease.
Food truck insurance usually is higher than for fixed-location restaurants. While a standard restaurant can expect to pay premiums equal to 1 percent to 1.5 percent of sales, a food truck can pay between 2 percent and 3 percent, said Greg Kniss, a partner at Pasadena's Krost Baumgarten Kniss & Guerrero, an accounting firm for both restaurants and food trucks.
"Even then, it should probably be a little higher," he said. "It's such a unique business model that many of them are underinsured."
Changing market, problems
The growing opportunity has attracted insurance agents and underwriters. Cal-Society Insurance Services Inc., a Koreatown insurance brokerage, has been selling insurance to mobile food vendors for many years, but has ramped up marketing recently and now counts gourmet food truck owners as about half of its mobile vending clients.
"The excitement has changed the industry, and the risks they face," said Olu Adesuyan, Cal-Society's chief executive. His company sells insurance from a range of providers, with Progressive the most popular underwriter.
Denny Christner started a food truck insurance agency, Insure My Food Truck, in Alameda in 2010. He only focuses on gourmet food trucks because the trucks tend to be more expensive and to drive around less than taco trucks or catering trucks. He makes two trips to Los Angeles a year to recruit potential clients, and has about 20 clients in the L.A. area.
He said he worked with Hanover Insurance Group Inc. and AmTrust Financial Services Inc. to craft policies specific to food trucks, including coverage for theft or fire regardless of location, which not all policies offer.
"The (insurance) carriers don't really understand the business too much," he said. "And the food truck owners don't know what they don't know. A lot of them don't understand they're going to need general liability, going to need higher auto limits, going to need coverage for (kitchen) gear always in motion."
Indeed, some policies sold to food truck owners aren't as tailored.
Some Allstate Corp. agents, for instance, have been marketing and selling policies to food truck owners in the L.A. area. But Allstate doesn't have a specific plan for food truck owners – the policies are general small-business insurance policies that have been repackaged, and not all food truck owners can qualify for them, according to a company spokesman.
But in a case such as Vargas', critics say insurance companies are taking advantage of the confusion.
Chris Grivakes, attorney at Century City's Affeld Grivakes Zucker LLP who reviewed Vargas' case for the Business Journal, said it appeared Progressive was charging higher premiums based on a stated amount of coverage, but paying out a lower amount in the case of the loss.
"I know it's marketed as this specialty program for food trucks," he said, "but it's a form of coverage that's almost illusory in my opinion."
Cal-Society, which sold Vargas' policy, said that it rarely gets complaints about Progressive from truck owners.
As for Vargas, he was able to get an offer for the full amount of $90,000 after he filed a lawsuit, but is still fighting in court over the larger issue of what he claims is deceptive business practices. He doesn't know if he'll start another food truck business.
"I liked the food business and I wanted to start my own," he said. "But I'm not sure yet."
For reprint and licensing requests for this article, CLICK HERE.