Bread Maker Doesn't Loaf On Nostalgia
La Brea Bakery giving away hometown trip in grilled-cheese contest.
Monday, April 22, 2013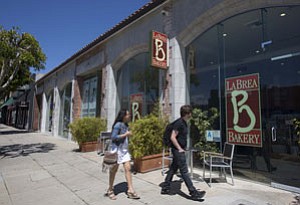 If the memory of grilled cheese has you daydreaming about home, La Brea Bakery Inc. wants to help you make that a reality.
The bakery is running a contest in honor of this month's National Grilled Cheese Month (yes, apparently, that's a real thing) that will send one winner on an all-expenses paid trip to his or her hometown with the makings for a grilled cheese-themed reunion.
The contest, which is running until the end of the month, requires customers to log on to the bakery's website and submit a picture and story of their favorite grilled-cheese memory, with some other vital information.
"Grilled cheese is just one of those few foods that's associated with memories, people and places that are powerful and often remind you of a simpler time when you were young and more carefree," said Jaclyn Park, director of marketing at the bakery.
Next month, La Brea will chose one winner who will receive a round-trip plane ticket to his or her hometown in the United States, two nights at a local hotel, a rental car, a $200 Visa card for incidentals and a kit for making grilled cheese, including an apron, spatula, and coupons for bread and cheese. The winner will also receive a camera to document the experience and send photos back to the bakery.
Ten runners-up will receive the goods to make a grilled cheese and a sandwich press.

Jerry Prendergast, founder of Culver City restaurant consultancy Prendergast & Associates, said the contest is a clever and inexpensive way for the bakery to promote itself and its bread.
"It totally is a cute, kitschy idea," he said. "It's probably a good promotion: It doesn't cost them a whole lot and it gets people thinking about Mother's Day, grilled cheese and La Brea bread to use."
– Jacquelyn Ryan
For reprint and licensing requests for this article, CLICK HERE.