Bonds Break At Brokerage
INVESTMENT: Vets exit TCW as Carlyle takes over.
Monday, April 15, 2013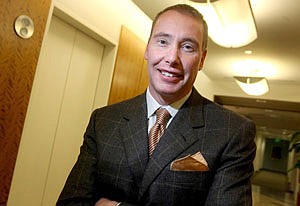 Downtown L.A. investment manager TCW was once a stable, even stodgy firm. Things have changed.
And it's not just because of the Jeffrey Gundlach debacle, which started in 2009 when he was fired and launched a rival, DoubleLine.
To be sure, that's still a lingering issue. But today, new owners reportedly have to cut costs to pay down debt, which could lead to layoffs. Meanwhile, incoming executives have moved into power positions while long-timers have stepped down.
Departures just within the past few weeks include Mark Gibello, an executive vice president, and Peter Viles, formerly TCW's head of corporate communications and now chief of employee communications at Farmers Insurance Group.
Late last month, three equity analysts and a stock trader left and joined fellow TCW alumni Husam Nazer and Brendt Stallings at DoubleLine Equity LP, a Gundlach stock mutual fund manager founded this year. Nazer, Stallings and their team represent the biggest chunk of TCW employees to join up with Gundlach since about 40 left the firm shortly after his firing in December 2009.
Sources familiar with TCW say newly promoted executives from Metropolitan West Asset Management, which was acquired by TCW in 2010, could be playing a role in driving away managers and other employees, along with cost-cutting under new ownership.
A spokeswoman for TCW declined to comment and the firm's new owner, Carlyle Group LP in Washington, did not return calls.
When Carlyle acquired TCW from French bank Societe Generale SA in February, it did so with a $355 million loan that TCW must now repay. TCW is now looking for ways to come up with that money.
Reuters reported in December that the firm plans to cut $14.6 million from its annual budget by paring down headcount and executive compensation. The news service based its report on documents TCW submitted to several banks as it was trying to secure financing for the Carlyle takeover.
Geoffrey Bobroff, president of mutual fund consultancy Bobroff Consulting Inc. in East Greenwich, R.I., said cuts make sense in the wake of the Carlyle acquisition and TCW's new debt load. He cautioned, though, that too much cutting could undermine TCW's ability to grow its business and attract more assets.
"Their first focus is to have enough earnings to cover the cost of carrying and then reducing leverage," Bobroff said. "But in asset management, you also need assets to grow the business. If all your attention is on paying for and reducing leverage, you will miss opportunities to grow."
Indeed, in a December report, Standard & Poor's Financial Services LLC rated the firm's $355 million loan as just below investment grade and said TCW needs to increase its assets under management.
Office politics
Before the latest wave of departures, a handful of executives left or announced plans to leave in the weeks leading up to the Carlyle acquisition.
Reuters reported in December that three employees were planning to leave: Michael Conn, managing director of corporate strategy; Michael Cahill, general counsel; and Erlend Bø, managing director and national sales manager.
Bø left TCW in December and is "looking for opportunities," according to his LinkedIn profile. Conn's profile indicates he is still with TCW. Cahill, replaced as general counsel in January, will stay with the firm through the middle of this year, according to a firm press release.
By the end of last year, TCW had about 500 employees, down from about 700 in 2010. Over the same span, reports indicate that management ranks have been thinned to about 150, down from 175.

Michael Rosen, chief investment officer of Santa Monica advisory firm Angeles Investment Advisors, said so many departures aren't the norm for TCW, which was once known for stability.
"Prior to the Gundlach episode, there wasn't a lot of leaving TCW," Rosen said. "If you look at the history, there hasn't been as much turnover as there has been recently."
TCW fired Gundlach, then the firm's chief investment officer and star bond manager, in December 2009. Investors pulled billions out of TCW and the firm's assets under management fell to $84 billion from $115 billion. TCW has since grown its assets to $138 billion, most of which is invested in bonds and other fixed-income securities.
The firm later sued Gundlach for stealing trade secrets. He sued back, founded his own firm and drew dozens of TCW employees to him. The suits were settled in 2011.
Former TCW insiders say the turnover has increased as executives from Metropolitan West, a fixed-income investment firm acquired by TCW in the wake of Gundlach's departure, have increased their influence at the firm.
MetWest's David Lippman took over as TCW chief executive in August. Lippman and MetWest co-founder Laird Landmann both joined TCW's board.
Marc Stern, former CEO of TCW, is now the only director not affiliated with Carlyle or MetWest.
TCW's current head of human relations came from MetWest, and its new general counsel advised MetWest when it was being acquired by TCW.
One former TCW vice president, who spoke on condition of anonymity, said his former colleagues have told him that employees who were at TCW before the MetWest acquisition feel threatened.
"The TCW legacy people are scared to death," the former vice president said. "The MetWest guys lined up Carlyle, so now that the acquisition is closed, they have a freer hand."
That could mean a continued, slow exodus from TCW.
"Key manager departures will unsettle clients," Bobroff said.
For reprint and licensing requests for this article, CLICK HERE.