Video Links
YouTube channels team up to score bigger ad rates
Monday, April 1, 2013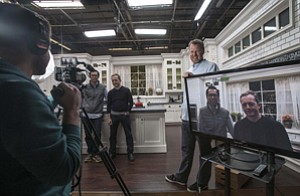 Another YouTube network has emerged fresh from the oven of L.A.'s online video industry – this one dedicated to food.
Tastemade, launched last month and founded by three longtime executives from Santa Monica's Demand Media, is developing a brand of foodcentric videos that feature a bite-size style endemic to the Web.
One clip on the channel is a wordless step-by-step video that shows in tightly framed, deftly edited shots how to brew apple cider. It lasts barely a minute but has racked up more than 800,000 views.
The channel is the latest entrant to a category known as "multichannel networks," a group that bundles different Web series to help them scale. It's a category that has come to dominate the young YouTube economy, which is increasingly centered on the Westside and Hollywood.
In short order, Tastemade has already achieved a measure of success. It launched with $5.3 million in venture capital funding, led by Redpoint Ventures of Menlo Park, and has brought more than 60,000 subscribers to the channel.
"History is repeating itself, just like cable 30 years ago when some amazing brands were built," said Steven Kydd, who co-founded Tastemade with Joe Perez and Larry Fitzgibbon. He spoke from one of the four cooking sets on network's soundstage, built inside a Santa Monica warehouse that once served as a set for MTV. "We think we can build a category-defining brand for all things culinary in the digital space."
Tastemade's launch comes amid an investment frenzy in multichannel networks. A month earlier, Hollywood's StyleHaul, with an emphasis on fashion, closed a $6.5 million funding round. Those moves arrived after a banner 2012 investment year, when Maker Studios and Machinima each secured eight-figure deals from Time Warner Inc. and Google Inc., respectively.
There are variances in the business models of multichannel networks, but generally the pitch they make to individual Web series is to band together with a large group to drive up viewers and command better ad rates.
For Tastemade, that means that aside from the series it commissions, the company also has a network of 100 affiliated cooking shows it does not produce. A series that signs with Tastemade as part of its network is given a chance to film on one of their cooking sets, cross-promote with other series and, theoretically, make more money.
Aligning with a multichannel network has become something of a necessity for most YouTube-based Web series.
"A production company could create content all day long, but when it comes to distribution they need a network," said Sam Rogoway, who's worked in the online video content industry for years and currently heads Santa Monica app maker Touchframe. "Without that network, it becomes tricky for channels to market themselves."
Many types
Not all multichannel networks are alike.
Some, such as Tastemade and Maker Studios, are similar to a TV studio. They fund and produce shows, some of which are filmed on company-owned sets and edited in-house.
Even though an established name such as Maker can claim millions of subscribers on its company-branded YouTube channel, that metric isn't the focus for all the multichannel networks.
Fullscreen, which has offices in the Culver Studios lot, bills itself as the network with the greatest reach. According to Web analytics firm Comscore, Web series affiliated with Fullscreen were watched 31 million times in December, making it the multichannel network with the most views. Having a widely viewed network can theoretically make the videos more appealing to advertisers and thereby command higher ad rates.
Meanwhile, the official Fullscreen YouTube channel has only 16,000 subscribers and the network has no plans to change its strategy.
"I'm not convinced the world cares about a Fullscreen channel," said co-founder George Strompolos. "We wanted to focus on building a powerful network and I think we've done that."
StyleHaul markets itself as the network with close ties to the fashion industry. One of its channels, LeafTV, joined the network last year and has since inked sponsorship deals with clothing makers Gap Inc. and Ann Taylor.
Geri Hirsch and Erin Falconer, LeafTV's co-founders, began the channel purely as a passion project. Prior to affiliating with StyleHaul, they tried to generate venture capital interest, but investors balked at the idea of funding such a small outfit.
"It wasn't clear to them how we could generate a $100 million business, which is what venture money generally looks for," Hirsch said. "StyleHaul understood what we were doing and given our previous venture capital experience, that really crystalized what a great relationship it is with the network."
There are also differing attitudes on how wide a net a multichannel network should cast when selecting channels. Maker and Fullscreen have taken a broad approach to the channels they're taking on, while StyleHaul and Tastemade remain focused on their specific topics.
"Instead of being spread across different verticals, we wanted to be able to say, 'Here's what a great video of food is,'" said Tastemade co-founder Fitzgibbon. "Going across different categories gets to be harder."
Ad sales
When it comes to announcements of big investments and impressive view counts, the multichannel networks like Tastemade are showing they have plenty of sizzle. But in terms of actual profits, it's still undecided whether they have much steak.
As the channels continue to build their affiliated networks and viewership, the problem of sluggish growth of ad rates has become more apparent.
Google places ads on the videos through the AdSense network and takes a reported 45 percent commission for each spot it sells. The multichannel networks then split the remaining revenue with content creators, with the lion's share generally going to the creators.
For every 1,000 views a video gets, a typical ad might pay $5, so a video that gets 1 million views would bring $5,000. That still pales in comparison to some of the top rated TV shows, for which rates can start at $30 for every 1,000 views.
Google has assured the networks that rates would rise once the advertising demand met the video supply. It's an important point to the multichannel networks, which have enticed channels to become affiliated by offering higher payout rates than they'd get through AdSense.
But that has yet to happen and some networks have suffered. Last year, Machinima reportedly let go of some of its channels because it was unable to meet the ad rate payouts promised in its contracts.
The prevailing sentiment among the optimists in the industry is to focus more on the industry's potential. Strompolos of Fullscreen, like the founders at Tastemade, is viewing this era through the same lens as the dawn of cable. It was an entirely new business model for the TV industry and one that took years to finally pay off.
"Cable television wasn't a viable business model until early '90s; it took one to two decades until Viacom was born for it to work out," Strompolos said. "We think we are rebuilding what Viacom would look like if it was started today."
For reprint and licensing requests for this article, CLICK HERE.