Chicken?
Fake-meat maker hopes consumers brave product
Monday, September 24, 2012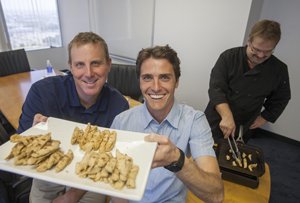 Ethan Brown and his company, Savage River Inc., are trying to turn fake chicken into real money. The company makes plant-based "chicken-free strips" that reviewers say taste like the real thing. As a result, Savage River has scored flocks of investors and promising sales.
The El Segundo company sells the strips under the brand name Beyond Meat. Whole Foods Market Inc. uses them in its prepared meals sold in stores in Northern California and the Pacific Northwest. Whole Foods this month brought them to the Mountain States.
Next month, the grocery chain plans to introduce the product at L.A. stores, with national distribution soon to follow.
Earlier this year, Beyond Meat shifted its headquarters from Brown's home state of Maryland to the South Bay. The move brings the company to the West Coast, which he sees as the country's biggest market for progressive eaters – and the investors who understand them.
Price is a stumbling block for Beyond Meat. Brent Taylor, the company's vice president of product development, acknowledged that the strips are more expensive than real chicken, although he said the price is roughly the same as Whole Foods' all-natural chicken, which locally was going for $2.79 a pound.
Beyond Meat, which employs 31, half of them in El Segundo, recently opened up a larger production facility in Columbia, Mo. Taylor hopes that once Beyond Meat scales up, the strips will be on level pricing with nonorganic chicken.
Beyond Meat's fake chicken isn't packaged for direct sales to consumers, but company reps said that should come early next year.
The strips' selling point is a realness in the fake chicken's texture; it's designed to replicate the fleshy, fibrous meatiness of the real McCoy. Brown said that sensation is one that makers of other fake meat products overlook.
"It breaks and tears the same way that real chicken does," he said, while pulling apart one of Beyond Meat's fake chicken strips. "The fibers in the meat are what really get people."
Earlier this year, New York Times food writer Mark Bittman took a blind taste test and couldn't tell the difference between real chicken and Beyond Meat's strips.
Bittman featured the product in an opinion article titled "Chicken Without Guilt." The product also has received glowing coverage from National Public Radio, Slate.com and ABC News.
Beyond Meat plans to sell products that slice further into the meat industry, including a mock beef crumble and other plant-based foods.
Prev Next
For reprint and licensing requests for this article, CLICK HERE.