Chicken?
Fake-meat maker hopes consumers brave product
Monday, September 24, 2012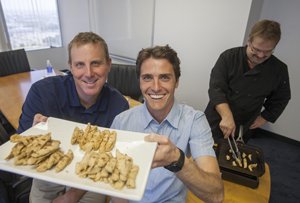 Ethan Brown and his company, Savage River Inc., are trying to turn fake chicken into real money. The company makes plant-based "chicken-free strips" that reviewers say taste like the real thing. As a result, Savage River has scored flocks of investors and promising sales.
The El Segundo company sells the strips under the brand name Beyond Meat. Whole Foods Market Inc. uses them in its prepared meals sold in stores in Northern California and the Pacific Northwest. Whole Foods this month brought them to the Mountain States.
Next month, the grocery chain plans to introduce the product at L.A. stores, with national distribution soon to follow.
Earlier this year, Beyond Meat shifted its headquarters from Brown's home state of Maryland to the South Bay. The move brings the company to the West Coast, which he sees as the country's biggest market for progressive eaters – and the investors who understand them.
Price is a stumbling block for Beyond Meat. Brent Taylor, the company's vice president of product development, acknowledged that the strips are more expensive than real chicken, although he said the price is roughly the same as Whole Foods' all-natural chicken, which locally was going for $2.79 a pound.
Beyond Meat, which employs 31, half of them in El Segundo, recently opened up a larger production facility in Columbia, Mo. Taylor hopes that once Beyond Meat scales up, the strips will be on level pricing with nonorganic chicken.
Beyond Meat's fake chicken isn't packaged for direct sales to consumers, but company reps said that should come early next year.
The strips' selling point is a realness in the fake chicken's texture; it's designed to replicate the fleshy, fibrous meatiness of the real McCoy. Brown said that sensation is one that makers of other fake meat products overlook.
"It breaks and tears the same way that real chicken does," he said, while pulling apart one of Beyond Meat's fake chicken strips. "The fibers in the meat are what really get people."
Earlier this year, New York Times food writer Mark Bittman took a blind taste test and couldn't tell the difference between real chicken and Beyond Meat's strips.
Bittman featured the product in an opinion article titled "Chicken Without Guilt." The product also has received glowing coverage from National Public Radio, Slate.com and ABC News.
Beyond Meat plans to sell products that slice further into the meat industry, including a mock beef crumble and other plant-based foods.
Brown said one of the goals for alternative meat companies is to offer a protein that is healthy for humans, humane to animals and without the environmental problems of industrial meat production.
The imitation meat category, which includes products such as soy-based Tofurkey and fungus-derived Quorn, has grown at about 5 percent each year recently, according to research firm Mintel Group Ltd. in London. Fake meats currently ring up $340 million in annual sales. But that's paltry compared with poultry's $45 billion in sales in 2010.
Taylor said the company's target market is more than vegetarians. Rather, it's a group he calls "flexitarians" – essentially vegetarians who occasionally partake in the pleasures of animal flesh.
In addition, he said, there are many other potential buyers who eat meat and might enjoy an occasional meal of Beyond Meat's products.
According to a study by Vegetarian Resource Group in Baltimore, 99 million Americans regularly eat meat but have at least one meatless dinner per week. Taylor sees that group as ideal customers who might like to add meat substitutes to their menus because they like the flavor and texture.
Glynn Tonsor, an economist at Kansas State University who studies the meat industry, doesn't expect imitation meat to make a sizable dent in real meat sales anytime soon. Even as Americans become increasingly concerned about the health and environmental impact of eating meat, they're running up against deeply held traditions.
"It's naïve to think one thing will cease meat consumption," Tonsor said.
Brown said he isn't looking to revolutionize people's diets, just to offer protein alternatives that don't carry meat's environmental and ethical baggage.
Ground up
Brown's path to fake meat came from his background in alternative energy. While working on a low-emission fuel cell he realized that food production, specifically in the meat industry, was an industry ripe for environmental reform. Brown, a longtime vegan, decided to explore plant-based meat facsimiles, which led him in 2009 to a fake chicken product developed by food scientists at the University of Missouri that he then licensed.
It involves ingredients including protein powders derived from soy and peas as well as vegetable fibers and some flavorings that mimic chicken taste. These ingredients are mixed with water to form a paste that is heated, pressurized and finally extruded to create a "chicken strip." The idea is to make a product that has the thick and chewy mouth feel of a cooked chicken breast.
"Most meat comes from animals that eat plants and turn that protein into muscle," Brown explains. "We're just mimicking what a chicken's digestive system already does."
Charlie Shoemaker, a food scientist at UC Davis, said imitating a food's texture is a clever tactic that tricks the mind by targeting our sensory eating process. The act of recognizing a food's texture is largely subconscious, he explained, but it plays a huge role in the experience of eating.
"Having a customer feel confident in a food's texture can make all the difference," Shoemaker said.
Brown initially sold the strips in his home state of Maryland and a few restaurants nationwide, but quickly decided to scale up.
Future tech
Beyond Meat got big investments from Menlo Park venture capital firm Kleiner Perkins Caufield & Byers and Obvious Corp., an incubator backed by Biz Stone and Evan Williams, co-founders of Twitter Inc.
Those investments came amid growing interest the tech industry has in meat alternatives. Peter Thiel, the former chief at PayPal Inc. and early investor in Facebook, recently gave $350,000 to a company working to create lab-grown meat using 3-D printers. In addition, Microsoft Corp. Chairman Bill Gates has predicted that the future of all meats will be plant or lab based.
So far, Beyond Meat claims sales have been brisk, but declined to provide specifics. Matthew Mestemacher, Northern California coordinator of prepared foods for Whole Foods, told the Business Journal demand for Beyond Meat's strips "shot out of the gates like a missile."
He said stores have recently quadrupled orders and made it the dominant vegan meat in the prepared foods department.
Meat consumption in the United States has declined recently; the average American will eat 165 pounds of meat this year, a 12 percent decline from 2007. Kansas State's Tonsor said people eat less meat because of the recession and because prices rose. Beyond Meat believes that if the cost of its products could ever undercut real meat, consumers seeking a meaty meal might go for fake chicken.
But Brown said he doesn't see Beyond Meat as a fierce competitor to the meat industry; it's just another option for consumers. Even laying claim to a small part of 300 million Americans diets can yield big results.
"Americans will eat 81 pounds of chicken this year," he said. "If we can just be one pound of that, it's a pretty big deal."
For reprint and licensing requests for this article, CLICK HERE.