Mixed Plate
Applebee's, IHOP chains run hot, cold for parent
Monday, September 10, 2012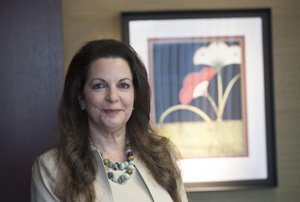 On the wall in her corner office at DineEquity Inc., Chief Executive Julia Stewart proudly displays an artist's rendering of a lotus.
She said the vibrant flower, which thrives in mud and muck, represents the Glendale restaurant company's journey through the recession since two major restaurant chains – IHOP and Applebee's Neighborhood Grill & Bar – came together in 2007.
In the last five years, the company did what some analysts had thought impossible in a recession. DineEquity boosted Applebee's sales, paid off a big chunk of the acquisition debt and sold most of the chain's company-owned restaurants to franchisees.
But while Applebee's successfully bloomed in the muck of the recession, lately it's IHOP that has become a growing concern.
IHOP, which had served as the model for the company's approach to Applebee's, has reported negative same-restaurant sales for all but two quarters in the past three years. Last month, Jean Birch, president of the IHOP brand for the past three years, left the company.
Stewart said the company recognizes there's a problem with the brand and is working now to solve it. But she said the flip-flop of the two brands' performance didn't result from neglecting IHOP in favor of Applebee's.
"I think it's less about taking the eye off the ball and more about we should have all been more, 'Hey guys, getting nervous; Not seeing the kind of consistent growth we need,' and pushing harder," she said.
Even as IHOP struggles, both chains remain leaders in their respective categories for systemwide sales. IHOP, considered a family dining restaurant because of its low check averages and focus on breakfast, competes with restaurants such as Denny's Corp. in Spartanburg, S.C., and Cracker Barrel Old Country Store Inc. in Lebanon, Tenn.
Applebee's, considered a casual dining restaurant because of its moderate check averages and focus on dinner with alcohol, competes with restaurants such as Chili's Grill & Bar in Dallas and TGI Friday's Inc. in Carrollton, Texas.
Analysts said the two DineEquity chains have performed loosely in line with sales trends in each specific restaurant category. But while IHOP sales for years floated above the family dining trend line, sales at the pancake house in the last year began lagging below average.
Darren Tristano, executive vice president at Chicago market research firm Technomic Inc., said sales at IHOP have fallen more than at Applebee's in part because of differences in customers' spending power.
"The curve for family-style restaurants is a little flat but downward," he said. "It's been more of a steady decline, because of the implications of gas prices and unemployment on the lower and middle class, who are the traditional customers of IHOP."
Plus, the 54-year-old pancake house is facing sharper competition as breakfast is offered by more chains. What's more, for brands as old as IHOP and Applebee's, it's a constant challenge to attract new customers.
Conrad Lyon, an analyst at the Santa Monica offices of investment bank B. Riley & Co., said simple branding and marketing strategies aren't enough to draw new diners to the aging chains. They'll come because the food is cheap.
"Both brands have been around a long, long time," he said. "Quite honestly, if there's anything that's coming out of these brands that's going to make people want to come more than ever, I would tell you it's got more to do with the low-priced category rather than the brand."
Prerecession
When Stewart first joined IHOP as chief executive in 2001, she decided to keep 11 restaurants in Cincinnati as company owned but sell off all others to franchisees. The strategy meant the company could spend more time and money fine-tuning menus and marketing strategies, and less time managing the day-to-day operations. The work paid off and the company ultimately was able to reinvigorate the then-struggling IHOP brand.
By the time of the Applebee's acquisition that formed DineEquity in 2007, sales had been declining at Applebee's for years. IHOP, on the other hand, was thriving.
Stewart decided she would adopt the same strategy at Applebee's as she had at IHOP. Of the chain's 2,000 or so restaurants, about 500 were company owned. She wanted to sell all but the 23 that are in Kansas City, Mo., where Applebee's was headquartered. Today, DineEquity owns 160 Applebee's restaurants nationwide, but expects three franchise transactions to close by the end of the year, leaving the company with only 23 restaurants.
When she proposed buying Applebee's, she knew the chain would require a lot of attention.
"They hadn't had positive comp sales for some time, so when we bought them, we knew that they needed to be re-energized," she said.
Shortly after the company announced the acquisition, DineEquity stock began to drop, slowly but surely. When the first signs of the recession began to show, the stock plummeted. By the height of the financial crisis, DineEquity stock hit a low of $5.44.
Stewart said that while investors seemed to have lost faith in the company, she never did; hence, the lotus.
"I didn't spend a lot of time worrying about things we couldn't control," she said. "I couldn't control the financial market; I couldn't control the macroeconomics; I didn't know what the gas prices were going to be; I didn't know what (President) Obama was going to do next. All I knew was that we had this clear strategy that I knew would work because we'd done it before with IHOP and we would do it again."
The company updated menus, developed new advertising and began remoding restaurants. By the end of the year, the company expects to have remodeled 50 percent of the chain's sites. It also took advantage of the recession's lower interest rates to refinance debt, paying off $800 million of the $2.1 billion financing for the acquisition.
Because Applebee's restaurants had gone more than 10 years without a complete remodel, each franchisee had to spend more than $200,000 per restaurant in the latest round of remodeling.
IHOP restaurants have undergone two remodels in the last 10 years and are due for another soon. DineEquity franchise agreements require IHOP restaurants to remodel interiors every five years and Applebee's every six.
Menus are another story.
Stewart said DineEquity is constantly working to refresh and update restaurant menus, focusing on what she calls "value engineering."
"There's a million ways to do it," she said. "You can put less food on the plate. You can get different kinds of food that cost less. You can decouple products. So instead of serving a sandwich with French fries, now the fries cost a separate price and the sandwich costs less."
Another example: the orange juice at IHOP.
When the chain first revamped its menus under Stewart's tenure a decade ago, the company decided to bring in a higher-quality orange juice with pulp.
"We did not have the best orange juice and that really bothered us," Stewart said. "So we went out and found one we liked, but then realized, how are we ever going to have our franchisees pay for this? So we actually made a smaller glass."
B. Riley analyst Lyon said one thing that helped buoy sales at Applebee's over IHOP is alcohol.
"If you look at the two restaurant chains, the metrics, square footage, annual sales, they're roughly the same, but average 15 percent higher at Applebee's," he said. "I would argue that 15 percent of their sales is alcohol."
In recent years, Applebee's restaurants have been capitalizing on the sale of alcohol. In fact, franchisees in Florida, Texas and Missouri began to stay open later than the standard 10 p.m. to accommodate young adults who tend to eat later, and stay to drink and dance.
DineEquity has lately worked to promote the practice nationwide. Last month, many Applebee's restaurants debuted "bee's Late Night," a concept that encourages restaurants open to midnight or later and allows the use of DJs and strobe lights to attract late-night partiers.
Lyon said he thinks the idea could work.
"As long as you don't alienate your existing customers, this is the kind of thing you want," he said.
Flipping sides
Stewart said that in the early years of the recession, the newly revived IHOP brand was well prepared to face challenges.
"At least initially, IHOP weathered the recession much better than Applebee's, because of course we had already done the turnaround," she said. "They already had new branding, new marketing, new remodels, new advertising."
But IHOP didn't stay ahead for long. By 2009, just two years after DineEquity purchased Applebee's, the pancake house started reporting falling sales again.
In addition to negative sales trends in family dining generally, Stewart said she blames herself and her team for not recognizing early on that competition was cropping up in the breakfast business from other restaurant categories.
Specifically, fast-food restaurants such as Oakbrook, Ill.-based McDonald's and fast casual restaurants such as Panera Bread in Sunset Hills, Mo., have significantly upped their breakfast business in recent years.
According to a report by Technomic, those types of restaurants have collectively added more than 230 breakfast items to their menus in the last two years.
"We think there should have been a lot more focus and awareness that these dining categories were blurring," Stewart said. "Because everybody went into breakfast, we needed to differentiate even more and demonstrate even more value than perhaps we did. So that's the work we're doing now."
She declined to comment on the reasons Birch stepped down as president of IHOP, but did say she plans to take over that role, at least initially.
"I am not in any hurry (to find a replacement) while we do all this heavy lifting," she said. "Since I've done it once before, I sort of know what needs to get done."
People who know Stewart say she's a tough boss and that it's no surprise Birch left when she didn't get positive results after three years. Even Stewart acknowledged that she expects her management team to be extremely well disciplined.
But she insisted that there's space to thrive at DineEquity. When she first found the lotus that now hangs in her office, she made copies of it and gave it to company board members to hang on their walls, too.
"This environment isn't for everybody," she said. "If you come to work here and you're not good at collaborating and you're not a good listener, odds are you won't be successful here."
For reprint and licensing requests for this article, CLICK HERE.