Mixed Plate
Applebee's, IHOP chains run hot, cold for parent
Monday, September 10, 2012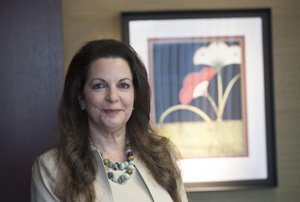 On the wall in her corner office at DineEquity Inc., Chief Executive Julia Stewart proudly displays an artist's rendering of a lotus.
She said the vibrant flower, which thrives in mud and muck, represents the Glendale restaurant company's journey through the recession since two major restaurant chains – IHOP and Applebee's Neighborhood Grill & Bar – came together in 2007.
In the last five years, the company did what some analysts had thought impossible in a recession. DineEquity boosted Applebee's sales, paid off a big chunk of the acquisition debt and sold most of the chain's company-owned restaurants to franchisees.
But while Applebee's successfully bloomed in the muck of the recession, lately it's IHOP that has become a growing concern.
IHOP, which had served as the model for the company's approach to Applebee's, has reported negative same-restaurant sales for all but two quarters in the past three years. Last month, Jean Birch, president of the IHOP brand for the past three years, left the company.
Stewart said the company recognizes there's a problem with the brand and is working now to solve it. But she said the flip-flop of the two brands' performance didn't result from neglecting IHOP in favor of Applebee's.
"I think it's less about taking the eye off the ball and more about we should have all been more, 'Hey guys, getting nervous; Not seeing the kind of consistent growth we need,' and pushing harder," she said.
Even as IHOP struggles, both chains remain leaders in their respective categories for systemwide sales. IHOP, considered a family dining restaurant because of its low check averages and focus on breakfast, competes with restaurants such as Denny's Corp. in Spartanburg, S.C., and Cracker Barrel Old Country Store Inc. in Lebanon, Tenn.
Applebee's, considered a casual dining restaurant because of its moderate check averages and focus on dinner with alcohol, competes with restaurants such as Chili's Grill & Bar in Dallas and TGI Friday's Inc. in Carrollton, Texas.
Analysts said the two DineEquity chains have performed loosely in line with sales trends in each specific restaurant category. But while IHOP sales for years floated above the family dining trend line, sales at the pancake house in the last year began lagging below average.
Darren Tristano, executive vice president at Chicago market research firm Technomic Inc., said sales at IHOP have fallen more than at Applebee's in part because of differences in customers' spending power.
For reprint and licensing requests for this article, CLICK HERE.
Prev Next