Making It Big
HOSPITALITY: Scaled-back changes to Century Plaza look like an easier sell.
Monday, September 3, 2012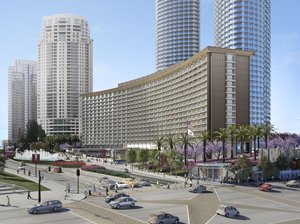 The long-anticipated and controversial redevelopment of Century City's iconic Hyatt Regency Century Plaza hotel has taken a big step forward.
After three years of heated back-and-forth between the developer, community groups and preservationists, a sweeping new plan that strikes a compromise was quietly approved by the Los Angeles City Planning Commission recently. Barring unforeseen opposition, it is expected to pass the City Council this fall.
Developer Michael Rosenfeld plans to keep the crescent-shaped hotel but extensively renovate it. He will add two condo towers behind the hotel.
The approved plan is a dramatic reimagining of an earlier proposal, which would have razed the hotel and built two large towers that included 100,000 square feet of office space. The office space is now gone.
"I think the project is better than what we initially conceptualized, which just proves that the collaboration of the various groups can result in a win-win situation," Rosenfeld said. "It's truly honoring the past, embracing the future and meeting the goals of the community."
Rosenfeld's company, Woodridge Capital Partners of Los Angeles, and financial partner D.E. Shaw Group of New York, bought the 726-room hotel at 2025 Avenue of the Stars for $367 million in 2008.
The developers want to build 353 luxury condos in two matching 46-story high rises and on the top five floors of the existing hotel. That means the renovated hotel would be reduced to 394 rooms and suites.
In addition, nearly 105,000 square feet of shops and restaurants will be built in new and renovated space in various parts of the site.
Developers did not specify a cost of the project. However, $2 billion was the estimated cost a little more than a year ago, but that was for a somewhat larger project.
The original hotel structure, designed by Minoru Yamasaki, a renowned architect who also designed New York's World Trade Center, has established itself as a modern landmark since its 1966 construction. Bob Hope hosted its opening charity gala, and guests have included Ronald Reagan and international figures such as Marshal Tito, Moshe Dayan and David Ben Gurion. At the urging of preservationists, it was added to the National Trust of Historic Preservation's list of "endangered historic places" in 2009 in an effort to prevent its demolition.
The new redevelopment plan, designed by architecture firms Pei Cobb Freed & Partners and Gensler, sailed through last month's planning commission meeting with no one speaking against it.
For reprint and licensing requests for this article, CLICK HERE.
Prev Next