Playa Time
Silicon Beach tech wave rolling south
Monday, October 29, 2012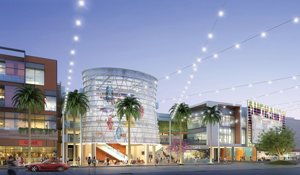 Santa Monica and Venice? They're old news.
With creative office space hard to come by in those tight markets, many tech companies now are flocking to the once quiet neighborhood of Playa Vista, which is quickly emerging as the next hotspot of Silicon Beach.
And the area is about to get even hotter when developers break ground next month on what stands to be the centerpiece of the area: the Runway at Playa Vista, a Grove-like outdoor shopping center that would bring acres of stores, restaurants and a movie theater to the amenities-starved locale.
Many brokers in the area see the Runway as the final piece necessary to tie the community together and as a factor in many companies' decisions to move there.
"I've seen a flurry of deal activity down in Playa Vista," said Matthew Brainard, senior managing director at brokerage Studley. "A lot of companies now are looking at it as a very serious contender to the upper Westside, like Santa Monica. People are starting to see the vision. It's starting to become real."
Despite years of attempts by developers to lure the tech industry south, Playa Vista has long playedsecond fiddle to markets such as Santa Monica.
But last quarter, while Santa Monica's vacancy rate rose, the submarket that includes the 2-million-square-foot Playa Vista market saw vacancy fall more than 3 percentage points from last year to 30.8 percent, according to Jones Lang LaSalle Inc. It remains the only Westside market that can that can offer companies 100,000 square feet or more of creative space – and at rates nearly $2 less per square foot than nearby Santa Monica, according to Santa Monica brokerage Industry Partners, which specializes in creative space.
The demand is so evident there that even while most developers across the county still refrain from building new speculative offices, developers such as Vantage Property Investors and Worthe Real Estate Group are already under way on projects that would add more than 400,000 square feet of office space to Playa Vista.
The market has been on the upswing since last year, when social networking giant Facebook Inc. signed a lease for about 12,000 square feet to move its offices from Venice. Since then, a number of companies have followed suit, including creative firms YouTube LLC, 72andSunny and Vevo, which have signed leases totaling more than 195,000 square feet this year. Brokers say other prospective tenants are actively searching for at least 1 million square feet of office space in the submarket.
"It's like skydiving: Who is going to jump out of the plane first? It's the same notion about who was going to be the first to sign (a lease) down there," said Andrew Jennison, founding partner at Industry Partners. "Now everybody is sold on it."
New amenities
Since the late 1970s, Playa Vista had been planned as a 1,000-acre city with high-rise offices, a shopping center, golf course and thousands of homes. But ownership struggles and clashes with environmentalists have stalled development in the area, which was limited to 460 acres. And even that is not yet fully built out.
Though the area has office properties, Playa Vista has lacked the sort of amenities that allow other cities to thrive.
"I think one reason why people like Santa Monica is because you can get to a lot of restaurants and shops, and that's really the only thing (Playa Vista) has lacked," said Lisa St. John, partner at brokerage L.A. Realty Partners.
Dallas developer Lincoln Property Co. hopes to fix that with the Runway, its $260 million, 14-acre outdoor shopping center that will have 220,000-square-feet of shops, 420 apartments and 35,000 square feet of office space. The development, scheduled to open in 2014, would be the first of its kind in the area, which includes about 3,200 residences.
"There (currently) isn't a real place the community could come together, go to a movie, get a glass of wine or get groceries," said David Binswanger, executive vice president at Lincoln. The Runway, he added, will be "the centerpiece of Playa Vista."
Designed by L.A. architecture firm Johnson Fain Partners, the project aims to emulate successful Westside shopping areas such as the Grove or Third Street Promenade. It will include 16 outdoor fire pits, landscaped courtyards and parks, fountains and canopied entrances.
Cinemark Holdings is opening a nine-screen theater of its NextGen brand, a high-end concept aimed at competing with Arclight Cinemas and the Landmark. It will include VIP seating, self-serve concession stands and a cocktail lounge, as well as a 72-foot screen aimed at scoring business from movie premieres.
Grocer Whole Foods Market Inc. is said to be close to finalizing a lease to open a store. Other retailers suggested to be considering the site include fitness clothier Lululemon, restaurant Loteria and denim company True Religion.
Brainard said that the project should soothe the concerns of people anxious over the lack of amenities and help to continue the momentum for the community.
"I think it's going to be a game changer," he said. "The flood gates will open and it will exponentially increase the occupancy and that will lead to more development."
Creative demand
Another factor driving development in Playa Vista is the need for space as the so-called Silicon Beach markets fill up.
The Westside has been a popular destination in recent years for creative companies. The beachside location, proximity to other like-minded companies and cool space of converted industrial buildings make it an attractive location. It doesn't hurt that a number of executives and a skilled labor pool also live in the area.
As a result, however, vacancy in many Westside markets, including Santa Monica and Venice, has been near all-time lows this year, according to the most recently available data from Industry Partners.
That is pushing some companies south.
YouTube signed a deal for a brand new 40,000-square-foot office in Playa Vista this year and music video website Vevo moved into 12,000 square feet from Santa Monica.
Advertising firm 72andSunny signed a lease for 55,000 square feet this year to move from its 32,000-square-foot offices in Culver City.
The company's founder, John Boiler, opted for Playa Vista in part because it offered the larger spaces that other local markets just couldn't. But he also fell in love with the character of the buildings, including the company's new home, the Hercules Campus, the former headquarters of Howard Hughes' aircraft company.
"From the first moment we looked at this place, we were like, this is it," Boiler said. "It has 100-year-old sycamore trees and architectural buildings that look Bauhaus with steel and glass windows and high ceilings with no beams. It has this sprawling wide open feel and the story behind it was super cool."
A number of developers are converting buildings in the area into hip creative spaces.
Worthe Real Estate Group and Shorenstein Properties LLC are under way on a renovation of a former U.S. Postal Service distribution facility that would create a 380,000-square-foot creative office. It won't open until next year but already celebrity news producer TMZ signed on for 40,000 square feet to move from Hollywood.
Nearby, Vantage Property Investors are under way on renovations to 12777 Jefferson Blvd. to make a former bank building an open and airy, 203,422-square-foot creative office campus, with a landscaped courtyard, bike racks and space for gourmet food trucks.
Ratkovich Co., which was behind the Hercules Campus conversion, began the $50 million renovation last year. It comprises 11 of the original buildings that are being restored and turned into creative office space. The campus is not even open yet and it's already nearly halfway leased.
"I don't know that we've ever done a real estate project that we've had so much interest from tenants on before we had an opportunity to do some basic improvements to the building," said Wayne Ratkovich, president of the company. "We are surprised and delighted at the level of success that we've enjoyed down there."
For reprint and licensing requests for this article, CLICK HERE.