Playa Time
Silicon Beach tech wave rolling south
Monday, October 29, 2012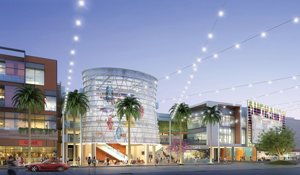 Santa Monica and Venice? They're old news.
With creative office space hard to come by in those tight markets, many tech companies now are flocking to the once quiet neighborhood of Playa Vista, which is quickly emerging as the next hotspot of Silicon Beach.
And the area is about to get even hotter when developers break ground next month on what stands to be the centerpiece of the area: the Runway at Playa Vista, a Grove-like outdoor shopping center that would bring acres of stores, restaurants and a movie theater to the amenities-starved locale.
Many brokers in the area see the Runway as the final piece necessary to tie the community together and as a factor in many companies' decisions to move there.
"I've seen a flurry of deal activity down in Playa Vista," said Matthew Brainard, senior managing director at brokerage Studley. "A lot of companies now are looking at it as a very serious contender to the upper Westside, like Santa Monica. People are starting to see the vision. It's starting to become real."
Despite years of attempts by developers to lure the tech industry south, Playa Vista has long playedsecond fiddle to markets such as Santa Monica.
But last quarter, while Santa Monica's vacancy rate rose, the submarket that includes the 2-million-square-foot Playa Vista market saw vacancy fall more than 3 percentage points from last year to 30.8 percent, according to Jones Lang LaSalle Inc. It remains the only Westside market that can that can offer companies 100,000 square feet or more of creative space – and at rates nearly $2 less per square foot than nearby Santa Monica, according to Santa Monica brokerage Industry Partners, which specializes in creative space.
The demand is so evident there that even while most developers across the county still refrain from building new speculative offices, developers such as Vantage Property Investors and Worthe Real Estate Group are already under way on projects that would add more than 400,000 square feet of office space to Playa Vista.
The market has been on the upswing since last year, when social networking giant Facebook Inc. signed a lease for about 12,000 square feet to move its offices from Venice. Since then, a number of companies have followed suit, including creative firms YouTube LLC, 72andSunny and Vevo, which have signed leases totaling more than 195,000 square feet this year. Brokers say other prospective tenants are actively searching for at least 1 million square feet of office space in the submarket.
Prev Next
For reprint and licensing requests for this article, CLICK HERE.