In Stitches
Leather upholsterer hopes to sew up used-car market
Monday, October 15, 2012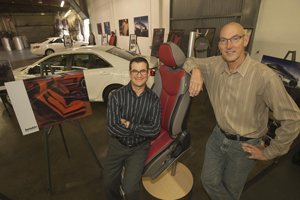 If you want a leather interior in your new car but don't want to pay for the whole luxury package that includes a sunroof and fancy stereo, car dealers have you covered: They'll take your new ride to a restyler, who will tear out the fabric on the seats and sew on new leather upholstery.
For years, that's been Katzkin Leather Inc.'s core business. The Montebello company makes leather upholstery kits used by installers to upgrade new cars.
But with new-car sales still slower than before the recession, Katzkin is trying a fresh approach – targeting the used-car market. And it's doing it in a big way.
This year, the company completed the rollout of a partnership with Richmond, Va.-based CarMax Inc., the nation's largest used-car retailer. CarMax has 110 car lots across the country, all of which now feature a Katzkin display promoting upgrades to leather seats.
"For us, the CarMax opportunity was really important," said Brooks Mayberry, Katzkin's chief executive. "So much of our business is focused on new vehicles, but this was a great opportunity to tap into the preowned market."
Katzkin is also trying to become a more recognizable brand. Executives said that they hope to turn the company, now known mostly by auto dealers and detail shops, into a consumer brand name.
Last year, the company brought in a new design team and, more significantly, the previous year it started sewing small, visible Katzkin tags onto its products. It's a strategy executives hope will boost sales by getting consumers to request its products by name. That could protect the company from downturns in the new-car market by making it less reliant on business referred from dealerships.
"The dream is for consumers to realize if you want leather, you can have any car on the lot," Mayberry said. "Nobody knows that."
But the plan isn't a sure thing. Industry analysts say after-market sales for leather upholstery aren't necessarily suited to a used-car lot, where many cars with leather aren't much more expensive than those without.
Richard Arca, a senior manager at vehicle information company Edmunds.com in Santa Monica, said consumers generally care much more about quality and price than the label on a car accessory. In the case of upholstery, Arca noted that Katzkin's new branding strategy – especially its tags – could even hurt because customers might want their seat material to look like factory leather.
"I don't believe a majority of customers care who makes their interior leather," he said. "And I think most customers would prefer to not have a branded interior that displays the brand to passengers."
Low-cost leather
Katzkin has been making leather upholstery for cars since 1986 and has patterns for about 3,000 vehicle models dating to that year. At its plant in Montebello and a contract manufacturer in Malaysia, automated machines cut patterns out of leather and workers sew pieces into almost fully assembled interiors.
These aren't seat covers: Katzkin's leather upholstery is sold to independent auto restylers who remove a vehicle's existing upholstery and replace it with one of the company's tailor-made kits.
An average Katzkin interior retails for about $2,000. That's not cheap, but it's often less expensive than purchasing a factory leather trim package, which most often comes only on models with souped-up engines, deluxe electronics and other goodies.
For instance, Ford Motor Co. offers leather seats in its compact Focus sedan, but only on the midrange and deluxe models, meaning buyers have to pay about $5,000 above the basic model price to get leather seats. That's the value proposition at the heart of Katzkin's business.
"You might not want a sunroof, or you don't want to spend the extra $5,000," Mayberry said. "So the dealer can say, 'No problem, you can still have leather seats.'"
About three-quarters of Katzkin's products are for new cars sold through dealerships. That meant a decline in business as new-car sales plunged by about 35 percent, from 16.2 million in 2007 to 10.6 million in 2009.
Mayberry said Katzkin's sales also slipped, though not as sharply. He declined to provide revenue for the private company. The company now has 462 employees at the Montebello plant.
He said that sales have since picked up, but executives now hope the CarMax deal and relationships the company is developing with other new- and used-car dealerships will help boost Katzkin's sales in the used-car market.
CarMax declined to comment for this article.
Americans buy more than twice as many used cars as new ones each year, according to figures from the federal Bureau of Transportation Statistics. In 2010, used-car sales totaled 36.7 million, compared with new-car sales of 11.6 million.
"Right now, we have a tiny fraction of that, but the upside is immense," said David Giddings, Katzkin's vice president of marketing.
He said the CarMax partnership was still in the launch phase so he could not comment on sales.
Name brand
CarMax is the nation's largest used-car retailer, but it sold only 408,000 used cars last year, a small fraction of the total market. Used-car sales are more spread out than new-vehicle sales, with sales coming from new-car dealers, small car lots and person-to-person arrangements.
But Giddings said the CarMax deal also plays into Katzkin's larger goal of making its brand better known. For most of the company's history, drivers sitting on Katzkin upholstery likely had no idea who made it. Because the company sells to restylers who work with dealers, consumers are usually several steps removed from the company. Until 2010, Katzkin seats didn't come with a tag or any sign of a brand name.
What's more, unless shopping at a new-car dealership, many car buyers might not know they can get leather upholstery installed, said Dave Edmondson of Roadwire Leather Interiors, a Katzkin competitor in Santa Fe Springs.
"In the consumer world, it's basically unheard of," he said. "It's difficult for us to get out into the mainstream."
But having Katzkin-branded information kiosks in 110 CarMax locations will put the company name in front of used-car shoppers.
Meanwhile, Katzkin brought in a new design team with the goal of making its seatwork more distinctive.
"Design makes companies stand out," said Dave O'Connell, chief designer. "We want people to say, 'Put a Katzkin interior in it.'"
Chrysler Group LLC is installing Katzkin-branded interiors in some limited-edition vehicles, such as a Mopar-edition Dodge Charger. Mayberry said that shows that the brand strategy is already a comfortable fit.
"Chrysler is interested in informing its customers that it's installing Katzkin interiors," he said. "We feel our product lives up to (manufacturer) standards of quality and performance, and we want people to be aware of our product and our brand."
For reprint and licensing requests for this article, CLICK HERE.