Channel Change
Content creators fret their fare won't rate more YouTube money
Monday, November 26, 2012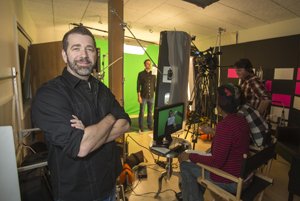 In the online video world, YouTube Inc. gave, and for some, YouTube may taketh away.
A year after the San Bruno video streaming site made a play for higher-quality content by doling out $100 million to fund original channels, YouTube announced plans to double down with another investing round – just not for all the same channels.
This month YouTube began rolling out a second wave of funding for its channels, but it is reportedly reupping only 40 percent of the original 100 or so. In Los Angeles, where many of the channels are based, this decision looms large.
YouTube, owned by Google Inc., has not publicly released a list of which channels are making the cut; officials from the company have been gradually dropping word to content creators as to who's in and who's out.
Meanwhile, the atmosphere around the YouTube-funded video-makers ranges from uncertainty for the lower-rated channels to confidence for the breakout hits.
"You're always on pins and needles waiting to hear what's going to happen," said Chris Cowan of Santa Monica media company BermanBraun, which has three channels on YouTube. "That's the game when you're using somebody else's money. It comes with the territory, no matter where you are."
Indeed, this period is causing an uncanny feeling that producers who came from the television side remember all too well.
Cowan worked in television for 20 years before coming to BermanBraun and arrived right after the production company's channels were picked up by YouTube. He said YouTube hasn't revealed whether any of the channels – Tasted, a food channel; 3V, which features fitness-related content; and Cinefix, a channel targeting movie fans – will get renewed.
The popularity of the channels might provide a clue. Online video marketing site Blayze Inc., which produces ratings for YouTube's original channels, places BermanBraun's content in its lower rungs based on weekly views. But unlike television, where networks primarily make renewal decisions based on Nielsen ratings, YouTube hasn't outlined any criteria.
A spokeswoman for YouTube declined to comment directly for this article, but said the site plans to retain close relationships with the channels, regardless of whether it will continue funding them.
If the renewal process feels familiar to entertainment industry vets, so much else about the original channel initiative has been uncharted territory for producers as well as YouTube. Their relationship falls into a murky area between financing a production, which expects a quick return on investment, and funding a startup, where profits can come down the road once the company builds up its audience.
Prev Next
For reprint and licensing requests for this article, CLICK HERE.