Channel Change
Content creators fret their fare won't rate more YouTube money
Monday, November 26, 2012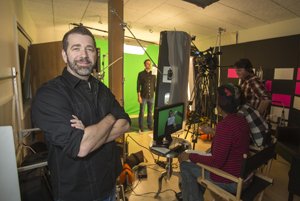 In the online video world, YouTube Inc. gave, and for some, YouTube may taketh away.
A year after the San Bruno video streaming site made a play for higher-quality content by doling out $100 million to fund original channels, YouTube announced plans to double down with another investing round – just not for all the same channels.
This month YouTube began rolling out a second wave of funding for its channels, but it is reportedly reupping only 40 percent of the original 100 or so. In Los Angeles, where many of the channels are based, this decision looms large.
YouTube, owned by Google Inc., has not publicly released a list of which channels are making the cut; officials from the company have been gradually dropping word to content creators as to who's in and who's out.
Meanwhile, the atmosphere around the YouTube-funded video-makers ranges from uncertainty for the lower-rated channels to confidence for the breakout hits.
"You're always on pins and needles waiting to hear what's going to happen," said Chris Cowan of Santa Monica media company BermanBraun, which has three channels on YouTube. "That's the game when you're using somebody else's money. It comes with the territory, no matter where you are."
Indeed, this period is causing an uncanny feeling that producers who came from the television side remember all too well.
Cowan worked in television for 20 years before coming to BermanBraun and arrived right after the production company's channels were picked up by YouTube. He said YouTube hasn't revealed whether any of the channels – Tasted, a food channel; 3V, which features fitness-related content; and Cinefix, a channel targeting movie fans – will get renewed.
The popularity of the channels might provide a clue. Online video marketing site Blayze Inc., which produces ratings for YouTube's original channels, places BermanBraun's content in its lower rungs based on weekly views. But unlike television, where networks primarily make renewal decisions based on Nielsen ratings, YouTube hasn't outlined any criteria.
A spokeswoman for YouTube declined to comment directly for this article, but said the site plans to retain close relationships with the channels, regardless of whether it will continue funding them.
If the renewal process feels familiar to entertainment industry vets, so much else about the original channel initiative has been uncharted territory for producers as well as YouTube. Their relationship falls into a murky area between financing a production, which expects a quick return on investment, and funding a startup, where profits can come down the road once the company builds up its audience.
"There's often a disconnect with what YouTube wants here," said Ben Smith, the founder of Blayze. "Many channels are asking themselves, 'Are we providing premium programming or building a business?' "
Lessons learned
If networks take the role of Big Brother for TV shows, YouTube has positioned itself as the channels' wealthy uncle. Once the site makes an investment – which can range up to $5 million – YouTube maintains a hands-off approach to the content. All advertising revenue from the videos goes to recouping production costs; any further profits are split between the producer and the channel.
But beyond a YouTube-created handbook that offers guidelines to channels, such as the ideal number of episodes to produce a week and marketing suggestions, the producers are largely on their own.
That freedom, as well as the diversity of channels that YouTube has funded, has shed some light on what worked in the initiative's maiden year.
An early lesson: Big names don't necessarily mean big ratings.
Celebrities including basketball star Shaquille O'Neal and comedian Amy Poehler have lent their names to YouTube channels, but ratings indicate those have flopped.
In this new environment, the web personalities with the biggest pull are ones that are largely unknown in the offline world. One of the most successful YouTube channels is Yomyomf (an acronym for "You offend me, you offend my family," a line in a Bruce Lee movie), which was co-founded in part by YouTube stars Ryan Higa, Kevin Wu and Chester See. The channel mostly features comedy videos.
These names have built-in online fan bases and their presence has helped push the channel to more than 450,000 subscribers. YouTube's funding also gave the channel the legitimacy to mix online talent with TV stars, such as Danny Pudi from NBC sitcom "Community."
"Everyone has realized the big mistake that if you take an A-list star and have them do YouTube videos, it doesn't necessarily mean it's going to do well," said Abdul Khan, who heads the business side of Yomyomf, which is located in South Pasadena. "On our channel's promo video we have all the co-founders and legitimate offline stars. That's our secret sauce."
The YouTube channels have also learned that trying to gun for the white-hot viral video isn't necessarily the basis for dedicated viewers. AwesomenessTV, a top-ranked YouTube channel that was started by hit Nickelodeon producer Brian Robbins, has collected 214,000 subscribers through its array of tween-oriented web series. Though few videos have cracked the 1 million-view mark, executives at the channel said kids are watching the shows consistently and for the duration of the video – an important point for advertisers.
"When we first started, people asked, 'Where's the viral video?'" said Margaret Laney, director of marketing at AwesomenessTV in West Los Angeles. "But those videos are like catching lightning in a bottle. The best way to build a brand is by growing the subscriber base. You want the kids to keep coming back."
Tough crowds
AwesomenessTV also has the advantage of making youth-oriented videos, which aim for the sweet spot of YouTube's most ardent audience. Likewise, Yomyomf, whose videos are targeted to Asian Americans, tapped into a demographic that often gets left out of mainstream Hollywood fare.
But channels that YouTube chose specifically to engage audiences that don't normally watch web videos have had a tough slog. In particular, channels for older women have yet to make a large impact.
Deca, a media company in Santa Monica, created one of the first channels under the YouTube initiative with Kin Community, which features women's lifestyle videos such as cooking shows and craft projects. Kin Community has consistently ranked in the bottom half of Blayze's ratings. Deca co-founder Michael Wayne declined to comment on whether the channel was being refunded, though he said YouTube contacts told him the site was "going to stay close to its core audience" for the next round of funding.
Regardless, Wayne insisted that Kin Community will continue to produce videos on YouTube – on its own budget if need be.
Therein lies one of the fundamental differences between television and the original online channel initiative. Channels without YouTube's funding are free to continue to produce content for the site. In fact, the freedom from YouTube's money might help expose some of the flaws in a channel's business model.
"It's nice to get a big advance, but it doesn't necessarily mean that you have a healthy business," Wayne said. "It means that YouTube is giving money to build a channel. That's all."
It remains unclear whether the original channels have been lucrative. While YouTube left creative decisions up to content producers, YouTube was responsible for getting ads placed in the videos. Some efforts have been successful; YouTube worked out a deal with Kin Community for a corporate sponsorship with Toyota.
However, there has been some grousing among other producers that overall, YouTube's promotion to advertisers has been weak. Although none of the channels that spoke with the Business Journal disclosed revenue, few production companies said they were getting significant money from YouTube ad dollars.
Where YouTube funding ends, venture capital might fill in the gap. Deca is funded by a number of venture capital firms, including Santa Monica's Rustic Canyon Partners and Mayfield Fund in Menlo Park. AwesomenessTV's channel is partly funded by MK Capital in Chicago.
Cowan said BermanBraun has been in conversations with some financers to bankroll the channels if YouTube decides to pull funding. And because the company has three channels, there's a possibility some might continue to get YouTube money while others will not. However, the most valuable asset for BermanBraun might be the wisdom gained from a year spent clamoring for eyeballs in this still-new territory.
In fact, he said, one of the biggest challenges was starting off without the benefits of the fan base that comes with having an established brand and website.
"If you asked me to start channels again, we'd do it differently," he said. "And if we don't get renewed, it's not that we wouldn't be disappointed. But it's a business and we recognize YouTube is in their rights to say, 'We don't see viability.' "
For reprint and licensing requests for this article, CLICK HERE.