Tighter Focus
Video sites tap niches to take aim at YouTube
Monday, May 28, 2012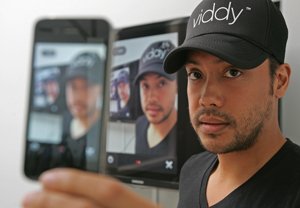 When YouTube LLC launched in the pre-Facebook and pre-Twitter era in 2005, it created a space for people to share their videos online.
But seven years later, the San Bruno company's success has spawned a legion of video sites that hope to improve upon YouTube's model. Marrying modern design with niche focuses, these new sites target audiences who seem to want to talk about the videos as much as watch them.
Newcomers Viddy Inc. and Chill are two L.A. companies vying for eyeballs as well as money, and Venice's Viddy got a big jolt of both last week.
Viddy is often compared to photo giant Instagram for its simple, one-click editing tools and Twitter for its conversational tone. Twenty-eight million people use the year-old service, including celebrities such as Snoop Dogg, Bill Cosby and Katie Couric, who can create their own branded channels to reach fans.
The service is free and allows "viddyographers" to post and edit videos much the same way people use Instagram to beautify photos. Premium services with more editing options are available starting at 99 cents.
Meanwhile, in Hollywood, nine-month-old Chill allows a community of 13 million people to discover and post videos based on interest, much like virtual sharing site Pinterest.
Neither company has figured out monetization strategies, choosing to focus on building services and users instead. But that hasn't seemed to scare investors. Menlo Park venture capital firm Kleiner Perkins Caufield & Byers has invested about $2 million in Chill; TechCrunch's Michael Arrington has also contributed.
This month, Viddy received a surprising $30 million in funding, confirming the growing phenomenon of social video.
"I think what's exciting from our perspective is a real validation of the category," said Brett O'Brien, Viddy's co-founder and chief executive.
He said the funding will help the company aggressively hire and build out its service to more formats, including television.
"We're envisioning a world where Viddy is displayed across all devices in a variety of different ways," O'Brien said.
Viddy is also preparing to launch applications for android smartphones, as well as tablets and iPads. The company also wants its videos available on television.
"Ideally Viddy content will be enjoyed through Xbox Live and Apple TV as well," O'Brien said.
Viddy was co-founded last summer by O'Brien and JJ Aguhob. Aguhob, the company's president, said the concept began after he started shooting short videos of his friends. His problem wasn't creating the footage but finding ways to edit and post it.
"By the time it got shared out it was already past the point of relevance," Aguhob said. "That was kind of the inspiration: How can I make really great short movies of my friends, in that moment, and share it out for everyone to see?"
O'Brien said he saw two openings in the market that gave him confidence. One was the wealth of unedited videos people have stored in their hard drives and devices. The other was the mass use of smartphones and mobile devices.
"If you put those two things together, there's bound to be a huge market of opportunity," he said.
O'Brien and Aguhob had previously worked together at Xdrive, a cloud computing company that O'Brien started, and sold to New York's AOL Inc. in 2005.
"The idea was to bring the band together," O'Brien said. "This time we kind of thought we could be early into what would be a big opportunity around mobile social video."
The duo bootstrapped for three-and-a-half months before they had a working prototype. Then in April 2011 they raised $1.6 million from venture capitalists and launched the company days later.
Today, the company has a staff of 15 and plush offices blocks from the beach. Investors include San Diego telecom giant Qualcomm; Biz Stone, who is the co-founder of Twitter; and Christina Brodbeck, a co-founder of YouTube. The new financing comes from New Enterprise Associates, Goldman Sachs, Khosla Ventures and Battery Ventures.
Take two
Is this the year video-sharing sites make their mark or is Viddy's recent big funding just a flash in the pan?
Kevin Winston, founder of online marketing company DigitalLA, said if Viddy figures out a monetization strategy, more companies will get the confidence to jump into the space.
Winston, who produced social campaigns for Fox Interactive Media and Sony Pictures Digital Inc., said it's too early to predict whether these companies will have long-term success, but having celebrity support helps.
That support includes investments in Viddy from pop singer Shakira, and rapper Jay-Z, through his Roc Nation record label.
Roger Mincheff, new president of Beverly Hills' Myspace Entertainment, said public desire to use social video is there. Brands and audiences have a thirst for video but the hurdle to overcome is monetization.
"It's a great idea, but it's a question of scaling to educate the marketplace," he said.
Mincheff, who spent two years running branded entertainment at 20th Century Fox's film and TV studios, said competition is another problem facing social video sites.
"You're walking in against a dozen other new great platforms and concepts," he said.
Two more companies operating in the space include Outlisten and Vloggo.
Santa Monica's Outlisten is a crowd-sourced, concert video-focused startup that allows people to sync multiple videos via patented WAV technology. Westwood's Vloggo encourages people to upload and share 60-second video posts, or "vlogs."
"Social video is hot," said Andy Sternberg, chief strategy officer at Adler Integrated, a social media marketing agency in West Los Angeles. "People are more connected than ever and are growing more comfortable with capturing and sharing moments with smartphones."
Chill co-founder Brian Norgard said the problem is a saturation of video.
"Everyone loves video, but the problem is: What should I pay attention to?" he said.
He hopes people will use his service to share and find videos, and is focused on building a community of users before worrying about income. Selling a company at age 25 can help him take his time. In 2006, New York media giant News Corp. bought his real-time news aggregation site Newroo for more than $10 million.
"People define themselves today by the sharing of digital media. If you build a great product, people will come."
More people may be coming for Viddy. A new partnership with Menlo Park-based Facebook Inc. will allow Viddy's content to be shared and published through Facebook's new time-line application.
"It's a big opportunity to continue to expand our user base," O'Brien said. "We make it easy to share video, but we make video worth sharing."
For reprint and licensing requests for this article, CLICK HERE.