Cool Reaction to Solar Panel Tariffs?
Some local firms see benefit in action against China.
Monday, May 28, 2012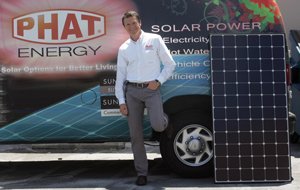 When the U.S. government recently slapped tariffs on solar panels made in China, you might have thought installers such as Phat Energy in La Crescenta would see their prospects dimming.
But Philippe Hartley, Phat Energy's general manager, believes the tariffs will mean more business for his company. That's because Phat, which installs systems on residential rooftops, sells more expensive panels than ones made in China.
"We've had a really hard time explaining the difference between (our) panel and a Chinese Brand X that might be 50 percent less expensive," said Hartley. "So we think this is going to make an easier argument for us."
It sounds counterintuitive, but Phat is one of a surprising number of solar industry companies that believe the tariffs either won't hurt much or may actually help them.
Of course, the general thinking of analysts has been quite different in the week and a half since the Commerce Department announced tariffs of up to 250 percent on solar panels made by Chinese companies, aiming to penalize them for allegedly dumping in the United States.
Analysts have downgraded the stock of many solar-related companies, including Power-One Inc., a Camarillo company that makes power converters that connect solar systems to the power grid.
By and large, analysts believe companies throughout the solar industry, from installers to equipment makers, will see less business as prices go up across the board – and not only from the higher cost of Chinese panels but as other makers raise prices given reduced price competition.
Still, some analysts and solar industry executives said it's not at all clear what the effect will be, and that there are some firms that could be unaffected or even benefit.
"It's fair to say no one really knows the scale of the impact," said Dexter Gauntlett, an analyst at Boulder, Colo., clean technology consultancy Pike Research. "We're all trying to figure it out. But it's not going to end the industry."
Rising prices
Most believe the imposition of tariffs is a setback to an industry that has witnessed panel prices fall by about 80 percent over the past two years and nearly 50 percent in the past year alone, said Zachary Larkin, an analyst who follows Power-One stock for Stephens Inc. in Little Rock, Ark.
Over that period, even as U.S. installers thrived, Chinese manufacturers took about half of the U.S. solar panel market.
The new tariffs, which will go into effect this month and could change later in the year, are expected to raise the price of Chinese-made panels by an average of 31 percent.
With panels typically representing about half the total cost of a solar project, the tariff could increase overall project costs by about 15 percent.
"That should put a bit of a damper on demand," Larkin said.
In real dollars, that raises project costs by tens of thousands of dollars. Gauntlett said the average solar system in the United States, including panels and installation, costs about $3.75 per watt. For a midsize commercial solar system that produces 150 kilowatts, that works out to about $563,000. The tariffs could boost that price to about $647,000.
But the extent to which local companies will feel the impact of the tariffs depends in large part on their customers. Gauntlett said firms such as Phat that work on smaller residential solar projects will likely be better off than those who do mostly commercial and utility-scale projects.
Residential solar projects tend to use more efficient but pricier panels that are not made in China. Phat installs panels by San Jose company SunPower Corp. that are manufactured in Malaysia and the Philippines Hartley said homeowners who end up going with his company decide they don't want to risk buying a cheaper system.
Also, most residential solar installations are paid for through long-term leases that spread the cost of a system out over a decade or two, mitigating the effect of rising panel prices.
Hartley said his panels are nearly twice as expensive as the lowest-price options, but his residential customers pay between $90 and $140 per month – only about $15 or $20 more than companies that install the least expensive panels.
Price reset
There are other reasons that some in the industry feel that reaction to the tariffs has been overblown.
Even with a 31 percent tariff, Gauntlett said that panel prices would still be lower than they were a year ago. And as the industry grows, panel prices in general are expected to continue to decline.
What's more, it's not clear how much panel production will remain in China if the Commerce Department and International Trade Commission stand firm on the tariffs.
Ironically, analysts believe the tariffs won't do much to prop up panel makers in the United States, even though tariffs are typically imposed to try to help domestic companies. If anything, analysts said the tariffs will accelerate the shift of panel manufacturing from China to other East Asian countries with low labor costs.
Geoff Atkins, chief marketing officer for Santa Monica solar installer American Solar Direct, said that means the tariffs might raise panel prices for only a few months.
"Companies have moved their production from China to Taiwan. Others have moved to Singapore. I really don't see these tariffs affecting panel prices in the long term," Atkins said.
That shift could be good news for yet another local company, Santa Clarita's Biosolar Inc., which makes a plant-based plastic film meant to replace standard plastic films used to protect solar panels from water, wind and dust.
The company had wanted to partner with a domestic panel maker but recently shifted its focus to manufacturers in China and elsewhere in Asia.
Biosolar Chief Executive David Lee said as companies rejigger their manufacturing operations and as prices potentially rise, it might give his business a chance to pick up customers.
"In a stable business market, like what solar has been, they resist changes. Nobody wants to take the risk of introducing something new," Lee said. "Anytime there's a shift in the market, whether technological or a new manufacturing cost, it's a better opportunity for us. We're looking for change."
For reprint and licensing requests for this article, CLICK HERE.