Santa Monica Developers Rush to Get Line on Expo Stations
Mixed-use and residential projects targeted at stops.
Monday, May 21, 2012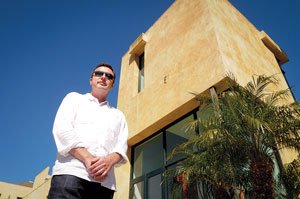 A development team of West L.A.'s Cypress Equity Investments and Chicago's Fifield Cos. is about to break ground on a mixed-use project on Arizona Avenue that would add more than 100 apartments and space for ground-floor shops to bustling downtown Santa Monica.
Three blocks away, Metropolitan Pacific Capital LLC is building 40 apartments with ground-floor retail. And at least six other mixed-use projects are planned or under way within a one-mile radius.
All eight are within walking distance of scheduled stops on the $1.5 billion Expo Line extension, which is to open in three years.
"The Expo Line is becoming a factor," said John Warfel, principal of Metropolitan Pacific, which has previously built in Santa Monica. "It's really starting to affect how we think about who we are building for, and really how people will get to and from our projects."
The eight mixed-use projects near the three future Expo Line stations in Santa Monica would add more than 800 residences and 58,000 square feet of retail. That's nearly four times the amount of apartments built in the city in the 2009-10 fiscal year, according to the most recent data.
"The demand is here but it will become even greater with the Expo Line," said Michael Sorochinsky, Cypress Equity managing partner. "It's something that long term will be a huge benefit for these projects. We've all sat on that 10 Freeway trying to get into downtown L.A., especially in rush hour. You'll be able to hop on that train and get to downtown L.A. in a half-hour and that's great."
The developments are all in line with Santa Monica City Hall's goal to create transit-oriented neighborhoods around the stations. About two years ago, the City Council adopted a land-use plan streamlining the approval process for mixed-use projects that add market rate and affordable housing near jobs and transit lines. The plan also encourages replacing offices in some neighborhoods with retail space.
In recent years, a boom has brought entertainment and tech companies to Santa Monica. As a result, demand for office space has increased and demand for residential units has risen to accommodate the added employees. New residents, in turn, are spending more at local retailers and restaurants.
But the city's popularity has also led to congestion. The only mass transit in the area is the city's Big Blue Bus line. The coming of the Expo Line could help cut down the number of cars.
The light-rail line opened last month, running from downtown but only to the outskirts of Culver City. The Culver City station will open this summer. The 6.6-mile extension from Culver City to Santa Monica broke ground last year and is expected to open in 2015.
It's projected to run the 15 miles from Santa Monica to downtown Los Angeles in about 45 minutes. That's a significant amount of travel time cut from freeway driving. Passenger count is estimated at 64,000 daily by 2030.
Paul Habibi, a lecturer at UCLA Ziman Center for Real Estate, said bringing mixed-use projects near the stations gives developers a captive audience of people who are tired of the drive. Now that the extension is under construction, developers are becoming more active about positioning themselves to capitalize on it.
"People are starting to realize this is for real," he said.
Many projects
Among the largest of the projects under way is New York's Related Cos.' Village at Santa Monica, a 318-unit project on Ocean Avenue. It is building the project, which broke ground earlier this year and is expected to open in early 2014, with Resmark Cos. and Community Corp of Santa Monica.
Meanwhile, at Lincoln Boulevard and Colorado Avenue, West L.A.'s NMS Properties this year bought a longtime Denny's restaurant site. NMS plans to raze the restaurant, and build 97 apartments and some ground-floor retail.
Metropolitan Pacific has two mixed-use residential projects planned. It is converting the old Mayfair Theater at 210 Santa Monica Blvd. into a 38-unit project with 8,200 square feet of retail. It's also building a 40-unit project three blocks east.
Cypress and Fifield's development team, known as Century West Partners, is building 107 apartments with 10,000 square feet of retail at 702 Arizona Ave. The existing building there will be razed. The team plans to break ground within 60 days and have the project completed next year. The partnership feels so confident about the demand that it is working to entitle and purchase two more nearby projects.
"This is more activity than we have seen in many years in Santa Monica," said Christine Deschaine, a principal at Lee & Associates – LA North/Ventura Inc., who works in the area and holds the listing for the Arizona project's retail space.
But Deschaine said that in the past there were few sites available in the area for retailers the size of a Trader Joe's. The available spaces are either too small or occupied. The new developments are adding retail space to the area and opening up opportunities for shops that may have wanted to break into the area but were never able to find the appropriate space.
Is there a risk that eventually the supply outpaces the demand?
Habibi said that these developers are taking a small leap of faith.
"There's an adoption curve to all of this and these developers are taking some level of risk," he said. "You are going to want to make sure you are building into a market that can absorb that demand."
For reprint and licensing requests for this article, CLICK HERE.