Real Deal
Triptrotting aims to provide authentic cultural experiences by lining up volunteer hosts in foreign countries.
Monday, May 14, 2012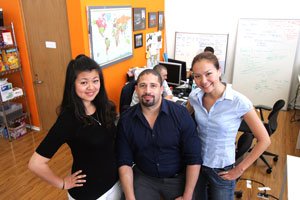 When two young women from Los Angeles asked their guide if all of Dubai's locals wore traditional desert clothes, the young man lifted his robe to reveal a glittery Ed Hardy T-shirt and blue jeans underneath. The travelers' jaws dropped.
They told the guide they wanted a more authentic travel experience. So he invited them to join him and his friends for a night of food and hookah-smoking at a local restaurant.
When Shana Zheng and Aigerim Shorman visited Dubai in 2009, they intended to go beyond the guidebooks. Making friends with the guide helped them do that.
"Wouldn't it be great if everyone had the same experience we had in Dubai?" asked Zheng. "That was the a-ha moment."
The trip inspired Zheng, 27, and Shorman, 25, to found Triptrotting Inc., a startup that specializes in connecting travelers with locals. Triptrotting's hosts act as volunteers in more than 2,000 cities and 150 countries worldwide. Activities include salsa dancing, whale watching, walking tours – all with the goal of bridging the gap between cultures. Travelers and hosts are paired based on an algorithm designed by the former chief scientist at Santa Monica-based dating site eHarmony, screening for compatibility, personality and professional interests.
"We want to make Triptrotting a truly global village so anywhere you go you can have a local friend," said Shorman.
Zheng and Shorman said Triptrotting is focused on building a strong community before trying to make money. Revenue sharing and subscription services for members are all future possibilities, Zheng said.
Right now, the website makes money off of sponsorships with travel companies such as Urban Adventures and German airline Air Berlin.
Last month, Triptrotting, which is not yet profitable, announced more than $1 million in funding from investors, including Google Ventures, Pasadena incubator IdeaLab and Santa Monica accelerator LaunchpadLA. The company has five full-time employees.
Zheng, born in Mongolia, and Shorman, from Kazakhstan, met at USC and bonded over their love of travel. When they came up with the idea for Triptrotting in 2010, they were working day jobs far from their jet-setting desires. Zheng was in corporate finance at Walt Disney Co. and Shorman taught history at View Park Prep High School in South Los Angeles as part of Teach for America Corps.
"In our free time, instead of going out we just ended up working on Triptrotting because we were so passionate about it," Zheng said. "After a year, we went to IdeaLab and they were the first people to fund us."
Prev Next
For reprint and licensing requests for this article, CLICK HERE.