Marquee On Move
'Bank to the stars' City National expands role with out-of-state outposts.
Monday, March 26, 2012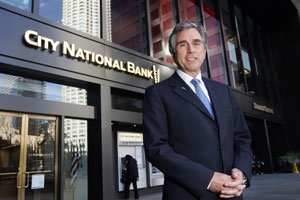 Few financial institutions embody Los Angeles like City National Bank, which has such a large concentration of celebrity clients that it is often called the "bank to the stars."
But it's looking a little less L.A. these days.
City National is taking advantage of its strong cash position and favorable market conditions to pursue an aggressive strategy to expand its footprint across the United States. The bank has opened five branches in the past year, including outposts in Atlanta and Nashville, Tenn., and now plans to open an office in Seattle after this month's hiring of a team of bankers in the area.
City National, which weathered the economic downturn better than many of its peers, is also looking at possible acquisitions of banks or wealth management firms to further grow its reach.
The strategy, analysts said, is rapidly turning City National from a Southern California bank into a lender with broad national appeal.
"They've become a coast-to-coast bank," said Brian Klock, an analyst with New York's Keefe Bruyette & Woods Inc. "Even though they're a smaller regional bank, they have a nationwide product and service capacity. They can serve big markets across the country."
City National now has a presence in six states – twice the number it had just a year ago. The expansion is an acceleration of the bank's growth strategy, which has led to the addition of 17 branches, 300 employees and $7 billion in assets since the financial crisis. City National is the largest commercial bank in Southern California, with $23.7 billion in assets. East West Bank in Pasadena is second with a little under $22 billion.
The recent moves come amid growth in several key business lines for City National, including entertainment industry banking, wealth management and franchise financing.
With those positive trends inside the bank and signs of a tentative economic rebound, City National is willing to expand even as many competitors remain cautious, said Russell Goldsmith, chief executive of the bank's downtown L.A. parent company, City National Corp.
"With the economy recovering we felt this was a good time," Goldsmith said. "Some other banks have pulled back or shifted some of their strategies or lost focus. We never lost focus."
Entertainment expansion
Founded in 1954, City National quickly established a cozy relationship with Hollywood, counting among its clients A-listers such as Frank Sinatra and Marilyn Monroe. Over the years, the bank has strengthened those ties, banking for not only stars but also many companies in the industry, including entertainment law firms and talent agencies.
City National's branches were all located in California for nearly 50 years. In 2002, it opened a New York branch, which has become a major bank for Broadway shows such as "Monty Python's Spamalot." Five years later, the bank entered its third state with the acquisition of Business Bank of Nevada.
The growth has picked up pace in the past year. City National opened its second New York office and established new branches in Nashville and Atlanta, which have prominent music scenes. Goldsmith said the new locations were established primarily to serve entertainment industry clients.
"We wanted to get to Nashville so we could more comprehensively serve the entertainment business and … the next obvious location in the music business is Atlanta," he said.
This month, City National announced that it hired a Seattle-based team of bankers away from GE Capital. The group specializes in financing for fast-food restaurant franchises. Though the bank does not plan to open a full-service branch in the city, it said it will open a loan production office in Seattle this summer.
Unlike the Nashville and Atlanta moves, which were planned expansions, the Seattle office was more of an opportunistic move, Goldsmith acknowledged.
As City National withstood the economic downturn better than many of its peers, the recovery puts it in a strong position for growth, analysts said.
Though it had to set cash aside for loan losses, the bank remained profitable throughout the recession; in fact, it hasn't lost money in a quarter since 1993.
"Their balance sheet has been historically stronger than their peers'. It was stressed during the downturn, but it wasn't stressed as much as most of their peers'," said Chris Stulpin, an analyst with Raymond James & Associates Inc. in New York. "They have the opportunity to grow while other banks are trying to recover from the credit cycle."
Still, there are risks for City National. As many banks learned during the recent downturn, too much growth too quickly can cause institutions to become overextended and lose sight of proper credit management.
"In Nashville and Atlanta, they're the new bank out there, so you've got to make sure you keep your risk under control," said Klock at Keefe Bruyette & Woods. "And Seattle's a different market, so there may be growing pains."
Buying banks
City National has been an aggressive acquirer of failed banks. Since 2009, the institution has bought four banks from the Federal Deposit Insurance Corp.
Though the period of heavy bank failures is mostly over, City National is looking at acquiring operating banks or other financial business such as wealth managers.
Klock said the "sweet spot" for City National would be to buy a bank with between $1 billion and $2 billion in assets. But if it chooses to do a larger deal, it may need to raise capital through a stock offering.
But he said that is unlikely since "City National is not the type of bank that goes out and does huge deals."
Goldsmith said the environment has become favorable for bank acquirers. Many community institutions have found the cost of doing business to be rising amid new regulations and so they may be looking for mergers.
"Across the country for a variety of reasons there will be companies – banks and other businesses – that become available," he said. "We're careful but we're continuously looking at opportunities."
For reprint and licensing requests for this article, CLICK HERE.