Design Firm Finds Business Where Sidewalk Ends
Studio One Eleven turns parking spaces into dining areas.
Originally published March 26, 2012 at midnight, updated March 26, 2012 at 4:01 p.m.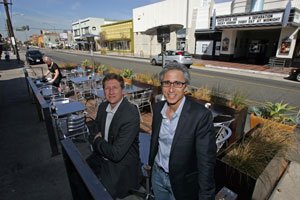 Architects at urban design firm Studio One Eleven do a lot of what they call "fast-food development": small projects that come together quickly and offer instant gratification.
The firm develops small parks and designs curb extensions. Recently, it got into creating "parklets" in front of restaurants and cafes along Fourth Street in Long Beach.
A parklet is temporary outdoor landscaping or seating on a platform built on curbside parking spaces. The idea originated in San Francisco, where at least 22 parklets have popped up.
Studio One Eleven designed and installed the first parklet in Southern California in January in front of Lola's Mexican Cuisine in Long Beach and is expecting to do another in front of Café Berlin by the end of the month. A third parklet is awaiting city approval for installation in April, and at least a half-dozen more restaurants in the area are considering them.
Vaughan Davies, director of urban design at Aecom Technology Corp. in downtown Los Angeles, said parklets are only temporary fixes for sleepy commercial streets.
"They're a way to change things out and try new ideas, but I can't ultimately imagine that we're going to have our streets full of these temporary things forever and ever," Davies said. "We need more robust, permanent solutions."
Inexpensive alternative
Changing a streetscape is expensive, and parklets are seen as a low-cost way to bring life and people to retail corridors. In Long Beach, the parklets offer bustling area restaurants a way to expand without having to move or knock down walls.
Studio One Eleven started working with businesses to develop parklets last year. The city agreed to test parklets on Fourth Street to be sure they are safe and eventually develop a permitting process.
But for now, a business on the street that wants a parklet must first get permission from the city, then work with architects to design a platform that will raise the parklet from street to sidewalk level.
The cost to businesses to create one parklet – including design, permitting, construction and materials – is approximately $20,000. The city charges an annual $500 permit fee to allow sidewalk dining, but businesses don't have to pay rent on the space.
Alan Pullman, founder and senior principal of Studio One Eleven, said smaller, incremental development work such as these parklets is the firm's focus.
"We work directly with cities on doing larger strategic plans," he said. "But the bulk of our work is implementing that larger-scale vision with smaller incremental projects."
Studio One Eleven is a small Long Beach firm with 18 employees that's part of Perkowitz + Ruth Architects, also in Long Beach. Pullman said the firm operates independently, but can rely on financial support from its parent for larger projects.
Some of the larger projects Pullman's firm is working on include a 200-unit senior housing project, an office building in Hollywood and interior retail space at the Long Beach Airport.
The parklets in Long Beach were each paid for by the business they sit in front of, and they act as an extension of the sidewalk, allowing the restaurants that commissioned them space for outdoor dining.
The parklet outside Lola's takes up one-and-a-half parking spots and provides the restaurant with seating for up to 20. The parklet outside Café Berlin will take up two spots. Michael Bohn, who headed up the projects for Studio One Eleven, said those parking spaces were not lost. The city found space for six new spots through creative restriping of loading and no-parking zones along nearby curbs.
Suja Lowenthal, a Long Beach vice mayor and council member, said the loss of parking is still a concern to some.
"When someone sees a parking spot has been lost, he doesn't necessarily turn around and see that the city just added spaces," Lowenthal said.
Safety concern
Another issue is that some people feel uncomfortable sitting at a parklet table so close to passing traffic.
"I think it might be a little easy to wonder if you're less safe than you would be sitting on the sidewalk," she said.
Studio One Eleven didn't make money with its first parklet, but Pullman said he thinks there's potential to make more on subsequent installations.
"The first one was a little challenging for us," he said. "But the next one is going to be fairly easy, and I think we're going to be able to turn a profit on them."
Installing parklets takes planning to make sure the patiolike structures don't interfere with street sweeping and drainage. Also, planters need to be secured to prevent theft.
Bohn said the firm's new expertise has already attracted attention from places such as Carlsbad and Venice Beach.
"We'd love to be known as the parklet architects of Southern California," he said.
Bohn acknowledged that parklets are only really relevant in dense urban areas like Los Angeles, and not suburban or rural areas. But he said he thinks they're more than a trend.
"I think this is just going to be another tool cities can use to help enhance communities," he said.
But valuable tool or not, Davies said it's still a temporary tool.
"Ultimately those parking spaces that get used for one season might transform to something else the next season and the next season," he said.
For reprint and licensing requests for this article, CLICK HERE.