Pipe Dream?
Pot-growing greenhouse maker targets veggie market
Monday, March 19, 2012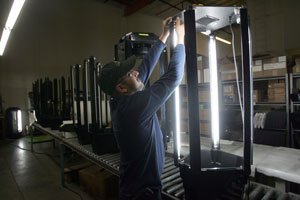 The marketing dilemma faced by Phototron Holdings Inc. can be summed up by two videos posted on the company's website.
One shows a professor on "The Martha Stewart Show" touting the Gardena company's miniature greenhouses as a great way to grow tomatoes. The second? A woman with a bare midriff hawks the same product, implying it's a great tool for growing marijuana and even noting shipments come in unmarked boxes.
That Jekyll-and-Hyde approach is perhaps inevitable given how Phototron's history is colliding with its ambitions: For decades a supplier to marijuana growers, the company now wants to help housewives grow vegetables indoors.
"The only people who know about Phototron are people who have picked up a High Times magazine or know someone who has," acknowledged Todd Denkin, a Phototron director. "We believe as we expand our audience and as a cultural shift is happening, we're going to open the Phototron to millions of people."
Denkin and other investors are so confident about the company's potential as a money maker that they purchased it last year and took it public through a reverse merger, a move that could make it easier to raise money and expand.
The new company wants to sell Phototrons – greenhouses the width of a water heater that stand 3 to 4 feet high – not only to medical marijuana growers but to the growing number of Americans interested in pesticide-free natural produce.
Phototron executives estimate there's a $1.7 billion market for medical marijuana supplies, but a much larger $30 billion market for home gardening equipment they want a piece of.
But the company faces a conundrum: Continuing to promote its wares to its core marijuana growers could hurt its chances of reaching mainstream America. Indeed, branding experts say the joint marketing strategy reflects a rather a ham-fisted approach.
"While they can wish for the potential expansion into other markets, it doesn't appear they have the skill set to penetrate and take advantage of those markets," said Encino branding consultant Rob Frankel. "The whole thing is pretty ill-conceived."
Public player
Phototron and its privately held predecessors have been around since 1987, selling in-home greenhouses marketed exclusively to marijuana growers. For the past decade, the company's previous owner advertised only in High Times magazine.
Phototron Chief Executive Craig Ellins, a member of the new investor group, acknowledged marijuana production is still a profitable market, and one that will continue to expand if states and the federal government relax rules on medical marijuana.
"The idea was to put an accountable public entity into this space," said Ellins, an entrepreneur who has sold exercise equipment, medical magnets and other products through infomercials. "We all believe the prohibition (on medical marijuana) is going to come to an end. So a bunch of us got together and said, 'How are we going to be the Levi Strauss of this industry?'"
Phototron greenhouses are built for hydroponic gardening, which involves growing plants using nutrient-enriched water instead of soil. The company is far from the only manufacturer of such equipment.
A few companies manufacture refrigerator-sized greenhouses; others make gear for do-it-yourselfers who set up their own lighting, irrigation and fertilizing systems; and some target home cooks who want their own herb gardens.
Ellins said Phototron strikes a middle ground: small enough to fit into the corner of a Manhattan apartment, big enough to grow a decent-size cannabis plant. They are also easy to use, he added, with built-in lighting and, in more expensive models, automatic fertilizing and climate-control systems.
"It's for personal consumption. It doesn't grow enough to be considered an illicit business," he said, noting how states that have legalized medical marijuana allow users to grow their own supplies.
But the company also has spent money trying to attract customers interested in just growing vegetables. To do that, Phototron is ramping up marketing efforts and trying to put a more legitimate face on its products through testing. The company last year hired a social media marketing expert and recently signed a marketing deal with Hearst Media Services, a print and online marketing arm of New York's Hearst Corp., one of the nation's largest media conglomerates.
The company also donated two units to the University of Arizona's Controlled Environment Agriculture Center for testing (but did not pay for the research).
Gene Giacomelli, director of the center, said he successfully grew tomatoes, peppers and lettuce in a basic Phototron model. Last May, he demonstrated one of the greenhouses during an appearance on Martha Stewart's TV show.
"We looked at their technology and it seemed to have the primary components to have a successful crop," Giacomelli said. "We plugged it in, turned it on and watched (plants) grow."
Sales at the company have been growing, too. Through the first nine months of last year, revenue was up 16 percent to $400,000.
Taryn Dunivant, Phototron's director of operations, said she has seen sales jump dramatically in the nine months she's been with the company.
Doubled sales
Sales used to be one a day on average. Now we're selling anywhere from one to three per day," she said. "We've doubled our sales."
However, Phototron was not profitable due to expenses related to its acquisition and product development. The stock trades over the counter at just about 10 cents a share.
"We've gone to trade shows and there's strong brand-name recognition to High Times readers. Now we have to take that to more eyeballs," Denkin said. "That's what Hearst will do for us and what alternative marketing will do for us. We're going to expose the machine to more people and we can't help but make more sales."
But with models costing from $500 to $1,600, brand consultant Frankel said it's hard to imagine many customers beyond marijuana growers.
"Dopers are willing to spend this kind of money because it's illegal, basically, to get it, and then to buy it on the street is expensive," he said. "You don't need to spend this kind of money for an organic tomato."
Alan Brew of Irvine branding consultancy RiechesBaird goes even further. He doubts the company is that interested in the nonmarijuana market at all. The pot industry is large and has money to spend, while indoor gardening likely represents a tiny niche of the much larger gardening market.
"It seems they have identified a market which they want to mine and they're trying to legitimize it with the fig leaf of indoor (vegetable) cultivation," he said.
If the company were serious about reaching would-be tomato growers, Frankel said, it might keep the Phototron name while creating a separate brand aimed at nonmarijuana growers.
But the company makes no bones about keeping the Phototron brand, saying it is one of the most established in the indoor hydroponic industry. In fact, it has plans to acquire other makers of hydroponic equipment and last month announced plans to purchase SG Technologies, which makes Stealth Grow LED lights also marketed to pot growers.
Denkin maintains the company's plans aren't contradictory.
"People who grow things want the best machine. You can grow anything in it," said Denkin, who has his own Phototron. "I grow cucumbers in my house. I get 35 pounds every time I harvest. I don't come to your house and tell you what to grow in your backyard."
For reprint and licensing requests for this article, CLICK HERE.