Space Is Limited
Agents look to overcome out-of-this-world prices while selling seats on Richard Branson's Virgin Galactic.
Monday, June 25, 2012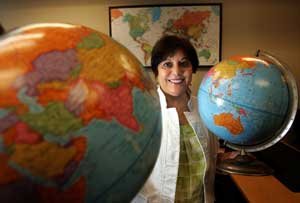 Travel agents of the rich and famous in Los Angeles have long offered clients vacations in Bali or Antarctica or some other exotic locale. But now, three L.A. agencies have something that's truly exotic, even for them: a trip to space.
The agencies – Cassis Travel Service, Mansour Travel Co. and En Route Travel – each have one agent accredited to sell seats for Virgin Galactic's SpaceShipTwo, the world's first commercial spaceship.
But at $200,000 each, seats don't come cheap. Marketing and selling the tickets can be challenging, even for agents with high-end clientele.
Bell de Souza, chief operating officer for Mansour in Beverly Hills, said Virgin Galactic chose to work with travel agencies based on client lists.
"Virgin Galactic approached us to be one of the pioneers in Los Angeles to opt in to sell this because of the kind of clientele we have: very upscale people with high net worth," he said.
Future space tourists get a contract promising a three-hour trip that will take them for a brief experience of space on a yet-to-be-determined date.
Agents marketing seats said there are two major selling points. One is being among the few who experience weightlessness and see the curvature of Earth from space. The other is that they become members of an exclusive club headed by British business magnate Sir Richard Branson, who founded Virgin Galactic. Members are invited to travel at their own expense with Branson and like-minded future astronauts to some interesting spots on Earth.
But there are drawbacks that agents said make clients hesitant to sign on the dotted line. A big one: There's no time set for take-off. The spaceship is still being tested. Virgin Galactic executives stopped estimating launch dates after past time lines proved optimistic.
Another drawback, said Shane Paquette, owner of En Route in Pacific Palisades, is fear. It's an issue, and not just for the traveler.
"For instance, if I go, how does my family feel about me going to space? I have no fear, but they might be really scared for me," he said. "There's a lot of that in the sales process."
So what's in it for the agencies? De Souza said it's not the money. In fact, agencies pay Virgin Galactic $900 each year for the privilege of offering space travel to clients.
"Virgin will pay a small fee to us for booking, but it's not even worth worrying about; it's peanuts," he said. The payoff comes in the bragging rights.
"It's the prestige of being entrusted with this, and being perceived in the industry and among our peers as having the clientele and the clout to conceivably bring them clients," he said.
Paquette said that because En Route is one of the few places people can book space travel in Los Angeles, there's potential to build business.
"Someone who can spend $200,000 for this most likely is someone you'd want to keep as a client," he said.
Patricia O'Neill at Cassis in West Hollywood was accredited in 2007 and is the only L.A. agent to book travel with Virgin Galactic so far. Both Mansour and En Route agents were accredited after her and have yet to book any clients.
Getting there
Branson registered the name Virgin Galactic in 1999 when commercial space flight was a new concept. Six years later, he teamed up with Scaled Composites LLC, a Mojave aerospace development company, to manufacture a fleet of commercial spaceships. Virgin Galactic began training travel agents then, and by August began accepting refundable deposits for space travel.
Carmella Sears, the accredited agent at Mansour, said her initial training took three days. But the process continues.
"It's constant training, constant webinars, constant feeding from the staff of Virgin Galactic to tell us what's going on, what's new," she said.
In 2010, she took classes to learn about the history of the project and booking procedures. She met with engineers and Virgin Galactic staff to discuss spaceship hardware and marketing strategies. One training day was spent in Mojave, where she saw SpaceShipTwo, the spacecraft, and WhiteKnightTwo, the launch vehicle.
Virgin Galactic will use two connected flying craft to get travelers to space. The mother ship will carry the six-passenger spaceship from the spaceport in Las Cruces, N.M., more than nine miles above Earth. Then, the passenger ship will detach and fly an additional 68 miles into space. After a four-minute period of weightlessness, the spaceship will re-enter the atmosphere and fly down for a runway landing. The whole experience should last about three hours from take-off to landing.
The L.A. accredited agencies have a decidedly low-key marketing strategy. Instead of launching elaborate campaigns, they're relying on customer referrals.
In fact, de Souza said Mansour doesn't advertise its services anywhere and it's not in the phone book.
"We have a website, just to legitimize the business," he said. "But it's not an e-commerce site. All our business comes through word of mouth."
Virgin Galactic offers its accredited agents the opportunity to host big co-sponsored events to attract clients, but the agencies said they prefer to hold smaller, intimate meetings. All affiliated agencies are listed on the Virgin Galactic website.
Booking space
Those who want to be among the first 500 to fly into space must pay the entire $200,000 in advance. Later fliers can pay a $20,000 deposit. So far, about 650 people around the world have booked flights. If someone wants to buy all six seats on the craft as a package, the flight costs a discounted $1 million.
As might be expected, booking a trip to space takes longer than typical air travel. Rather than buying tickets online with a credit card, travelers must sign a contract and wire money directly from their bank account to Virgin Galactic.
Cassis' O'Neill said clients typically look for legal advice.
"When someone spends that much money they'd want to have a lawyer look at the contract," she said. "We would expect that."
The decision to fly to space is a big one, especially when no one knows when exactly it will happen. Older passengers could even consider leaving the trip to someone in their wills.
Another concern is health. Agents said passengers need to be generally healthy and get a physical shortly before the flight, but fitness standards are not strict. G-force training is available but not mandatory.
Confirmed travelers receive invitations to attend exclusive events and take trips with Branson and other Virgin Galactic passengers; trips have included stops at his private island in the Caribbean and his chalet in the Swiss Alps, and the Ice Hotel in the Arctic.
Guests must pay their own way, but de Souza said the social gatherings are key to marketing Virgin Galactic travel.
"If you just paid your money and had to wait, there'd be a lot of people fed up. There'd be buyer's remorse I'm sure," he said. "This way there's that excitement that keeps building, and the camaraderie that forms."
For reprint and licensing requests for this article, CLICK HERE.