Sunset Strip Has Room for Marriott
Hotelier loses reservations about luxury brand.
Monday, June 11, 2012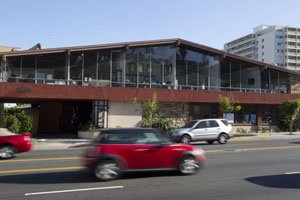 Hotel consultant Alan X. Reay, president of Irvine's Atlas Hospitality Group, said that opening such a luxury boutique in West Hollywood appears to be a smart move.
He said the New York market is the only one in the nation that commands higher room rates or has lower vacancies. He noted that nearby hip hotels such as the Standard Hotel, owned and operated by New York-based Andre Balazs Properties, on Sunset Boulevard are wildly popular.
Nonetheless, as with any new brand, the company may still face challenges in attracting visitors not familiar with the chain.
"Obviously an area like West Hollywood really plays well for that kind of brand," said Reay. "The big question is how well-known the brand will be."
Approved project
Weintraub Real Estate, owned by developer Richard Weintraub, received approval in 2010 to build a 148-room hotel with rooftop pool and bar, several thousand square feet of retail but no nightclub. However, the project didn't have a hotel operator attached to it.
Marriott stepped in this year and has a deal with Weintraub to purchase the project for an undisclosed price, assuming the West Hollywood City Council approved modifications, as it did last week.
The Edition will feature not only 190 hotel rooms but 20 much larger condos that will average about 2,500 square feet. An 8,500-square-foot roof deck with pool and a bar will be open to the public, as will be a 5,000-square-foot nightclub named Crazy Box under the ground floor.
Asking rates for the condos and hotel rooms were not disclosed. However, consultant Reay expects that a basic room will run about $250 or $300 a night. The Sunset Strip's Mondrian Hotel, owned by Morgan Hotels Group in New York, asks about $350 to $510 a night, while rooms at the nearby Standard Hotel range from about $225 to $400. A few miles away, the W Hotel Hollywood asks from $220 to $720 a night.
Reay anticipates that the Edition hotel will be about 70 percent to 75 percent occupied year-round, a high rate but consistent with hotels in various parts of the Westside.
The site has such a high profile that West Hollywood is requiring Marriott to choose a well-known architect that will create an iconic structure on the Sunset Strip.
Weintraub had hired Eric Owen Moss Architects in Culver City to design a structure with glass walls, exposed metal and other conspicuously modern features. But Marriott attorney Arnone told the council the hotel chain wants to redesign the project to be more in line with its other properties. That redesign is expected to cost at least $1 million and a year's time.
For reprint and licensing requests for this article, CLICK HERE.