Pet Peeved
Owners could lose shops to city ban on critter sales
Monday, July 30, 2012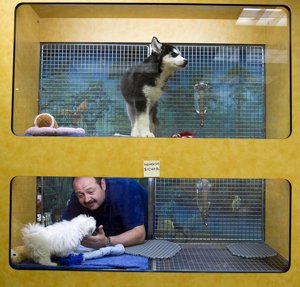 The other pet shops in the city don't sell dogs, cats or rabbits. Instead, they offer fish, birds, lizards and other creatures, along with food and other supplies. Some also offer grooming and training services.
Koretz has long advocated for animal welfare. When he was politically active in West Hollywood, he was instrumental in declaring the city an "animal cruelty-free" zone. West Hollywood outlawed retail sales of dogs, cats and rabbits in February 2010.
Koretz continued working on behalf of animals as a state assemblyman. Since being elected to L.A.'s City Council, he has pushed through a number of animal-related initiatives, including a ban on declawing cats.
His original motion emphasized the link between the sale of commercially bred animals in local pet stores and the rising number of abandoned animals in shelters.
"The puppies and kittens that aren't placed with shops or sold to consumers unfortunately all too often end up being dumped in animal shelters, where they become statistics in an ongoing tragedy," he wrote. "Curbing the market for these unfortunate animals can also play a role in addressing the problem."
The City Council voted 12 to 1 on April 17 to direct the city attorney to draft the ordinance.
Jeff Ebenstein, deputy to Koretz, said that he expects the draft to be ready before the end of August.
"The goal is to try to get it in effect by January 2013," he said.
Once in effect, the ordinance will allow local pet shops six months to transition to selling shelter or rescue animals, or stop selling animals altogether.
However, the ban will only be effective for three years in order to give the department of Animal Services time to monitor corresponding euthanasia rates.
Ebenstein said that was a compromise Koretz was willing to make to get approval for the ban.
"The law sunsets in three years, so we can evaluate if it works or not," he said. "If not, we'll take another look and let it expire."
At Puppy and Me, Mazor swears he will fight the ban, even if it means suing the city.
"I'll fight, not only for my business, but for my rights," he said. "I'm sure I will find a lot of pro bono attorneys who would be glad to have a nicely publicized, nationwide case."
Mazor sells mostly small, purse-size dogs at his shop, such as Chihuahuas, dachshunds and Shih Tzus, though he did have one Siberian husky for sale last week. The prices range from about $900 to $5,000, depending on the rarity of the breed.
'No guarantees'
Shelter dogs in Los Angeles cost $122, which covers spaying or neutering, vaccinations, a pet license and an implanted identifying microchip.
Shelter dogs may be more affordable, but Mazor said they aren't always family friendly.
"You have no idea what you're getting," he said. "You're hoping that it's going to be fine and that it's not going to be aggressive, but you have no guarantees."
Ebenstein said that Koretz recognizes that the ban could unfairly threaten the livelihood of pet store owners who treat animals humanely and who may be hesitant to switch from selling animals for profit to arranging their adoption.
"We want to be very sensitive to that," he said. "There are several stores in our district that have already transitioned to that model and have agreed to help others with their transition."
He acknowledged that the ban doesn't prevent animals from being bred in inhumane conditions in Los Angeles nor solve the issue of overcrowding in local animal shelters. But he thinks it's a step in the right direction.
"I think it's not the blanket solution, but it's definitely part of the equation that will be a tremendous help," he said.
Prev Next
For reprint and licensing requests for this article, CLICK HERE.