West Hollywood Deal in Rare Neighborhood
ACQUISITION: Partners pick up office property for estimated $40 million.
Monday, July 23, 2012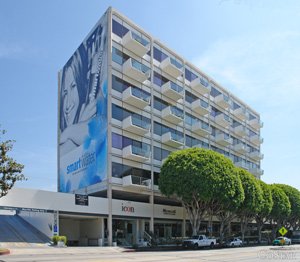 An 85,000-square-foot West Hollywood office building traded hands last week for an estimated $40 million.
A joint venture of New York's Angelo Gordon & Co. and L.A.'s Townscape Partners bought the building at 8899 Beverly Blvd. from a family trust, which had owned it for about 25 years.
Terms were not disclosed but industry sources estimated the value of the deal at more than $40 million. That would make it one of the largest office sales in the West Hollywood-Beverly Hills market in more than a year. Only two Class A office properties in Beverly Hills have topped $40 million since 2010.
The building, on two acres just west of Robertson Boulevard, is home to Italian restaurant Madeo and production company Don Mischer Productions. It was formerly the headquarters of talent agency ICM Partners.
John Irwin, co-founder of Townscape, said that his company was attracted to the building because it's somewhat outdated, allowing for a renovation that can draw higher rents.
"It's a good building in an excellent location, and we are exploring our options on it and figuring out a way to maximize its potential," Irwin said.
This is the second acquisition by Townscape, a new L.A. real estate investment and management company led by Irwin and Tyler Siegel, both of whom worked for developer Related Cos. Townscape purchased a retail strip mall on Sunset and Crescent Heights boulevards earlier this year.
Bob Safai and Matt Case at Madison Partners represented both sides.
Online Brick-and-Mortar
Maker Studios, an Internet video production and marketing company partnered with YouTube LLC, is moving and expanding into new Culver City offices.
The company signed a five-year lease for 50,000 square feet at 3562-3576 Eastham Drive in the Hayden Tract area. The deal with landlord PAS Trust is valued at more than $7 million. Current tenant, auction website Bidz.com, is downsizing and will vacate the property within three months.
Maker has more than 400 online video channels with 70 million subscribers and produces hundreds of original videos a month. The company currently occupies less than 15,000 square feet in Culver City but has outgrown it over the last year. Maker plans to occupy its new space in November.
Ian Strano, executive vice president at NAI Capital in West Los Angeles who represented the landlord, said the company was attracted to the building because of its creative atmosphere with tall, exposed ceilings. Several other tenants with a creative bent also were interested in leasing it.
Prev Next
For reprint and licensing requests for this article, CLICK HERE.