Deal Makers
Santa Monica web firm Savings.com won't discount value of new ownership by Cox Media.
Monday, July 16, 2012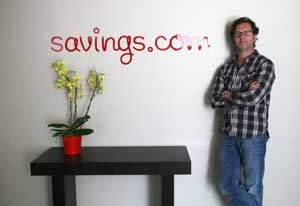 How many coupons does $100 million buy? Atlanta's Cox Media Group is hoping a whole lot – and millions more people using them.
Last month, Cox purchased Santa Monica e-coupon site Savings.com to help Cox strengthen its online presence. Cox owns Valpak, the paper coupon mailbox stuffer that reaches 44 million households nationwide.
Five-year-old Savings.com offers e-coupons for everything from wine and groceries to gym memberships, clothes and electronics. The site focuses on major national brands such as Dell and Sears, and allows companies to offer web deals through the Savings site. When customers visit Savings.com and find deals and redeem coupons, Savings gets a commission.
Essentially, the deal marries a digital-only company that wanted to get into print and target smaller local businesses with a print company that wanted to go more digital and hit larger national brands.
"Valpak opens up a whole new world," said Loren Bendele, Savings co-founder and president. "We can drive the digital side of that for them while they're driving the paper side. Everything we do well, they don't do at all."
Bendele, 40, said his site continues to grow, attracting 8,000 new customers a day. Today, it has 5 million visitors a month. Cox's Valpak mailer reaches almost one-third of households in the United States.
The new deal will allow Savings' national merchants to be able to distribute deals and coupons through Valpak. Savings will now be able to provide online coupons for use at small businesses and have its deals promoted by Valpak. Savings will continue as a separate company, retaining its 75 employees including the management team and 14,000-square-foot office.
Michael Vivio, president of Cox Target Media, a subsidiary of Cox that includes Valpak, said the deal also gives his company the opportunity to adopt Savings' commission model for some of its clients. Savings usually takes 6 percent to 7 percent of sales on redeemed coupons. Valpak now plans to sell distribution of coupons to some merchants up front.
"What we're creating here is the ability to have that mass reach and do it in a pay-for-performance customer-savings way Savings.com is known for," Vivio said.
Deal hungry
Bendele grew up in Duncanville, Texas, a town of 40,000 south of Dallas. When he was only 8, his dentist father passed away, leaving his mother to raise four children on her husband's insurance policy.
She used grocery coupons to help feed the kids, dressed them in hand-me-downs and taught her son the value of stretching a dollar.
"She would drive 10 miles to save five cents on gas," Bendele remembered. "It's not about being cheap, it's being smart with your money so you live a better life."
He said this upbringing taught him how to be thrifty and gives him a personal understanding of Savings' customers.
Bendele spent four years working as a marketing executive at online florist Teleflora then left in 2007 to start Savings with Per Petersen, chief executive of Santa Barbara technology incubator Estalea. The company began with $150,000 from Petersen and a group of angel investors.
Last year, a mutual friend introduced Bendele to Cox Media and the two companies decided to offer select Savings' deals on the Valpak site. That led to the sale.
The money from the company's sale to Cox went mostly to Petersen and the other investors; Bendele is now a minority owner.
Savings' competitors said the sale illustrates peoples' desire for deals.
Alexis Caldwell, director of affiliate and partner marketing for Santa Monica online marketing site SurfMyAds.com Inc., said the soft economy has helped the space grow rapidly and the Savings move "validates the innovative culture of our industry."
Bryant Quan, chief executive of Las Vegas coupon site Slickdeals, said the purchase helps raise consumer awareness.
Mark Douglas, chief executive of Culver City Internet marketing company Steelhouse Inc., said the biggest hurdles facing Savings could be convincing people of the value of cut-rate products and the perception that coupons devalue a product.
"Coupons do have a perception of not being associated with products that are as premium," Douglas said. "There's other ways to find deals other than coupons."
For reprint and licensing requests for this article, CLICK HERE.