Burger Chain Has A Big Beef With Rival's Similar Fare
Monday, July 16, 2012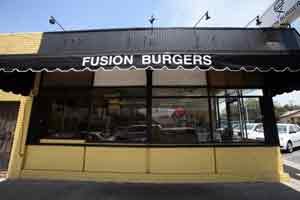 Few noticed when a little restaurant called Fusion Burgers quietly opened next to a hair salon and an H&R Block in a Highland Park strip mall.
Just three months later, Fusion is a surprise hit. On a recent Saturday, one customer in the packed house declared it was his fourth time there.
But if its Parmigiano burger looks familiar – caramelized onions, a crisp wafer of parmesan, roasted tomatoes, shiitake mushrooms and Portuguese-style bun – that's because the ingredients are essentially the same as the signature offering from fast-growing L.A. chain Umami Burger.
Umami isn't happy about its new competitor. It has moved to legally block Fusion, which was started by two former Umami employees and features several similar menu items. Experts said the fight is an early test.
"If you're attempting to (build a) chain, which certainly Umami Burger is, you now run into a situation where people may actually take that concept and try rebranding it as something else," said Jerry Prendergast, a restaurant consultant in Culver City. "If you do not defend your trademark and product against one restaurant, what stops McDonald's with coming up with a concept that competes directly with you?"
Fusion may be just getting off the ground, but its appearance comes amid rapid expansion plans for Umami.
Since its founding on La Brea Avenue near the Miracle Mile in 2009, the burger chain has grown to 11 restaurants, including one in San Francisco. Last year, eyeing further expansion, it teamed up with Fairfax district-based hospitality company SBE Entertainment Group LLC. The chain plans a total of 20 locations by the end of the year, including a 175-seat flagship site at the Grove and an expansion in New York. It's also planning openings in Miami, Las Vegas and Texas. Umami has also launched a related delicatessen concept, the Umamicatessen in downtown Los Angeles, and has announced a smaller quick-serve concept, U-Ko.
Richard Kolber, an attorney representing the company, vowed to fight all copycats, "no matter how big or small."
"The presence of imitators is not going to stop Umami's growth plans," Kolber said. "It'll just become part of Umami's protection of its property."
Miguel Munoz Sr., who founded Fusion with son Miguel Munoz Jr., said he was attempting to resolve the legal situation but declined to comment further.
Fusion power
Fusion Burgers is part of a wave of new businesses on Highland Park's York Boulevard, a gentrifying hub where new restaurants, vinyl record stores and indie furniture shops have sprung up. Chef-driven restaurants Maximiliano and Highland Park Kitchen opened there this year, and popular gelato chain Scoops is reportedly planning to set up a branch.
Prev Next
For reprint and licensing requests for this article, CLICK HERE.