Burger Chain Has A Big Beef With Rival's Similar Fare
Monday, July 16, 2012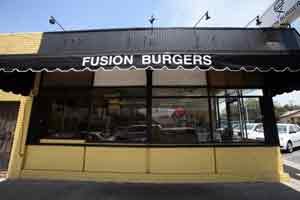 Few noticed when a little restaurant called Fusion Burgers quietly opened next to a hair salon and an H&R Block in a Highland Park strip mall.
Just three months later, Fusion is a surprise hit. On a recent Saturday, one customer in the packed house declared it was his fourth time there.
But if its Parmigiano burger looks familiar – caramelized onions, a crisp wafer of parmesan, roasted tomatoes, shiitake mushrooms and Portuguese-style bun – that's because the ingredients are essentially the same as the signature offering from fast-growing L.A. chain Umami Burger.
Umami isn't happy about its new competitor. It has moved to legally block Fusion, which was started by two former Umami employees and features several similar menu items. Experts said the fight is an early test.
"If you're attempting to (build a) chain, which certainly Umami Burger is, you now run into a situation where people may actually take that concept and try rebranding it as something else," said Jerry Prendergast, a restaurant consultant in Culver City. "If you do not defend your trademark and product against one restaurant, what stops McDonald's with coming up with a concept that competes directly with you?"
Fusion may be just getting off the ground, but its appearance comes amid rapid expansion plans for Umami.
Since its founding on La Brea Avenue near the Miracle Mile in 2009, the burger chain has grown to 11 restaurants, including one in San Francisco. Last year, eyeing further expansion, it teamed up with Fairfax district-based hospitality company SBE Entertainment Group LLC. The chain plans a total of 20 locations by the end of the year, including a 175-seat flagship site at the Grove and an expansion in New York. It's also planning openings in Miami, Las Vegas and Texas. Umami has also launched a related delicatessen concept, the Umamicatessen in downtown Los Angeles, and has announced a smaller quick-serve concept, U-Ko.
Richard Kolber, an attorney representing the company, vowed to fight all copycats, "no matter how big or small."
"The presence of imitators is not going to stop Umami's growth plans," Kolber said. "It'll just become part of Umami's protection of its property."
Miguel Munoz Sr., who founded Fusion with son Miguel Munoz Jr., said he was attempting to resolve the legal situation but declined to comment further.
Fusion power
Fusion Burgers is part of a wave of new businesses on Highland Park's York Boulevard, a gentrifying hub where new restaurants, vinyl record stores and indie furniture shops have sprung up. Chef-driven restaurants Maximiliano and Highland Park Kitchen opened there this year, and popular gelato chain Scoops is reportedly planning to set up a branch.
Fusion occupies a small, plain space previously occupied by a taco stand and seats about 20 people. It has already garnered more than 70 reviews and a meaty 4.5 out of 5 average rating on restaurant review site Yelp.
In addition to its take on the Umami burger, Fusion's menu includes variations of other Umami staples: cheesy tater tots; beer-battered onion rings; savory house ketchup; and a turkey burger that, like Umami's, features green cheese, green goddess dressing, sprouts and avocado.
"It's pretty much a blatant rip-off," Kolber said. "If you look at their menu, all they really did was rename their burgers with the same ingredients."
But Fusion also offers its own creations, such as a Mexican barbecue burger that features al pastor meat, a style of pork, and grilled pineapple.
Umami filed a lawsuit in Los Angeles Superior Court last month alleging that the Munozes, formerly employees in the kitchen at Umami's Santa Monica location, stole trade secrets including recipes for 10 burgers, broke confidentiality agreements and infringed on its trademarks. The suit seeks more than $1 million in damages.
Keith Gregory, an attorney who is not involved in the case but reviewed it for the Business Journal, said that Fusion could simply claim that Umami hadn't taken enough steps to establish its recipes as trade secrets. He noted that the Munozes could also claim that selling similar items does not constitute unfair competition.
"I would argue that a burger is a burger," Gregory said.
Darren Tristano, executive vice president at Chicago market research firm Technomic Inc., agreed.
"It's hard to own burgers," he said. "If you look at Wendy's, Burger King, McDonald's, oftentimes they have similar styles of burgers with the same sauces, same flavors and same ingredients."
Kolber countered that Umami's menu is a distinctive creation that Fusion is trying to exploit. The creation story of Umami Burger has been well-publicized. On a summer day in 2009, founder Adam Fleischman walked out of a Japanese market in West Los Angeles with everything he could find with an "umami" flavor – the Japanese word for the savory taste found in the likes of soy sauce, shiitake mushrooms and Japanese kelp.
Convinced it was the secret to an addictive burger recipe, he tested out the ingredients and a month later, opened the first Umami Burger restaurant. Fleischman, who declined to comment for this article, also bought the trademark for the word "Umami" after a legal dispute with Umami Café in New York last year.
Both Fusion and Umami are part of the "better burgers" restaurant category, the fastest-growing segment of the restaurant industry. Lorton, Va.'s better-burger chain Five Guys was the fastest-growing restaurant chain in the United States last year, opening some 180 locations, according to Nation Restaurant News.
Other players include Denver's Smashburger, which has more than 100 restaurants nationwide, and growing regional chains including Santa Monica's Counter and New York's Shake Shack.
Gregory said that possible resolutions of the suit could include the removal of certain menu items or even geographic restrictions on where Fusion can operate.
Experts said it won't likely be the last time Umami is in this kind of legal fight.
"They're going to have other knockoffs," Tristano said. "That's just the way the industry has been if you have something good. But if they have an early start and have created a concept that has developed brand recognition, that will leverage into success."
For reprint and licensing requests for this article, CLICK HERE.