Stretching Out
CEO Sky Meltzer pushed Manduka to be more flexible in its line of yoga products.
Monday, July 9, 2012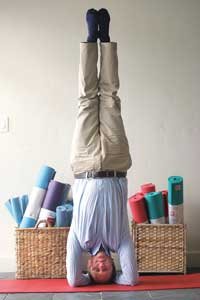 What was it like growing up in that kind of environment?
As you could probably imagine, growing up with the name Sky, I have had my fair share of being teased. My name rhymed with shy, cry, lie, all those things. As a child, what I wanted was a conventional upbringing. I'm very proud of my roots now, but as a child nobody else I was friends with was born in a teepee or was a vegetarian.
Do you have siblings?
I have four siblings, but they have very normal names. When I say my parents were hippies for a moment in time, I was certainly born in the heart of that. My sisters are Justine and Jessica, and I have two brothers, Brock and Jordan.
Where did you go to college?
I went to Stanford University for college and I majored in economics. After Stanford I went into corporate finance; I worked for an investment bank on Wall Street. For two years I was an investment banking analyst, and it was that program that really drove me to yoga, specifically.
How so?
I was working seven days a week, 12 to 15 hours a day. I often joke that everything I learned in my professional life I learned as an investment banker. But by the end of it I realized that I need to be emotionally connected to what I do. So I took a little bit of time off.
When did you start practicing yoga?
I broke my ankle when I was an investment banker, right before I left, in a boating accident in Europe. My sister said, "You should come to this yoga class." I said, "Oh, come on, yoga's for girls! My name is Sky, I want nothing to do with hippie culture." But I will never forget that first yoga class.
What was it like?
It was so hard and my muscles were shaking and I was dripping with sweat. I was watching these people do what to me was so inspiring, like press up into a headstand. The amount of agility and sheer strength and focus and concentration it took, I was really inspired by that. So I fell in love with yoga; I started going every day.
When did you come to Los Angeles?
I moved to Los Angeles for a job in business development for a digital media company in 2001, and I asked my teacher in San Diego, "Where should I take yoga when I go to L.A.?" He said, "Well, you need to study at YogaWorks on Montana Avenue."
For reprint and licensing requests for this article, CLICK HERE.