Beverly Hills Mansion Opens Doors to History
CATERING: Former home of Doheny family to host special events and parties.
Monday, July 9, 2012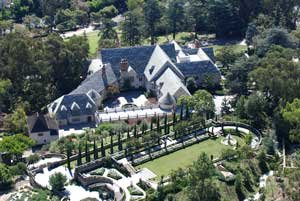 The mysterious old house on the hill just opened its doors.
Greystone Mansion in Beverly Hills, famous as the setting of the opening of Raymond Chandler's "The Big Sleep" and the bowling alley murder in the movie "There Will Be Blood," will now host corporate parties. One event company will stage costumed dramas there, with one based on a notorious murder-suicide that happened behind the closed doors of the imposing façade.
Built in 1928 by the Doheny oil family, Greystone has hosted weddings, concerts and car shows on its 12 acres of lawn and gardens. But until now, the interior has been off-limits except to a few non-profit fundraisers and special events staged for the city of Beverly Hills, which owns the property.
The city recently signed an agreement giving three catering companies licenses to produce private and corporate parties inside the mansion. The three companies are SRC Event Group in Beverly Hills, Wolfgang Puck Catering in downtown Los Angeles and Jackson Catering in the Mid-City neighborhood of Los Angeles.
Connie Armijo, vice president of special events at SRC, said Greystone has inspired her to come up with some site-specific party themes she can offer.
In "Dining With the Dohenys," actors, dressed in period attire, will play the part of the wealthy family, taking guests on a tour of the house. Each room will feature one course of a dinner. Armijo sees the show as a typical murder-mystery dinner with a large dose of authenticity because of the mansion, which was the scene of a scandalous high-society murder-suicide.
Greystone was built by Ned Doheny, the only son of oil magnate Edward Doheny. But the younger Doheny only lived in the mansion for five months before his wife, Lucy, discovered him shot to death together with his personal secretary Hugh Plunkett.
The deaths were officially ruled murder-suicide and blamed on Plunkett, who had shown signs of mental illness in the preceding weeks. But an alternate theory is the men were romantically involved and Lucy shot them in a jealous rage.
Another party concept focuses on the mansion's hunting room on the second story. The room has gun racks and a window from which the Dohenys and their guests shot at deer that were released on the grounds and on Edward Doheny's 429-acre estate next door. Armijo plans to take guests up to the room for hunting tales and then bring them down for a lamb dinner.
She's also working with a corporate client on a "Nightmare Before Christmas" event with Tim Burton-style furniture and decor.
Armijo said that when out-of-town business people visit Los Angeles, they don't want to drive around in a tourist van and see Beverly Hills mansions from the street. They want to get inside one – a desire that Greystone can now fulfill.
'A wow'
"For companies that want an event to wow people, Greystone is a great venue because walking into that mansion is a wow experience," she said. "Now, when corporate America comes to Beverly Hills, they go by Rodeo Drive and leave. The city loses revenue by not keeping them in Beverly Hills. I hope Greystone will help that."
Brad Meyerowitz, recreation services manager for Beverly Hills, said the city has invested million of dollars in plumbing, heating and air-conditioning upgrades as well as a new professional kitchen to prepare Greystone as an event venue. The goal is to generate revenue for the city through corporate events in addition to the weddings and occasional filming fees the mansion already earns.
"We don't have a lot of Monday-to-Friday business and that's the untapped corporate market we want to reach," he said.
Alesandra Dubin, West Coast editor for corporate event website BizBash, said Greystone will be limited in the types of events it can book due to its size. The largest room in the house can seat only 70 people, while several other rooms can seat 30 to 40. The house has a maximum capacity of 300 for a cocktail event at which people are standing. However, the intimacy might turn to its advantage, she noted.
"It shouldn't try to compete with nearby hotel ballrooms because it doesn't compare in scale," Dubin said. "On the other hand, smallness makes it an elite experience. This is a chance to give special access to a rarely seen place."
SRC's Armijo estimated the average cost for a 100-person corporate event at Greystone will range from $15,000 to $25,000. However, the cost for an extravaganza such as the "Nightmare Before Christmas" event could run as high as $190,000.
The city charges a venue rental of several thousand dollars for each event, and starting next year it will get a commission between 6 percent and 10 percent of the event companies' fees. The city estimates it will make about $100,000 per year from the commissions from all three companies.
Greystone has provided scenery for many movies, including the recent "The Social Network" and the oil-themed "There Will Be Blood," which featured a brutal beating in the mansion's bowling lanes.
Meyerowitz, who has his office at Greystone and calls it "the jewel on the hill," said that visitors will love to walk around and dine in rooms where a well-known movie was filmed.
"It is a nice oasis in the midst of the city, and just walking around you can feel the old-time Hollywood glamor of its heyday," he said.
Armijo said her favorite word to describe Greystone is mysterious. In her hunt to find creative ideas for events, Armijo tried to explore the mystery by hiring a professional psychic who walked the house to see what she felt.
"She had a good vibe and felt a lot of parties in each of the rooms," Armijo recalled. "But before she went into the Murder Room she felt it was a crime scene."
For reprint and licensing requests for this article, CLICK HERE.