Labor Tide Rolls Into Long Beach
Port PLAs could sink nonunion contractors.
Monday, July 2, 2012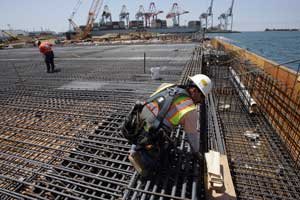 Nonunion employees of Helix Electric Inc. this summer will start installing electrical substations, transformers and massive power outlets for cargo vessels docking at the Port of Long Beach.
But the $25.2 million contract at Pier J could be among the last big port contracts to go nonunion if Long Beach leaders approve a labor-backed agreement to require union workers on more projects.
Harbor commissioners have approved or are negotiating such deals, called project labor agreements, for about $1.1 billion worth of major port projects, including the replacement of the Gerald Desmond Bridge. They are now considering a broader agreement that could apply to virtually all port projects.
Backers of the plan said the agreements employ highly skilled local workers and ensure projects are completed on time and within budget by preventing strikes and work stoppages. But Helix, other nonunion contractors and business groups argue the agreements raise costs and discourage nonunion contractors from bidding.
"There's a tremendous amount of money and projects that are going to be done (at the ports) over the next several years and we'd love to be involved with that," said Brian Jordan, executive vice president of San Diego-based Helix. "But in nearly all instances, we choose not to bid if there's a project labor agreement."
That means fewer bidders and potentially higher costs. For example, on the recently awarded ship-to-shore power contract, Helix was the lowest bidder. The next lowest union contractor, Shimmick Construction of Oakland, quoted a price of $3.3 million, or 13 percent, higher.
Unlike Los Angeles, which has used project labor agreements for more than a decade and has an agreement covering nearly all port projects, Long Beach has only used project labor agreements for a few years.
Former Long Beach Harbor Commissioner John Hancock, who served from 1995 until 2007, said he remembers perhaps only one discussion about a labor agreement during his tenure.
But he noted that the city and its leaders have become more union friendly over the past decade as unions have gotten heavily involved in local politics.
"I think you have to look at the (city) leadership. Politics are making it much more acceptable and pervasive," Hancock said. "I think the unions have gotten more aggressive in leaning on elected representatives."
Labor peace
Project labor agreements, or PLAs, have been around since the 1930s but have been more widely used since the late 1990s.
The agreements, negotiated with a coalition of trade unions, set hiring rules, wages and benefit levels for work on a particular project or set of projects, either public or private.
Because project labor agreements last for the length of a project, even if there's labor strife elsewhere, PLAs prevent strikes and work stoppages, helping to ensure projects are completed on time, said Robbie Hunter, executive secretary of the Los Angeles/Orange Counties Building and Construction Trades Coalition, which would negotiate any PLA at the port.
"We've got 14 trades, from elevator constructors to iron workers to electricians, and everyone has to agree there's no job stoppage," he said. "That's pretty important on a large infrastructure project."
Supporters of PLAs said the agreements are also a way to ensure projects employ local workers. Using a PLA, city agencies could request that unions dispatch a certain percentage of workers from Los Angeles or particular parts of town to city projects. Typically, union hiring halls assign workers based on seniority, not residency.
Broad PLAs approved in the past few years now cover about $1.5 billion of planned and ongoing work at the Port of Los Angeles and $2.3 billion in L.A. Department of Public Works projects.
The Port of Long Beach approved its first PLA in 2010, governing work on the first phase of the Middle Harbor redevelopment project, which will merge two outdated shipping terminals into a single massive facility. Since then, the port has approved an agreement for another phase of that project, and is negotiating PLAs for additional Middle Harbor work and for the construction of a new Gerald Desmond Bridge.
Harbor Commissioner Doug Drummond, who last month suggested the commission approve a broader PLA "as rapidly as possible," said the labor peace that comes with an agreement is especially important at the port, where organized workers keep goods flowing in and out.
"If you have a problem with labor, you can have ramifications throughout the port. We don't need a reputation as a port complex that has labor problems and is therefore an unreliable place to put your goods," he said.
But critics said the agreements make PLA-governed projects unattractive to nonunion bidders. The agreements don't prohibit nonunion contractors from bidding on projects, but they do limit the number of nonunion workers.
Typically, a contractor is able to use only a handful of its own so-called core workers – as few as four or as many as 10 – and must hire an equal number of union workers. After that, all workers must be hired through a union. A project with 60 workers, for instance, would have at least 50 union workers.
Chris Lang, president of Glendale contractor Westway Electric Systems Inc., said he and other nonunion contractors have workers they know and trust, and that using new workers brought in from a union hiring hall can mean less efficiency.
"You're trying to break new guys in, you don't know what their work ethic is," he said. "If on a job, two guys are your foremen and 10 are guys you don't know, that's not a recipe for success. It's a dollars-and-cents thing."
City Hall
The Harbor Commission held a study session to discuss a broader PLA last month but took no action. However, if commissioners follow the lead of the L.A. port, where most projects worth more than $10 million are under a portwide PLA, a similar Long Beach agreement would likely cover nearly $800 million of future work at Middle Harbor, $650 million to build a proposed shipping terminal at Pier S and numerous smaller projects.
Unions have been lobbying the commission for a broad PLA for the past several months and have thrown tens of thousands of dollars into council races over the past few years.
Six of nine council members, and one member-elect, have expressed support for a portwide agreement. Though the council doesn't control the Harbor Commission, members have influence at the commission where Drummond and Rich Dines, a member of the International Longshore and Warehouse Union, strongly support a portwide agreement.
The most vocal opponents of a portwide labor agreement are the Long Beach Chamber of Commerce and the Coalition for Fair Employment in Construction, a contractor-backed group that opposes project labor agreements. Eric Christen, the coalition's executive director, told harbor commissioners they had "invited division and controversy" by discussing PLAs, which he called "immoral documents."
Proposing a third way is Long Beach Mayor Bob Foster, who appointed all five harbor commissioners. He's generally a union supporter and believes project labor agreements save time and money on public and private projects. But his favorable view of future PLAs does not mean he supports a portwide agreement.
"If you guarantee somebody something, the tendency is for people to become a little complacent," he said. "It's good to keep everybody on their toes. We're going to learn more as we go along, and part of being a good policymaker is responding to what you've learned."
For reprint and licensing requests for this article, CLICK HERE.