Water Firm Dips Toe Back in Desert
New client prompts Cadiz to revive aquifer project.
Monday, January 30, 2012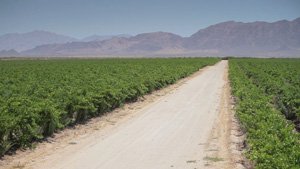 More than a decade after its first plan to create a Mojave Desert water storage project collapsed amid environmental uproar, Cadiz Inc. is gaining momentum with a second try that the company hopes doesn't turn into another mirage.
The L.A. holding company has been trying for nearly two decades to develop a water storage and sales project for an aquifer under its 45,000-acre holdings east of the Twentynine Palms Marine Corps Air Station. The company plans to sell the water to distributors across Southern California.
Now, it seems to be making progress. In recent weeks, Cadiz has signed up a sixth water distributor to participate in the project. That gives the company buyers for 80 percent of the water it intends to sell.
Cadiz will draw the water from the underground aquifer, blended with Colorado River water that it would store there.
In another sign of progress, the company also released a draft environmental impact report on the water storage project.
In addition, the company last month obtained $11 million in outside investment, $6 million from Altima Partners LLP and $4.5 million from Water Asset Management LLC. News of these investments caused Cadiz's share price to spike to $10.50 before settling back down to around $10 a share; recent lows were about $9. The company hasn't made a profit in its 30 years. Its only income is from small-scale agricultural operations on its desert land.
But the same environmental groups that tanked the first plan are expected to remain vehemently opposed to this one, even though it has been scaled back. The groups say they will oppose any plan that involves drawing down the aquifer because it would threaten local wildlife. The company says it would only take water that would otherwise evaporate.
The environmentalists' continued opposition guarantees a showdown in coming months as Cadiz seeks approvals from federal and state agencies.
Water search
So can Cadiz, with 10 employees at its downtown L.A. headquarters, overcome the environmental opposition this time?
The odds may be better. L.A. economic development consultant Larry Kosmont, who was on the Metropolitan Water District board when it rejected Cadiz's first proposal, said several things have changed.
Most importantly, Kosmont said, a recent state law requires water agencies to certify that there's a guaranteed source of water for any new development project with more than 500 residential units. As a result, developers will be calling on water agencies to boost supplies.
For reprint and licensing requests for this article, CLICK HERE.
Prev Next