Generator Maker Hopes to Energize New Markets
Aura turns to military deals, new products for vehicles.
Monday, January 16, 2012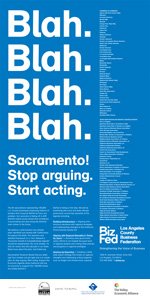 Aura Systems Inc. has gone through some short-circuits over the last decade. A scrape with the Securities and Exchange Commission, a tour through Chapter 11 bankruptcy court and chronic low sales have created a history of losses for the El Segundo maker of compact generators.
But a new contract with the South Korean military signifies that Aura's defense business is on the rise. At the same time, the company has set its sights on growing its commercial sales. It plans to focus on making refrigeration systems for delivery trucks as well as motors for hybrid and electric cars, and generators that power vehicles' automatic steering, air conditioning and other equipment.
Melvin Gagerman, Aura's chief executive, said the defense and commercial markets have finally started to adopt the company's small fuel-efficient generators.
"It's taken us a very long time to get it accepted in the marketplace," he said. "But we're starting to get more and more companies coming to us rather than us going to them. We're starting to actually make sales of the product."
Aura's primary product, AuraGen, is designed to generate power using less fuel. At 65 pounds, it weighs much less than standard 400-pound power units.
Bill Farrell, founder of Pacific Solutions LLC, a Seattle commercial vehicle consulting firm, said the AuraGen stands out from other electric generators because it produces high power levels from a small device, so it easily fits in boats, trucks and vans.
"There really isn't another product that I'm aware of that can do what the AuraGen can do," said Farrell, who has been helping Aura develop new customers since last year.
Aura introduced AuraGen 10 years ago, but military clients spent several years testing the product before committing to purchases. Now, the military version of AuraGen, called the Viper, is being used in boats for the U.S. Coast Guard and vehicles for the French military.
The company's latest military contract is with South Korea. Announced in late December, the $612,000 sale will supply the military with 1,000 systems. Aura is also working with defense contractors to make deals in other countries, such as Israel.
"We're starting to exploit the military in a pretty good way in the U.S. and around the world," Gagerman said. "It's been a process for us to get in there."
Commercial endeavors
Aura has also started going after commercial sales, including generators for refrigeration systems on delivery trucks.
Prev Next
For reprint and licensing requests for this article, CLICK HERE.