Generator Maker Hopes to Energize New Markets
Aura turns to military deals, new products for vehicles.
Monday, January 16, 2012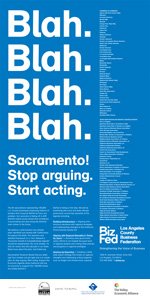 Aura Systems Inc. has gone through some short-circuits over the last decade. A scrape with the Securities and Exchange Commission, a tour through Chapter 11 bankruptcy court and chronic low sales have created a history of losses for the El Segundo maker of compact generators.
But a new contract with the South Korean military signifies that Aura's defense business is on the rise. At the same time, the company has set its sights on growing its commercial sales. It plans to focus on making refrigeration systems for delivery trucks as well as motors for hybrid and electric cars, and generators that power vehicles' automatic steering, air conditioning and other equipment.
Melvin Gagerman, Aura's chief executive, said the defense and commercial markets have finally started to adopt the company's small fuel-efficient generators.
"It's taken us a very long time to get it accepted in the marketplace," he said. "But we're starting to get more and more companies coming to us rather than us going to them. We're starting to actually make sales of the product."
Aura's primary product, AuraGen, is designed to generate power using less fuel. At 65 pounds, it weighs much less than standard 400-pound power units.
Bill Farrell, founder of Pacific Solutions LLC, a Seattle commercial vehicle consulting firm, said the AuraGen stands out from other electric generators because it produces high power levels from a small device, so it easily fits in boats, trucks and vans.
"There really isn't another product that I'm aware of that can do what the AuraGen can do," said Farrell, who has been helping Aura develop new customers since last year.
Aura introduced AuraGen 10 years ago, but military clients spent several years testing the product before committing to purchases. Now, the military version of AuraGen, called the Viper, is being used in boats for the U.S. Coast Guard and vehicles for the French military.
The company's latest military contract is with South Korea. Announced in late December, the $612,000 sale will supply the military with 1,000 systems. Aura is also working with defense contractors to make deals in other countries, such as Israel.
"We're starting to exploit the military in a pretty good way in the U.S. and around the world," Gagerman said. "It's been a process for us to get in there."
Commercial endeavors
Aura has also started going after commercial sales, including generators for refrigeration systems on delivery trucks.
Aura's system is entirely electric, unlike most other refrigeration systems, which use additional fuel to keep food cool. The units are powered by the vehicle engines and battery packs when the vehicle is turned off.
Gagerman estimates that truck operators could save between $400 and $500 a month on maintenance and fuel for each refrigerated truck by using Aura's system.
The company has contracted with Zanotti, a transport refrigeration company in Patagonia, Italy, to put generators inside Zanotti cooling systems.
Aura is also looking to expand into hybrid and electric vehicles such as trucks, vans and buses. It is the starting motor in some Ford vans and is currently being tested as an all-electric air-conditioning system for school buses in Texas.
"Military will always be important," Gagerman said. "But commercial use is steady business. You can build a block of business that continues to grow."
Aura has yet to find enough customers to make a profit. The 60-person company reported a net loss of $5.8 million on revenue of $616,000 for the quarter ended in August, the last time it reported, compared with a loss of $2.78 million on revenue of $997,000 for the same period in 2010.
The company attributed the revenue decline to a decrease in sales from two regular customers. The wider net loss was attributed to increased charges associated with the employee stock option plan.
Pacific Solutions' Farrell said Aura's initial focus on military customers made it more challenging for them to move into the commercial markets.
"Working with the military, you don't necessarily get the same publicity and PR as the commercial market," he said. "I think their low sales have been due to a lack of marketing and too narrow of a focus on the channels and customers that they're going after."
Internal struggles
Aura, which was founded in 1987 as a research and development company, began developing the AuraGen product in 2001. But the company has experienced some executive turmoil since it started making generators.
Zvi (Harry) Kurtzman, the company's co-founder, resigned as chief executive in 2002 after the SEC accused him and two other executives of booking more than $26.5 million in fictitious sales. The SEC barred Kurtzman from serving as an officer for a public company.
Three years later, Aura filed for Chapter 11 bankruptcy, citing inadequate funding and high debt. Gagerman took the reins in 2006 when the company emerged from Chapter 11.
To prepare Aura for the expansion of its military and commercial business, Gagerman has announced plans to restructure the executive team. He is looking for a chief operating officer and chief financial officer. In addition, the company's board has expanded from five members to seven.
He has also announced plans to retire next year. He hopes to find his replacement and spend several months helping with the transition before stepping down.
"I believe it's now time to bring in a lot of young blood," he said. "As we've grown, the demands for more management have, too. We need other people with other opinions and other expertise to add to the team to become more efficient."
For reprint and licensing requests for this article, CLICK HERE.