Carrying On
Plastic bag makers cope differently with ban risk
Monday, January 16, 2012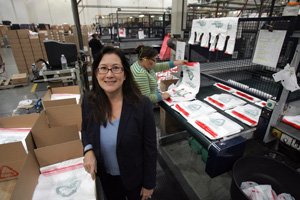 When cities started banning one-use plastic bags a few years ago, Command Packaging in Vernon retrofitted some of its machines to make sturdy, reusable bags instead of the disposable ones it sells to McDonald's, Nordstrom, and other restaurants and retailers.
Not far away in Huntington Park, rival Crown Poly is doing no such thing. Just a few years ago it invested millions in new disposable-bag manufacturing machines and plans to keep on making the thin grocery sacks as long as it possibly can.
"The bag ban will decimate a domestic manufacturing industry," said Cathy Browne, general manager of Crown Poly. "Our product is being demonized."
Two L.A. companies, two different responses to the growth of bag bans: one changed to capture the new market of reusable bags, while the other decided to ride out the old market, which may have more years of life.
Their respective decisions may become more crucial in the near future. That's because the Los Angeles City Council, after years of studying the issue, appears poised to pass a bag ban this year. In fact, several council members have said they'd like to approve one by the end of March. If it does so, Los Angeles would join the local cities of Calabasas, Long Beach, Malibu, Manhattan Beach and Santa Monica with bag bans. Los Angeles County, too, has banned the bags in unincorporated communities.
Nationwide some two dozen local governments have banned throwaway plastic bags, including San Francisco; Seattle; Portland, Ore.; and several smaller cities on the East Coast.
Ted Duboise, publisher of PlasticBagBanReport.com, which tracks bag ban legislation around the world, said cities that haven't banned bags might try if Los Angeles proceeds with its action. It would be by far the largest city to ban plastic bags.
"Cities use other cities as examples. Governments and city councils talk to other governments and city councils," Duboise said. "L.A. would impact the rest of the world. And it would probably help push the state of California into a statewide ban."
Two products
An L.A. ban on disposable bags would hurt but not devastate Crown Poly because it sells bags nationwide. Browne said sales to stores in Los Angeles represent only a small fraction of its $50 million in annual sales.
The company, founded in 1991, used to mostly sell produce bags and developed a holster that separates one bag from the next. That system, called Pull-N-Pak, was invented by Crown Poly founder and Chief Executive Abraham Simhaee, and can be found at Ralphs and Whole Foods stores.
Prev Next
For reprint and licensing requests for this article, CLICK HERE.