Carrying On
Plastic bag makers cope differently with ban risk
Monday, January 16, 2012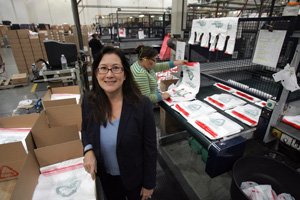 When cities started banning one-use plastic bags a few years ago, Command Packaging in Vernon retrofitted some of its machines to make sturdy, reusable bags instead of the disposable ones it sells to McDonald's, Nordstrom, and other restaurants and retailers.
Not far away in Huntington Park, rival Crown Poly is doing no such thing. Just a few years ago it invested millions in new disposable-bag manufacturing machines and plans to keep on making the thin grocery sacks as long as it possibly can.
"The bag ban will decimate a domestic manufacturing industry," said Cathy Browne, general manager of Crown Poly. "Our product is being demonized."
Two L.A. companies, two different responses to the growth of bag bans: one changed to capture the new market of reusable bags, while the other decided to ride out the old market, which may have more years of life.
Their respective decisions may become more crucial in the near future. That's because the Los Angeles City Council, after years of studying the issue, appears poised to pass a bag ban this year. In fact, several council members have said they'd like to approve one by the end of March. If it does so, Los Angeles would join the local cities of Calabasas, Long Beach, Malibu, Manhattan Beach and Santa Monica with bag bans. Los Angeles County, too, has banned the bags in unincorporated communities.
Nationwide some two dozen local governments have banned throwaway plastic bags, including San Francisco; Seattle; Portland, Ore.; and several smaller cities on the East Coast.
Ted Duboise, publisher of PlasticBagBanReport.com, which tracks bag ban legislation around the world, said cities that haven't banned bags might try if Los Angeles proceeds with its action. It would be by far the largest city to ban plastic bags.
"Cities use other cities as examples. Governments and city councils talk to other governments and city councils," Duboise said. "L.A. would impact the rest of the world. And it would probably help push the state of California into a statewide ban."
Two products
An L.A. ban on disposable bags would hurt but not devastate Crown Poly because it sells bags nationwide. Browne said sales to stores in Los Angeles represent only a small fraction of its $50 million in annual sales.
The company, founded in 1991, used to mostly sell produce bags and developed a holster that separates one bag from the next. That system, called Pull-N-Pak, was invented by Crown Poly founder and Chief Executive Abraham Simhaee, and can be found at Ralphs and Whole Foods stores.
But today, the company gets the vast majority of its income from selling grocery bags. That puts the company and its 300 employees in a tough spot, especially because Crown Poly already revamped its bags and doesn't have plans to do so a second time.
About four years ago, after leaders in Los Angeles and other cities first started talking about bag bans, Crown Poly started making a product called Hippo Sak. Slightly larger than standard plastic bags, Hippo Saks hold more items and are strong enough that double-bagging isn't necessary, Browne said. That should mean fewer bags and less waste.
Hippo Saks can be found at Gelson's markets and ethnic markets around Los Angeles as well as in supermarkets nationwide. But the bags aren't sturdy enough to be considered reusable under bag ban ordinances, and Browne said it's not easy for manufacturers to shift from standard plastic grocery sacks to reusable bags.
"The equipment we have is made to make the bags we make. You can't just simply change a setting and run a thicker bag. The capital investment we've made is designed to make a certain product," said Browne, who put that equipment investment in the millions of dollars.
While most disposable plastic bags are made in the United States – some 102 billion annually – most reusable bags are made from woven plastic and sewn in Asia. Browne said U.S. manufacturers can compete with foreign makers of disposable bags because of advanced equipment, but they can't compete with the kind of cheap labor used to sew reusable bags.
Adapting
But Command Packaging seems to think it can compete in the reusable bag market. In 2009, it introduced a line of thick, unsewn plastic bags called True Reusable Bags that meet most reusable bag standards.
Those bags, like disposable plastic bags, are machine made by heat-welding sheets of plastic together. True Reusables are made from recycled plastic collected by Command Packaging's customers and processed at the company's manufacturing facility. The bags are made on retrofitted equipment that used to make disposable bags, said Erin Grande, the company's environmental program director.
The handled bags sell at Gelson's for 33 cents each, or four for $1. Sewn bags typically cost $1 or more each.
"Because the product doesn't use manual labor, the cost is less than a (sewn) bag," said Grande, whose father, Chief Executive Pete Grande, founded the company in 1989 after leaving Dow Chemical.
Command Packaging, which has about 250 employees, started developing the bags about five years ago, about the same time it started ramping up recycling efforts.
"We see the big picture, and it's going to be a long-term success. Other bag manufacturers could, if they're willing to make that investment, retrofit to make a product like ours," Erin Grande said.
Low margin
But doing so might not make sense for other manufacturers. The profit margin for True Reusable bags is slightly lower than for Command Packaging's standard bags, mostly because they use more material than standard bags.
It's a new and small part of Command Packaging's business – and less about immediate payoff than boosting the image of the plastic bag industry in general. Grande said bag bans might not affect Command Packaging directly, but bans can make consumers view plastic negatively, harming all bag makers.
"I don't see us hurting for business down the line," she said. "But plastics have gotten a really bad rap, and we want to make sure we're doing everything we can to be responsible."
Meanwhile, Crown Poly's decision to continue making disposable bags may make sense. After all, demand for disposable bags may continue for years, although perhaps at a lower level.

Bag makers have lobbied against bans everywhere they've been passed – most recently launching a public relations campaign that asserts reusable bags can carry food-borne illnesses.
The industry has also taken cities to court, although that strategy hasn't met with much success. It sued Manhattan Beach over its 2008 ban, saying the city didn't do a full study of the environmental impact of a bag ban. The California Supreme Court sided with the city in July, likely limiting bag makers' ability to fight bans in court.
Still, bag bans are relatively few and far between. Seattle approved a ban late last year that will take effect in July, and leaders in Austin, Texas, and Chicago are considering bans, but many other cities have rejected bans or done little more than discuss the idea.
Voters in small towns such as Hailey, Idaho, and Taos, N.M., have voted against bans, and state legislatures in Arizona, Oregon, Washington, Vermont and Connecticut have rejected or failed to pass bag bans.
Mark Daniels, vice president of sustainability and environmental policy for Hilex Poly Co. LLC in Hartsville, S.C., the nation's largest bag manufacturer, said the industry's arguments against bans have been effective. A main argument: Disposable bags are fine so long as they are recycled.
"Philadelphia went with a voluntary bag-recycling policy; Phoenix went with recycling," Daniels said. "When we have the opportunity to speak to policymakers and bring facts to the table, we've been successful in eliminating tax and bag schemes."
For reprint and licensing requests for this article, CLICK HERE.