Outside the Box
Vincent Mehdizadeh hopes pot shops give thumbs up to his fingerprint-checking, drug-dispensing vending machines.
Monday, January 9, 2012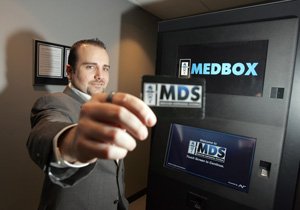 Vincent Mehdizadeh wants to turn medical marijuana dispensaries into well-run legitimate businesses, and he has invented a machine he hopes will do the trick.
His invention – formally called the Medicine Dispensing System, or MDS, but commonly called MedBox – looks like a vending machine. It uses fingerprint scanning to ensure that prescription holders receive marijuana, which is dispensed in standard plastic medicine bottles used by pharmacies.
The system helps shop operators prove they are in compliance with state and local laws. The MedBox controls the amount of drug dispensed, ensures only authorized customers get it and keeps a record of every transaction. Mehdizadeh, a former dispensary owner, said the machine eliminates error or fraud, especially preventing sales clerks from selling pot for street use.
"I'm giving a facelift to an industry that badly needs it," Mehdizadeh said. "I wanted to build a bridge between the clinics and law enforcement so everyone could work together. That's what the machine does."
About 50 dispensaries in the United States and Canada have purchased the MedBox, with 20 of those in Los Angeles County.
But with fresh capital, Mehdizadeh believes his sales could grow significantly. So last month he sold his West Hollywood company, Prescription Vending Machines, to MedBox Inc., a publicly traded company in Los Angeles formerly known as MindfulEye, which had been developing movie-download technology. The stock purchase put MedBox on the Pink Sheets and gives the company the chance to attract investment. Mehdizadeh remains chief executive of Prescription Vending, now a subsidiary.
"The reason we went public is to grow exponentially." he said. "We have grossed $6 million in the last 18 months, and the only ceiling on that number was limited capital."
The company focuses on three markets – marijuana shops, doctors' offices and regular pharmacies. Currently, MedBox is used by consumers only in pot shops, but hospitals use it to dispense drugs to medical staff.
Touchscreen selection
Here's how it works: With the MedBox system, customers come into the store and meet with a sales clerk. Each customer who presents a valid prescription receives a membership card (dispensaries are all non-profit cooperatives) and has his or her index finger scanned. Also, the sales clerk takes a credit card or cash and loads money on the membership card, similar to a prepaid phone or gift card.
When the customer needs marijuana, he or she comes to the machine in the dispensary. Using a touchscreen, the customer selects the type and amount of cannabis. A card swipe and finger scan confirm the customer's identity, and the machine dispenses the medicine much like any other vending machine.
Prev Next
For reprint and licensing requests for this article, CLICK HERE.