Outside the Box
Vincent Mehdizadeh hopes pot shops give thumbs up to his fingerprint-checking, drug-dispensing vending machines.
Monday, January 9, 2012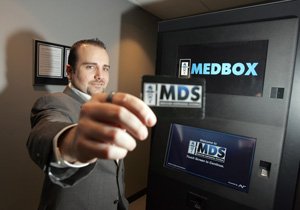 Vincent Mehdizadeh wants to turn medical marijuana dispensaries into well-run legitimate businesses, and he has invented a machine he hopes will do the trick.
His invention – formally called the Medicine Dispensing System, or MDS, but commonly called MedBox – looks like a vending machine. It uses fingerprint scanning to ensure that prescription holders receive marijuana, which is dispensed in standard plastic medicine bottles used by pharmacies.
The system helps shop operators prove they are in compliance with state and local laws. The MedBox controls the amount of drug dispensed, ensures only authorized customers get it and keeps a record of every transaction. Mehdizadeh, a former dispensary owner, said the machine eliminates error or fraud, especially preventing sales clerks from selling pot for street use.
"I'm giving a facelift to an industry that badly needs it," Mehdizadeh said. "I wanted to build a bridge between the clinics and law enforcement so everyone could work together. That's what the machine does."
About 50 dispensaries in the United States and Canada have purchased the MedBox, with 20 of those in Los Angeles County.
But with fresh capital, Mehdizadeh believes his sales could grow significantly. So last month he sold his West Hollywood company, Prescription Vending Machines, to MedBox Inc., a publicly traded company in Los Angeles formerly known as MindfulEye, which had been developing movie-download technology. The stock purchase put MedBox on the Pink Sheets and gives the company the chance to attract investment. Mehdizadeh remains chief executive of Prescription Vending, now a subsidiary.
"The reason we went public is to grow exponentially." he said. "We have grossed $6 million in the last 18 months, and the only ceiling on that number was limited capital."
The company focuses on three markets – marijuana shops, doctors' offices and regular pharmacies. Currently, MedBox is used by consumers only in pot shops, but hospitals use it to dispense drugs to medical staff.
Touchscreen selection
Here's how it works: With the MedBox system, customers come into the store and meet with a sales clerk. Each customer who presents a valid prescription receives a membership card (dispensaries are all non-profit cooperatives) and has his or her index finger scanned. Also, the sales clerk takes a credit card or cash and loads money on the membership card, similar to a prepaid phone or gift card.
When the customer needs marijuana, he or she comes to the machine in the dispensary. Using a touchscreen, the customer selects the type and amount of cannabis. A card swipe and finger scan confirm the customer's identity, and the machine dispenses the medicine much like any other vending machine.
For the cooperative, the machine reduces staff costs. The cooperative still needs a sales clerk to sign up new customers, load money on cards and restock the machine.
The MedBox machine, including a climate control unit to maintain drug freshness, costs $40,000. Also, shop owners are required to sign a maintenance and software support contract that costs $495 a month. Each machine can hold 600 half-ounce bottles of marijuana. The company also provides consulting services to help operators get a license to open a pot store.
MedBox also sells its technology to urgent care centers, clinics and doctors' offices to track the dispensing of drugs to staff. Many competitors target this market, but MedBox believes its fingerprint scanning technology is an improvement to prevent theft or human error. About 50 medical facilities have purchased the MedBox system, although some simply buy the software or scanners without the box.
This year the company plans to expand into the retail pharmacy market. In this case, the machine is configured with lockboxes, similar to mailboxes at the post office. The pharmacist loads the medicine into the back and tells the computer the drugs are available for pickup.
The customer must have a pre-established account for box pickup with a credit card on file. The customer arrives at the store, goes directly to the machine, scans his or her finger, swipes a card and the lockbox door opens. The open door immediately triggers the credit card payment from the customer's account.
Bing Lum, owner of AM Pharmacy Consulting in Montebello, thinks a market exists for the pharmacy lockbox, but warned that federal and state regulators will scrutinize it carefully.
"There could be a convenience factor for customers who want to pick up prescriptions from the lockbox during off-hours," he said. "Historically, nationwide pharmacy stores have addressed that by running 24 hours. A machine like MedBox would significantly cut down on a store's expenses, but the regulatory agencies would have to approve it. That's the challenge."
Mehdizadeh said that since the pharmacist controls the drugs placed in the lockbox, he doesn't believe it will present a major regulatory issue.
'Street dealing'
Mehdizadeh's first career was managing law offices, but four years ago he decided to get into the marijuana business. He opened several dispensaries around Los Angeles but soon found the competition was too shady for his tastes.
"Some of these places would give out half a pound of pot at a time over the counter, and that led to street dealing," he said. "The industry was a mess at that point."
He sold his clinics and in 2008 launched Prescription Vending Machines with $1 million of his own money and $260,000 from private investors. The company sold its first box in 2010.
Mehdizadeh said law enforcement does not bother his pot shop customers because MedBox retains a documented record of all transactions.
Mehdizadeh believes that with patented-protected technology and a proven business model, MedBox is ready for another round of investment. The company is currently talking to large corporations and wealthy individuals about a private placement.
MedBox's stock price is $1.24, but no shares have traded since September. No analyst follows the company.
For reprint and licensing requests for this article, CLICK HERE.