Works for Scale
Plaintiff's attorney Thomas V. Girardi tries to keep things light as he handles heavy cases for clients, including the Dodger Stadium assault victim.
Monday, January 2, 2012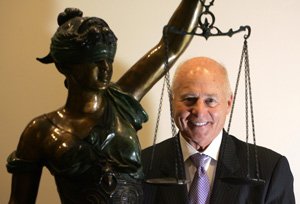 Thomas Girardi refuses to cross his arms in photographs. The famed plaintiff's attorney, a guy who has brought corporate behemoths like PG&E and Merck & Co. to their knees, is worried the arms-folded stance will make him look like an "a——— lawyer." He's trying to come across as anything but, cracking jokes while posing for the Business Journal with a statue of Lady Justice. At one point, he playfully puts his thumb on the scales, furtive schoolboy expression on his face. "I'm tipping the scales of justice," he jokes. This personable style belies, or perhaps has aided, his success waging tough battles in court since opening his law firm in 1965. He started with slip-and-falls and car accidents before getting attention for several major medical malpractice victories in the 1970s. He and his firm assisted on the famous groundwater contamination case against PG&E that became the subject of the film "Erin Brockovich." He also negotiated a $4.85 billion settlement in 2010 with Merck & Co. over the arthritis drug Vioxx, which was withdrawn from the market after causing heart attacks and strokes. Currently, he's representing the family of Bryan Stow, the nationally publicized victim of a beating at Dodger Stadium, in their lawsuit against the Los Angeles Dodgers. Today, his firm, Girardi Keese, has more than 30 attorneys, 30 law clerks and even four full-time former nurses on staff to examine medical records. In a sit-down interview for the Business Journal, he discussed his marriage to singer Erika Jayne, his first case, and his first and only fight at the courthouse. The interview was interrupted several times by phone calls from opposing counsel, judges and former client Brockovich herself.
Question: How is the Bryan Stow case going? He's now talking.
Answer: That's a case that's a lot of fun for me because I think at the end of the day I can do some good. You couldn't win this case against (former Dodgers owner Walter) O'Malley. He brought this great thing to L.A. and it was a wonderful place to be and women would take their two little kids and it was safe and everything else. And, quite honestly, you can't lose it against McCourt.
Because?
O'Malley was loved, and I think it's pretty clear to everybody that Mr. McCourt isn't.
You can't lose against McCourt just because he's not liked around town?
He'll lose it on the merits of the case.
What do you mean the case is fun?
Because you can do some good. I don't mean that it's fun in terms of what happened to this poor guy. It's a symbol for, how about this: If you're going to invite 40,000 people over to your place, make sure it's reasonably safe.
Do you always want to do good with your cases?
When I started practicing there were no moral issues in the cases I had. A lady would slip and fall on ice cream. Well, Sav-On didn't want the ice cream there. Maybe they had screwed up and didn't clean it up quickly enough or something. Or a guy would run into somebody stopped at the stop sign. There was no moral component. Almost every case I have now, there's a moral component to it.
What's another example of that moral component?
In Vioxx, we ended up with a document that showed when (Merck) took Vioxx into clinical trials, they had to know it coagulates blood. It's not a whoops at all. It's bad conduct. And, quite honestly, I'm the best weapon that corporate America has.
How's that, by suing companies?
If in fact there's a company out there who's cheating and getting away with it, a company that's doing the right thing can't compete. So I think that initially plaintiff's lawyers were despised by corporate America in every way shape or form. There's a definite change. When I talk to corporate executives, they say government doesn't help. The only thing that really checks companies that are cheating would be the lawyers that bring these cases.
Do you remember your first case?
Do I remember it? Are you kidding me? The case was Keck v. Higgs. It was here in L.A. Mrs. Keck, my client, was stopped at a signal and a guy hit her in the back. She hurt her neck and everything. I'm trying the case downtown and I invited my mom. Here's my mom, who'd said all these prayers that I'd get into law school, made all these novenas that I would pass the bar.
Novenas?
It's a Catholic thing, a prayer and so forth, that (her son) would pass the bar. Now this is the culmination, and my mom is there to see Keck v. Higgs. And I put on Mrs. Keck. "Mrs. Keck does your neck hurt?" She says, "Yes it does." "And did it hurt like this before?" "No, it didn't." And I sat down. Then the defense lawyer gets up, Charlie Lynberg. "Mrs. Keck, that neck of yours, didn't you slip and fall two months before this accident and hurt that neck and went to a different doctor?" "Uh, uh, uh, yes." "And didn't you have an incident with the garage door that came down and hurt you the year before?" "Oh, yeah, I think so." "That was the same neck wasn't it?" "Uh, yes it was." "Wait a minute I got more! Weren't you in another accident where your husband ran into a car in your …" "Um, yes."
Then what?
Finally, it's 3:15 for a break. I get up, walk out, my mom sees me, she says, "You ought to be ashamed of yourself!" (Laughs.) I didn't know about any of that! But my mom, she would never come back to another trial ever. She's dead now, but during the time when I was winning some big cases – I won $100 million in Lockheed (a toxic tort case on behalf of workers exposed to chemicals) – did all that stuff, man she wanted no part of that. Keck v. Higgs sold her.
Did you lose that case?
We got 500 bucks or something. It was far less than the offer. (Laughs.)
Why did you start off in personal injury?
Well, I didn't make a decision to do personal injury. I wanted to be a trial lawyer, and I didn't want to be a criminal trial lawyer. So those were the only cases I got. I think I took 13 verdicts my first year of practice.
Why not criminal defense?
I didn't like that idea. Ugh.
Why did you want to be a trial lawyer?
Since the sixth grade I wanted to be a trial lawyer. "Perry Mason" was on from 7 to 7:30 Saturday night and I watched every single one of them. And here was this guy, he had a great win-loss record, OK? And he was a gentleman, you never saw him yelling and screaming, and he would win the darn case.
Why did you want to try cases?
I thought that was terrific, the persuasion business. All of a sudden you're hired to be a persuader. Now, we've persuaded all of our lives. We've persuaded our mom at age 5 to stay up late, we've persuaded our dad at 16 to get the keys to the big car. Also, we persuaded later on a girl. In life, we're in the persuasion business. And then lawyers become lawyers and they're still in the persuasion business, but they forgot how they got there.
What do you mean?
I think our law firm has a pretty good reputation for being very decent to the other side. We don't fight if they want to continue something, we don't fight if they need extra time to do something. We don't fight. Everything's fine with us.
You don't play hardball?
The only thing we get a little cranky about is the end when you're gonna pay. Then we're not quite as lovey-dovey. But all the other procedural steps, I see all this junk here of lawyers filing all these stupid motions and so forth. It's insanity. And seeking sanctions against the firm because they didn't provide this or provide that. It isn't our style.
Is that how you manage your firm, too?
Yes. I think I've gotten that from watching other law firms that have somebody bellowing out "Why didn't we … ?" that sort of thing. I think it helps a place enormously not to be training new people every week.
You're not much of a yeller then?
No. Never.
Ever gotten angry at people in a professional context?
I got kind of mad at one guy who pushed me at the courthouse. He says, "Listen!" And boom! I came right back at him. (Swings his fist.)
You punched the guy?
Yeah, I punched him. (Laughs.)
How long ago was that?
Fifteen or 20 years ago. Larry Janssen was the lawyer's name. Big, tall guy. That was the only outburst I think I've had in 40-something years I've been practicing.
You guys get along now?
Fine. We got along within a week afterwards.
What case was that?
I think it was Lockheed. (Phone rings.) Can you hold that for a second? (Hangs up.) That was Erin Brockovich.
Are you sure you just don't have her call during interviews?
(Laughs.) No. I tried that case (in arbitration).
You keep in touch still?
We're friends, and a matter of fact the reason she's calling now is that a lot more people are sick due to PG&E in a different location, and she wanted to see if I would talk to some of the people.
You were brought in by lead attorney Ed Masry to help litigate that case once it ballooned. How did it change your career?
Following that case we were called upon on toxic cases all over the country. We'd had others, but obviously Hinckley was the big one. After that, lawyers would call on us because they knew we had the expertise.
Tell me about your childhood.
I grew up in Los Angeles. I delivered papers, the Westchester news, every Wednesday. That was in the sixth, seventh and eighth grades. Then I worked in a paint store. When I was at Loyola High School, I worked running documents around. Then in college, I worked beer delivery – that was probably the best job. You'd come in with the kegs to the bars, and they'd ask you if you wanted a quick one. You'd have a beer and then you'd drive and deliver the next keg and so forth.
You never got too intoxicated on the job, though?
Well, I don't know. I hope not, but, you know, at least in my memory I don't recall it. But I'm not saying it didn't happen. (Laughs.)
It's funny, I ask you to talk about your childhood and you give me a list of places you worked.
I think that's where you learned it. Dealing with people. I think that was very important. I had a popsicle stand during the summers. It was called Tommy's. Made them out of Virginia Dare and stuff, put them in the refrigerator, put the sticks in.
What are your interests outside of work?
I can't think of anything. No. I enjoy playing golf. I'm a member of Bel-Air, Lakeside, Wilshire. I'm not very good, but that doesn't seem to bother me.
What's your handicap?
Eighteen. Not very good. But it's great to walk that course, and I also work out every morning at 6. And it's a business situation, too. A lot of lawyers we're opposed to, I'll say, "Let's just go play golf and see if we can't talk about things later."
You'll talk with opposing counsel at golf courses?
It's a nice place to talk because you'll sit down and have a glass of pinot noir with the guy afterwards. And he tends to be more candid and, quite honestly, you're more candid.
What was the biggest breakthrough that happened on a golf course?
About a month ago. We played golf and the next thing you know we got the case resolved for $29 million.
What was the case?
The settlement was confidential so I can't tell you. But I am telling you the truth that I played golf with the defense lawyer and before that the offer was like $15 million. We couldn't live with that and I thought we needed 30, and lo and behold we got it resolved for 29.
What else?
I like to fly in my plane. I have a G-IV and a King Air.
Personal jets?
Generally it's all business stuff. Last week I was in Washington on a Sunday and Monday. Harry Reid appointed me as a trustee at the Library of Congress. On Tuesday, I was here. Wednesday and Thursday I was back in New York. Now I go back on Saturday for a meeting with Exxon on a toxic tort case. It'd be pretty hard to do that commercially.
Can you fly?
I had a single-engine license and I think I could fly if both pilots had a heart attack or something. But I'm not counting on it.
What interests or passions do you have outside of work?
Watching Erika perform. I was with her Saturday night at the Mirage in Vegas.
Your wife, Erika Jayne, is a musician and dancer.
This is my second marriage. Erika's had about four number ones (on Billboard's Dance Airplay chart) now.
How did you meet?
She came to California to be a big star. At the same time I bought into a restaurant called Chasen's on Canon (Drive in Beverly Hills) – it's now a Mastro's. The head partner knew one way to get people eating the groceries was to have great-looking women serving the food. The first test dinner the night before the restaurant opens, Erika was my server. That was 13 years ago and we've been together ever since.
There's pictures of her on the wall. It seems like there's a big age difference.
Oh, yeah. 100 years or so. (Laughs.) But I don't think it seems like it to her. And I don't think it seems like it to me.
Does it add any challenge to the marriage?
I don't think so. I think I'm old enough to do the right thing and she's pretty enough and smart enough. And, you know, when I look at my relationship with her, and then when I look at relationships of people I know, ours is totally different. We'll talk 10 times a day – you know what I mean? She'll leave notes: "Don't forget I love you. Erika." Those sorts of things. We're very, very close. And she's very smart. She has a very good ability to understand other people.
This is the most stuffed animals I've seen in a lawyer's office.
The dinosaur was a gift a lady gave me from her little girl. I represented a matter with the death of her dad. I got to know the young girl she gave me that present.
How did her father die?
Truck accident.
There's a couple hippopotamuses here, too.
That's a pet name that Erika gives to me. I'm the hippopotamus.
Where does that come from?
I think it comes from my size. But I'm much thinner now that I work out all the time.
You're 72. How much longer do you want to keep this going?
Another 72 I think. I feel very good; I feel very strong. I have no trouble working 70 to 80 hours a week, which I do.
Do you have any plan in place for when you leave?
No. This job running this firm, trying to make sure fairness takes place – nobody leaves here. Keese was my partner 44 years ago. The firm is still called Girardi Keese. Virtually everyone else here was (once) a law clerk. I've had two secretaries in 44 years. If you join this firm, it's a life sentence.
Thomas V. Girardi
TITLE: Founding partner
COMPANY: Girardi Keese
BORN: Denver; 1939
EDUCATION: Bachelor's, psychology, Loyola University; J.D., Loyola Law School; L.L.M., New York University.
CAREER TURNING POINT: Taking courses at NYU taught by trial lawyers.
MOST INFLUENTIAL PEOPLE: Mother and father.
PERSONAL: Lives in Pasadena with his second wife Erika Jayne; has four adult children from first marriage.
ACTIVITIES: Golf.
For reprint and licensing requests for this article, CLICK HERE.
Stories You May Also Be Interested In