Local Lenders Feeling Pressure Over Federal Money
Institutions see speedy repayment of TARP funds as bottom-line boost.
Monday, January 2, 2012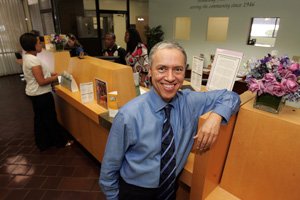 More than half of the L.A. banks that took money from the Troubled Asset Relief Program haven't paid it back yet. And the government is starting to get antsy about it.
Ten of the 18 banks headquartered in Los Angeles County that received money under the U.S. Treasury Department's much criticized financial rescue plan, including some larger institutions such as Cathay General Bancorp, still owe money.
The government is pressuring those banks to cough up, hiring Century City investment bank Houlihan Lokey Inc., which specializes in getting money out of restructurings. With the local financial services industry on relatively stable footing, analysts believe many of the banks are preparing to pay back TARP funds, a move that could bolster their bottom lines and boost shareholder returns.
"The banks that do still have it are ready to get out of it," said Aaron Deer, an analyst with Sandler O'Neill & Partners LP in San Francisco. "When the banks exit the program, more earnings will fall to the bottom line that otherwise wouldn't have."
TARP was created in late 2008 to ensure that the nation's healthiest banks had sufficient capital reserves to survive the market downturn. But the program, which provided $250 billion to banks nationwide, was seen by some as a bailout, leading many of the largest banks to exit the program to shed the stigma.
L.A.'s largest banks, City National Corp. and East West Bancorp Inc., have both repaid their TARP funds. Cathay, which owes $258 million, and BBCN Bancorp Inc., which has $122 million to repay, are the largest local institutions still in the program.
'Well positioned'
Deer, who follows both Cathay and BBCN, said the banks went through some volatile times, but have now stabilized their bottom lines, leaving each able to repay the government without having to raise additional capital.
"I think both of them are well positioned," he said, adding that he expected BBCN to repay early this year and Cathay sometime during the year.
BBCN, now the nation's largest Korean-American bank, has made exiting TARP a priority.
The institution was created after the recent merger of Center Bank and Nara Bank. Each had been holding off on repaying TARP until the merger closed, which happened Nov. 30.
"With the merger successfully completed, our goal is to repay the outstanding $122 million of TARP as quickly as we can," said BBCN Chief Executive Alvin Kang in a statement to the Business Journal. "We expect to begin the process of getting regulatory approvals and filing the application with the Treasury during the first quarter of 2012."
Under the terms of the program, the Treasury bought preferred stock and warrants from participating banks to provide them with cash. The banks were required to pay quarterly dividends to the government in addition to the principal. Though there is no time line for repayment, the interest rate on the dividends rises from 5 percent to 9 percent after five years, giving banks a strong incentive to repay before then.
Even so, the 5 percent rates still weigh on local banks at a time when prevailing rates are lower.
"They are paying for this capital," Deer said.
While many of the largest banks could simply raise capital and repay the government, many community institutions have to get more creative.
Some banks, such as Sun Valley's Mission Valley Bancorp, have exchanged their initial TARP capital for Community Development Capital Initiative money. The CDCI program is part of TARP, but was designed to help small lenders. That money carries an interest rate of just 2 percent for eight years.
"It's a longer-term form of capital at a lower cost, which is much more beneficial for us," said Tamara Gurney, Mission Valley's chief executive, adding that the bank has no immediate plans to repay. "When the timing is right or there are other avenues available we will retire that debt prior to the deadline."
Exploring options
For the 380 banks across the United States that are still in TARP but did not exchange the initial capital for CDCI money, the government is looking for payback.
The Treasury Department recently sent a letter to those institutions to inform them that it has hired Houlihan Lokey "to explore options for the management and ultimate recovery of our remaining … investments."
Though it is unclear exactly what services would be provided, the firm, which has a robust restructuring division, has experience in handling paybacks. The firm has worked on high-profile cases, such as Lehman Bros., Metro-Goldwyn-Mayer Inc. and Blockbuster Inc.
A spokesman for Houlihan Lokey confirmed that it has been hired by the government, but directed additional questions to a Treasury spokesman, who declined comment beyond the letter.
Paul Hudson, chief executive of Broadway Financial Corp., said he has a personal interest in getting out of TARP, because the government has put restrictions on executive compensation at banks that took TARP money.
"Everybody's concerned about severance and everybody's concerned about retirement benefits," Hudson said.
But getting out of the program is proving difficult.
Broadway took $15 million in TARP money to continue making loans during the downturn, but with rising loan losses chipping away at the thrift's capital levels, it was unable to pay back the full amount.
Broadway reached an agreement to trade the Treasury's preferred shares of the bank for common equity at a 50 percent discount. As part of the agreement, however, Broadway must raise additional capital.
"The main thing that's holding it up is we're trying to raise $5 million," Hudson said. "If I had to do it again, I probably would not take TARP because of the difficulty of paying it back."
For reprint and licensing requests for this article, CLICK HERE.