Networking Site Thinks It Has Preteens' Number
Kidsocial to rely on virtual payment systems instead of advertising.
Monday, February 20, 2012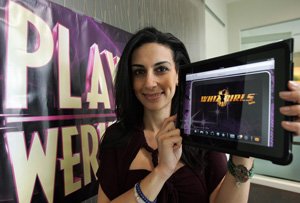 It seems that everyone's mother now has a Facebook page, but the world's most populous social network snubs one group in particular: preteens, who are banned for their own good.
Parents usually see that as protecting their children from predators and other unsavory influences, but for one L.A. startup, it's nothing less than a business opportunity.
Kidsocial Inc. of Santa Monica has rolled out a social network specifically designed for the under-13 crowd – and their parents who hold the purse strings.
The Kidsocial.com site launched just last month and Chief Executive Tim Baio claims that he's adding about a thousand users to the site every day through word of mouth. Meanwhile, he's negotiating agreements with toy and entertainment companies to open pages on the network that feature games and children's characters.
Beverly Hills studio Metro-Goldwyn-Mayer Inc. already has a Pink Panther page on the network that will begin offering streaming episodes of the cartoon for purchase.
"Kids online are spending," said Baio. "Kids can go from brand to brand on the site."
But even though hundreds of millions of dollars are spent online annually on virtual items and video downloads, whether preteens will similarly spend on Kidsocial isn't clear. The site still counts its users in the thousands and some aren't convinced preteens are particularly interested in social networking.
Michael Pachter, a social media analyst at Wedbush Securities in downtown Los Angeles, said preteens are often too immature to share on social networks, and will often prefer to communicate via text or in-person hangouts.
What's more, he noted that even the Walt Disney Co. has had trouble making social gaming work, though its Club Penguin social game network does have millions of users. Disney acquired the online social game for kids ages six to 14 in 2007, but the site missed earn-out targets and Disney ended up paying just $350 million, rather than $700 million for the property.
"If Disney hasn't exploded Club Penguin, I don't see a whole lot of potential," Pachter said.
Cross-Promotion
One major obstacle is the Children's Online Privacy Protection Act of 1998, which forbids collecting data on children under 13 years old. That law means kids' social networks can't deliver the targeted ads that are making Facebook rich.
That's one reason existing kids' social networks such as Club Penguin and Moshi Monsters, developed by a London company, offer subscription fees of about $6 a month.
However, Baio thinks the Facebook approach can work, and Kidsocial offers a free site that allows users to post status updates, "friend" other users and write on their walls. To protect their identity, kids don't use full names or disclose personal information. Instead, they create avatars that take the place of a profile picture and parents retain oversight.
Baio is banking on his experience working with large brands such as toymakers Hasbro Inc. and Tiger Electronics, and as managing director at Egencie Inc., a digital ad agency in Fitchburg, Wis.
He started working on Kidsocial while at Egencie about three years ago, self-funding the initial development before raising about $500,000 a year ago from Chicago venture capital fund Leo Capital Holdings LLC.
Baio announced the social network's launch last week at the International Toy Fair in New York, where he said he signed dozens of companies to agreements that call for Kidsocial to receive 30 percent of all revenue generated on the network. The brands also will plug Kidsocial in their advertisements and tweets, and on consumer websites.
"Brands are going to funnel their under-13-year-old traffic to us," he said.
Most of the agreements were not yet ready for disclosure, but Baio did say he is in talks with Zindorf, Germany, toy brand Playmobil and SeaWorld Parks & Entertainment, the operator of SeaWorld of Orlando, Fla.
One current page, for MGM's Pink Panther, allows kids to "friend" characters in the children's cartoon so they can receive "updates" on the character. The page will soon offer streaming video of the show, which kids can watch by paying in "playcash" or "playpoints."
Playcash, playpoints
Baio said the site's higher-quality or exclusive content will be paid for with playcash, which parents purchase at the rate of 1 cent for every dollar of playcash. Other content, considered less than premium, is accessible through the use of playpoints, which kids accumulate for free by being active on the site – in some cases, just by playing games or watching videos.
Of course, the only way the site will catch on is if parents think it's safe. And safety has been essential in marketing the service to toy and entertainment companies.
To ensure against online predators, friending on the site takes place when a kid passes along a personalized friendship code to a real-life acquaintance via text or in person. When the code for the new friendship is entered, the parents attached to the accounts are notified.
Indeed, those features attracted Shirin Salemnia, who recently launched an L.A. social gaming company for kids called PlayWerks. She is looking to find an online venue for her social game geared toward 8- to 12-year-old girls.
A former brand manager for the Bratz franchise at MGA, Salemnia quit the corporate toy business to launch PlayWerks.
Her first game, based on a sleuth's worldwide adventure, is currently in beta testing with about 350 girls and she plans to launch the game this summer. She said she's planning to meet with Kidsocial about hosting the game and selling virtual goods for 99 cents and up.
"My biggest thing ultimately is, 'Will it be a good fit?'" she said.
For reprint and licensing requests for this article, CLICK HERE.