Networking Site Thinks It Has Preteens' Number
Kidsocial to rely on virtual payment systems instead of advertising.
Monday, February 20, 2012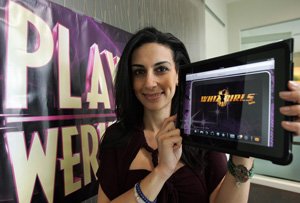 It seems that everyone's mother now has a Facebook page, but the world's most populous social network snubs one group in particular: preteens, who are banned for their own good.
Parents usually see that as protecting their children from predators and other unsavory influences, but for one L.A. startup, it's nothing less than a business opportunity.
Kidsocial Inc. of Santa Monica has rolled out a social network specifically designed for the under-13 crowd – and their parents who hold the purse strings.
The Kidsocial.com site launched just last month and Chief Executive Tim Baio claims that he's adding about a thousand users to the site every day through word of mouth. Meanwhile, he's negotiating agreements with toy and entertainment companies to open pages on the network that feature games and children's characters.
Beverly Hills studio Metro-Goldwyn-Mayer Inc. already has a Pink Panther page on the network that will begin offering streaming episodes of the cartoon for purchase.
"Kids online are spending," said Baio. "Kids can go from brand to brand on the site."
But even though hundreds of millions of dollars are spent online annually on virtual items and video downloads, whether preteens will similarly spend on Kidsocial isn't clear. The site still counts its users in the thousands and some aren't convinced preteens are particularly interested in social networking.
Michael Pachter, a social media analyst at Wedbush Securities in downtown Los Angeles, said preteens are often too immature to share on social networks, and will often prefer to communicate via text or in-person hangouts.
What's more, he noted that even the Walt Disney Co. has had trouble making social gaming work, though its Club Penguin social game network does have millions of users. Disney acquired the online social game for kids ages six to 14 in 2007, but the site missed earn-out targets and Disney ended up paying just $350 million, rather than $700 million for the property.
"If Disney hasn't exploded Club Penguin, I don't see a whole lot of potential," Pachter said.
Cross-Promotion
One major obstacle is the Children's Online Privacy Protection Act of 1998, which forbids collecting data on children under 13 years old. That law means kids' social networks can't deliver the targeted ads that are making Facebook rich.
That's one reason existing kids' social networks such as Club Penguin and Moshi Monsters, developed by a London company, offer subscription fees of about $6 a month.
Prev Next
For reprint and licensing requests for this article, CLICK HERE.