Surrogacy Coverage Fathers Heated Competition
Brokerages have due date in court over allegedly stolen products.
Monday, February 6, 2012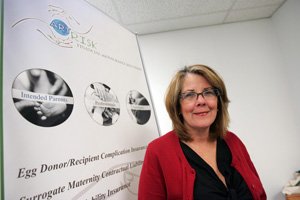 Virginia Hart sells insurance out of an unmarked room in a Valencia office park, with stacks of papers strewn about and a placard that reads, "Organized people are just too lazy to look for things."
But what she's offering isn't as every day as her office.
Hart sells insurance and other financial products to clients of Southern California's booming infertility industry. Need life insurance for a surrogate mother? Medical coverage for egg donations? Negotiated medical costs for a newborn baby?
Hart has a plan for you, at a price tag ranging from a few hundred dollars to the cost of a Cadillac. And Hart's business is becoming more than just a curious niche.
Surrogacy numbers are rising due to advances in technology as well as an influx of overseas clients who come to the United States from other countries. Meanwhile, major insurance companies are seeking to avoid covering the costs, opening the door for a specialized insurance market.
In fact, her very presence has sparked a vicious war with the area's other major competitor, New Life Agency – which had a monopoly on the Southern California market until Hart came along. The two are fighting it out in court over allegations of stolen products. Hart even alleges New Life registered her original trade name to prevent her from using it.
"This is a growing market," she said. "I think there's enough room for the two of us. But if you can prevail and be the sole provider in the field, you can make millions."
There's that kind of money to be made because of the millions pumping through the industry, much of it out of the pocket of wealthy clients. Altogether, the cost of a single child can easily top $100,000, including medical costs and payments to surrogates, agencies and clinics. And because multiple embryos are transferred into surrogates to increase the chances of success, twins and triplets are more likely, along with their higher costs.
Hart and New Life are middlemen, brokering expensive insurance plans costing tens of thousands of dollars and underwritten in Great Britain by Lloyd's of London.
But for domestic medical insurers, who compete on premiums to win business from employers, surrogate pregnancies are a money loser. Many severely limit the coverage, while Tricare, a government insurance program for the military, clarified last year that it would not cover surrogacies. Even California's Pre-existing Condition Insurance Plan, a new state program mandated by federal health care reform, will exclude surrogacy coverage as well.
"The insurance companies are getting very, very savvy about this – others want absolutely nothing to do with it," said Kim Southerland, director of operations at Beverly Hills surrogacy agency Alternative Conceptions.
New market
California has some of the most surrogacy-friendly laws in the nation and they encourage the process, and the L.A. area has become a hotbed of the industry. It's a complicated process, and there are dozens of surrogacy agencies and fertility clinics in the county.
Couples pay surrogacy agencies to find a surrogate to carry and deliver a child for them, and, if necessary, to find an egg donor, too. Attorneys are hired to draw up contracts. Therapists and psychologists are brought in to talk to clients and the surrogate. Ultimately, embryos are created in clinics through in vitro fertilization and transferred into the surrogate, who then hopefully carries the pregnancy to term.
Most industry experts agree there are more than 1,000 surrogacy births in the United States every year. According to one analysis by the non-profit Council for Responsible Genetics, the number rose 89 percent between 2004 and 2008.
With an eye on this growing demand, Trish Taylor, a co-founder of Growing Generations, a large L.A. surrogacy agency, teamed up with New Jersey financial services company Beitler and Lloyd's of London to create and introduce surrogacy-specific insurance to the Southern California market in 2005.
Using Growing Generations as a platform to sell the products, New Life built up a strong presence in the local market, and also sold its products nationwide.
Hart's company, Art Risk, arrived as a newcomer in 2009 but has grown quickly. Sales were less than $1 million last year, but she expects them to double this year.
She had worked as a sales rep for Beitler and teamed up with some of Taylor's former partners to begin selling a similar Lloyd's of London plan.
Both companies sell Lloyd's plans that cost more than $25,000 for a single baby, and $40,000 or more for twins that cover all of the surrogate's pregnancy costs, but exclude other costs, such as in vitro fertilization and the baby's medical expenses.
So, the agencies offer an array of additional products that apply to just about every step of surrogacy. Hart sells medical insurance for $195 to egg donors in case of complications. Also available are life insurance policies for surrogates, as well as supplemental medical policies that can cost as much as $10,000. She takes a commission of about 10 percent of premiums.
Hart also offers a $3,000 service that negotiates down medical costs for newborn babies – aimed at the increasing number of clients who come from other countries. Newborn babies are covered by their parents' insurance, but that doesn't apply to overseas clients. (Some surrogacy agencies told the Business Journal as much as 65 percent of their clients were from overseas; others reported lower numbers.)
New Life, a more established company, offers similar products but also plans that cover in vitro fertilization. And it's launched a program partnering with area clinics to reduce medical costs, and has partnered with Walgreens to sell a card that gives customers discounts on fertility drugs.
The 16-employee company, which recently moved from the Miracle Mile area to Rancho Mirage, has revenue in the millions and is profitable, said Chief Executive Gary Hickox.
"There was no insurance in this space before us," Hickox said.
Bitter fight
The overlap in services is precisely what's led to a bitter legal fight between the two competitors.
It's not pretty. New Life has sued Art Risk in federal court for stealing its products, alleging the upstart company hired away New Life employees and even showed up uninvited at client receptions.
"We're protecting our rights," Hickox said. "This is essentially a new technology in insurance."
Art Risk countered that New Life is just trying to hold on to a monopoly by whatever means necessary. Hart alleged that the company contacted her clients to notify them of the lawsuit in an attempt to damage her reputation. It also, she charged, registered her longtime trade name, The Resource Group, and sent her cease-and-desist letters to stop using it. She's defended herself by questioning the legality of New Life's products in a countersuit.
"They have a problem with me," she said.
Whatever the result, many in the local industry agree that the space needs more competition, as Lloyd's plans are costlier than other alternatives.
Oakland-based Kaiser Permanente and Health Net Inc. of Woodland Hills now seek reimbursement for surrogate pregnancy costs. They don't care who pays, whether it's the intended parents or the surrogate, who generally receive hefty fees ranging from $15,000 to $30,000 per pregnancy.
However, while Kaiser may charge $15,000 for a pregnancy, Hart said, it's still far cheaper than Lloyd's plans, which are at least $25,000.
"The Lloyd's plans are great, but it's extremely expensive, and they make a lot of money doing it," said Shelley Smith, owner of Studio City surrogacy agency the Surrogacy Program, who refers clients to both New Life and Art Risk. "It'd be nice if there was an alternative."
Kim Southerland, who also works with both companies at surrogacy agency Alternative Conceptions, said she, too, wants more competition to bring prices down.
"If all the major insurance companies end up shutting out surrogates, then the only choices available are going to be these two," she said. "It's kind of like when cell phones first came out – it's uncharted territory and they're still figuring it out."
Whether Art Risk can continue selling some of its competing specialized insurance will be determined in court. The case is currently pending in U.S. Central District court in downtown Los Angeles. A tentative trial date has been set for August and discovery is likely to continue for months.
"We've been building up (our business) to this year," Hart said. "I'm not sure what the effect of the lawsuits will be."
For reprint and licensing requests for this article, CLICK HERE.