Site Name Broker Preparing for Suffix Explosion
Buyers seeking multiple domains means a boom in the sales business.
Monday, February 6, 2012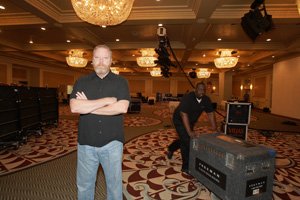 When the auctioneer called the item for bid, no buyer was willing to start high enough. The minimum price was $750,000.
This wasn't a fine art sale by Sotheby's or Christie's, but an auction for Internet domain names such as Juice.com last week as part of the DomainFest Conference at the Fairmont Miramar Hotel in Santa Monica.
Juice.com went unsold, even though the auction took place at a key moment in the domain business. That's because thousands of new names are scheduled to come on the market in coming months. Name Quiver, a Glendale broker of domain names, represented an anonymous seller in the auction of Juice.com. The brokerage also was scheduled to sell Unplugged.com and Eco.org later that evening.
Ken Taylor, chief executive of Name Quiver, said he expected to sell Juice.com after the auction anyway. He sees early 2012 a dynamic time for businesses like his that buy and sell web addresses. Currently, all domains end with a few suffixes such as the familiar dot-com, dot-net and dot-biz. But starting this year, the domain registry organizations plan to release as many as 2,000 new suffixes based on business sectors, company names or geography.
The suffixes – called top-level domains or TLDs in tech lingo – will function as a quick guide for web surfers. For example, a domain ending in dot-hotel or dot-jobs would tell consumers instantly that the site is about hospitality or career advancement. A web name ending in dot-disney or dot-paramount will tell ticket buyers that the site is about a movie from a specific studio. For example, the site for the movie "We Bought a Zoo" would be WeBoughtaZoo.fox. Sites can also have two suffixes: the domain name for the San Antonio Marriott would be SanAntonio.Marriott.hotel.
Taylor believes the arrival of so many more domain names will make traditional dot-com names even more valuable.
"At first, the new system will be complicated and confusing for the general public, most of whom don't even know what a TLD is," he said. "It will take five to 10 years and a lot of marketing money to educate them. In the confusion, people will stick with the good generic dot-com names."
At last year's DomainFest auction, Name Quiver sold Social.com for $2.6 million, the highest publicly disclosed price for a domain name in 2011. For 2010, Sex.com was the world champion, selling for $13 million.
Ben Crawford, chief executive of Dot.Brand Solutions, a domain consultancy in Chino Hills, believes the new TLDs could push the price for premium dot-com names to $20 million or higher.
"It will bring new players and investors into the game," he said.
Those new players will include speculators and international brands. In addition, companies that already own a domain will need to buy others to protect or expand their presence online. For example, a mom-and-pop motel that now has a dot-com website should get a dot-hotel and maybe several other domains based on geography or special interests, Crawford said. That means they might need brokerage services.
Multiple domains
Craig Snyder is chief executive of Moniker, a Seattle subsidiary of L.A.'s Oversee.net that conducted the Santa Monica auction in partnership with Name Quiver. He said the pressure to buy multiple domains has already surfaced among international companies. For instance, he recently spoke with an online jewelry retailer looking to buy names with two-letter country extensions, such as dot-fr for France.
"Five years ago they had their dot-com and that's all they cared about," Snyder explained. "Now they want to be covered in Argentina, India, China and other countries."
Name Quiver is a subsidiary of Marksmen, a company that Taylor started 14 years ago to protect trademarks for corporate clients. With the rise of the dot-com economy, ownership of domain names became connected with trademark protection, and that's how Taylor moved into the domain name brokerage business. He started Name Quiver in 2009; together his companies employ 25 people. The private company doesn't disclose revenue.
Name Quiver sells domains that are owned by corporate clients with large domain portfolios. The domains were purchased for product launches that never materialized, were assets in corporate acquisitions, or were bought or registered to prevent competitors from controlling them. From time to time, corporations sell off their unused names and they hire a broker like Name Quiver to handle the sale.
Taylor likens the process to a real estate transaction. First, the domain broker estimates the selling price of a name by looking at its ranking as a term on search engines and its traffic if it's currently on the Web. Then the broker looks at comparable sales for similar names that Name Quiver has handled in the past.
For names worth less than $10,000, Name Quiver lists them on domain sale sites or puts contact information on the site for interested buyers. More valuable names are put up for auction or sold privately to contacts in Name Quiver's database.
Sometimes a name appears that gains value through trends of the day.
"Names are virtual real estate and certain properties transcend the market when the timing is right," he said. "Social.com was a perfect example, catching the popular trend of social networks at the right moment. Those kinds of deals are always valuable."
For reprint and licensing requests for this article, CLICK HERE.