Site Name Broker Preparing for Suffix Explosion
Buyers seeking multiple domains means a boom in the sales business.
Monday, February 6, 2012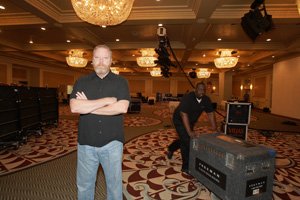 When the auctioneer called the item for bid, no buyer was willing to start high enough. The minimum price was $750,000.
This wasn't a fine art sale by Sotheby's or Christie's, but an auction for Internet domain names such as Juice.com last week as part of the DomainFest Conference at the Fairmont Miramar Hotel in Santa Monica.
Juice.com went unsold, even though the auction took place at a key moment in the domain business. That's because thousands of new names are scheduled to come on the market in coming months. Name Quiver, a Glendale broker of domain names, represented an anonymous seller in the auction of Juice.com. The brokerage also was scheduled to sell Unplugged.com and Eco.org later that evening.
Ken Taylor, chief executive of Name Quiver, said he expected to sell Juice.com after the auction anyway. He sees early 2012 a dynamic time for businesses like his that buy and sell web addresses. Currently, all domains end with a few suffixes such as the familiar dot-com, dot-net and dot-biz. But starting this year, the domain registry organizations plan to release as many as 2,000 new suffixes based on business sectors, company names or geography.
The suffixes – called top-level domains or TLDs in tech lingo – will function as a quick guide for web surfers. For example, a domain ending in dot-hotel or dot-jobs would tell consumers instantly that the site is about hospitality or career advancement. A web name ending in dot-disney or dot-paramount will tell ticket buyers that the site is about a movie from a specific studio. For example, the site for the movie "We Bought a Zoo" would be WeBoughtaZoo.fox. Sites can also have two suffixes: the domain name for the San Antonio Marriott would be SanAntonio.Marriott.hotel.
Taylor believes the arrival of so many more domain names will make traditional dot-com names even more valuable.
"At first, the new system will be complicated and confusing for the general public, most of whom don't even know what a TLD is," he said. "It will take five to 10 years and a lot of marketing money to educate them. In the confusion, people will stick with the good generic dot-com names."
At last year's DomainFest auction, Name Quiver sold Social.com for $2.6 million, the highest publicly disclosed price for a domain name in 2011. For 2010, Sex.com was the world champion, selling for $13 million.
Ben Crawford, chief executive of Dot.Brand Solutions, a domain consultancy in Chino Hills, believes the new TLDs could push the price for premium dot-com names to $20 million or higher.
Prev Next
For reprint and licensing requests for this article, CLICK HERE.