Homebuilder's House Divided
REAL ESTATE: KB Home investors challenge exec pay.
Monday, August 27, 2012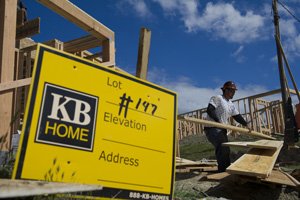 To get a sense of the struggles at KB Home, look no further than the second quarter loss it reported this summer.
Executives hailed the $24 million hit, stressing that the figure was less than half that of a year earlier and an indication the Westwood homebuilder was on its way back to profitability.
But the loss also highlighted just how much the company continues to trail rival homebuilders, which already are making profits as the housing market rebounds from the crash.
"They have been underperforming their peer group," said David N. Williams, an analyst at Williams Financial Group in Dallas. "We've seen some market share loss to some of their competitors, and I think they've got a little bit of a reputation they've got to do correcting on."
Last year, KB Home saw its shares drop by half as its annual net loss more than doubled to $179 million, including nearly $69 million in the second quarter alone. That was the second biggest fall in annual net income among 11 homebuilders that make up the S&P Supercomposite Homebuilding Index.
Aside from the fact it continues to lose money, KB continues to lag rivals in other metrics, such as new-home orders. Even its year-to-year stock return of about 100 percent is among the lowest among its peers. The stock, which closed at $10.74 on Aug. 22, is lower than at the beginning of last year, when it topped $15.
The company's performance has spilled over into shareholder anger over executive pay. A majority of shareholders, upset that executives received millions in cash incentives after meeting low performance targets, voted against executive compensation packages in a nonbinding "say on pay" vote earlier this year. A shareholder derivative lawsuit was filed this month.
The company declined to comment for this article due to the pending litigation. But during its June earnings call, Chief Executive Jeffrey Mezger said the company was on the right track.
"With … our intensified growth strategies, we expect to be profitable by the fourth quarter of 2012 and profitable for the full year in 2013," he said.
Struggles
KB Home focuses on selling built-to-order homes catering largely to first-time buyers. Like other builders, it was hit hard by the housing crash, with revenue dropping from a high of $11 billion in 2006 – its last profitable year – to $1.8 billion in 2009. The losses piled up, totaling more than $2.3 billion through the first half of this year.
Prev Next
For reprint and licensing requests for this article, CLICK HERE.