Homebuilder's House Divided
REAL ESTATE: KB Home investors challenge exec pay.
Monday, August 27, 2012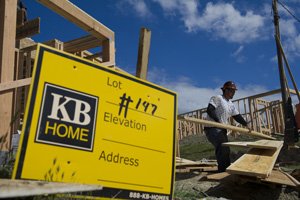 To get a sense of the struggles at KB Home, look no further than the second quarter loss it reported this summer.
Executives hailed the $24 million hit, stressing that the figure was less than half that of a year earlier and an indication the Westwood homebuilder was on its way back to profitability.
But the loss also highlighted just how much the company continues to trail rival homebuilders, which already are making profits as the housing market rebounds from the crash.
"They have been underperforming their peer group," said David N. Williams, an analyst at Williams Financial Group in Dallas. "We've seen some market share loss to some of their competitors, and I think they've got a little bit of a reputation they've got to do correcting on."
Last year, KB Home saw its shares drop by half as its annual net loss more than doubled to $179 million, including nearly $69 million in the second quarter alone. That was the second biggest fall in annual net income among 11 homebuilders that make up the S&P Supercomposite Homebuilding Index.
Aside from the fact it continues to lose money, KB continues to lag rivals in other metrics, such as new-home orders. Even its year-to-year stock return of about 100 percent is among the lowest among its peers. The stock, which closed at $10.74 on Aug. 22, is lower than at the beginning of last year, when it topped $15.
The company's performance has spilled over into shareholder anger over executive pay. A majority of shareholders, upset that executives received millions in cash incentives after meeting low performance targets, voted against executive compensation packages in a nonbinding "say on pay" vote earlier this year. A shareholder derivative lawsuit was filed this month.
The company declined to comment for this article due to the pending litigation. But during its June earnings call, Chief Executive Jeffrey Mezger said the company was on the right track.
"With … our intensified growth strategies, we expect to be profitable by the fourth quarter of 2012 and profitable for the full year in 2013," he said.
Struggles
KB Home focuses on selling built-to-order homes catering largely to first-time buyers. Like other builders, it was hit hard by the housing crash, with revenue dropping from a high of $11 billion in 2006 – its last profitable year – to $1.8 billion in 2009. The losses piled up, totaling more than $2.3 billion through the first half of this year.
The company pulled out of markets and sold land, reducing the lots it owned or controlled from 131,000 to 38,000 by 2009. At the same time, its employee headcount fell from 6,700 to just 1,400 after several rounds of layoffs. It also sold off its nearly 50 percent share in its French unit.
Those moves helped keep the company afloat, but rivals have been quicker to take advantage of the reviving housing market. Lennar Corp., D.R. Horton Inc. and Toll Bros. Inc. each ended last year in the black. Ryland Group Inc., its Westlake Village competitor, didn't do as well but reduced its losses.
KB Home shares have jumped 50 percent since early June when they were trading around $7, but new-home orders in the second quarter were up only 3 percent from last year. That doesn't compare well with increases of at least 40 percent reported by Lennar and Toll.
The company has partly blamed lending issues. Last year, MetLife Inc. replaced Bank of America Corp. as the company's preferred mortgage lender, only to announce in January that it was shutting down its mortgage lending. KB Home announced a partnership with another lender, Nationstar Mortgage, in March. The disruptions led to a spike in order cancellations.
"As we reflect on the last 18 months, we underestimated the impact that our mortgage relationships with Bank of America and MetLife had on our business," Mezger said in the June earnings call.
But analyst Williams noted that there are other factors for the sluggish turnaround. He said the company's slower build-to-order process has hampered its ability to quickly nab those new customers who have rushed back. And even though KB Home exited poorly performing markets such as Indianapolis and Atlanta over the last several years, it got stuck with land in fringe areas away from city centers when the housing crash happened – properties undesirable in a low-growth market.
Now, with national home sales near a two-year high, the company's growth strategy calls for it to spend about $350 million on new land and development during the second half of the year. The company specifically wants to expand into coastal regions and developed suburbs in order to sell more expensive homes to wealthier customers. That strategy has been successful for its rivals.
"With our operational momentum and the markets improving, we are going on offense, and I have personally made this my top priority," Mezger said during the earnings call.
Andrew Casella, an analyst at the New York office of Imperial Capital LLC, expects a steady recovery from KB Home, but said he was "agnostic" about the new plan.
"A lot of homebuilders are moving toward more expensive homes and trying to reach up in the market," he said. "They're probably a little late to the game (with their purchases)."
Pay problems
Meanwhile, shareholders have shown frustration with executive pay packages.
Mezger and other executives qualify for additional cash incentives if they achieve just one of three annual performance goals related to net income, home deliveries and new-home communities open for sale. One of those goals last year was simply to prevent the company from having a pretax loss exceeding $125 million.
KB reported a net loss last year of $179 million. But its pretax loss, not including inventory impairments and other non-recurring items, was $90.6 million. The loss was much wider than a $56.4 million pretax loss the year before, but the company reported in a filing that the loss still qualified the executives for the cash incentives.
The incentives totaled more than $3 million for several executives, in addition to performance-related options. And Mezger was awarded the lion's share of the cash incentives – almost $2 million – boosting his total compensation last year to $5.9 million. That made him the third highest paid executive at a major public homebuilder.
A lawsuit filed this month in Los Angeles Superior Court seeks to block the compensation packages on behalf of shareholders. But Carla Feldman, an attorney at Arent Fox LLP in downtown Los Angeles who reviewed the shareholder lawsuit for the Business Journal, said the investors face an uphill battle in court.
Though some lawsuits following say-on-pay votes have resulted in changes via settlements, others have been thrown out. Earlier this year, a similar case against Pasadena's Jacobs Engineering Group Inc. was dismissed by a Los Angeles Superior Court judge.
Paul Hodgson, senior research associate in the Portland, Maine, office of corporate governance consultancy Governance Metrics International, said KB Home has long had executive pay issues.
"In the cases of the companies that did make some changes to compensation, they were clear that they really needed to do something in order to shore up their reputation in the market and among shareholders," he said. "I haven't seen KB Home do anything like that, ever."
For reprint and licensing requests for this article, CLICK HERE.