Cooling Off?
Solar ranch nears launch as large projects lose sizzle
Monday, August 27, 2012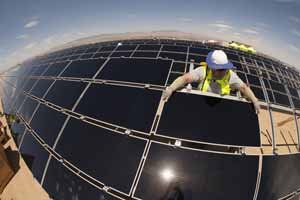 There's a nowheresville in Los Angeles County: miles and miles of scrub-covered desert stretching from the far reaches of Lancaster to the Golden State (5) Freeway.
Smack in the middle is Antelope Valley Solar Ranch One, an array of photovoltaic solar panels spread over an area larger than West Hollywood that eventually will produce enough power for about 75,000 homes. Its $1.4 billion cost also makes it the county's most expensive construction project right now.
Despite its remote desert location, the solar ranch has had many of the same problems experienced by other big projects, including permitting delays and opposition from nearby residents. Those are common problems for big solar installations, a glut of which are being built across the Southwest. But such farms could become much rarer in the years ahead as utility companies get close to meeting renewable energy requirements.
But for now, 500 workers are grading land, installing solar panels and laying power lines at the solar ranch. Executives with builder First Solar of Tempe, Ariz., said they are on track to meet their goal of producing power by October despite a construction delay this spring.
"It's hard to get a sense of how many people we have working – the place is so big," said First Solar spokesman Alan Bernheimer. "You've got a few dozen folks here, a few dozen there. But they're spread around the different parts of this huge, huge project."
Indeed, by any measure, the solar ranch is massive. It sits on three square miles of land and will eventually have about two square miles of solar panels – an astounding 3.8 million panels in all.
Designed to produce 230 megawatts of power, Solar Ranch One is by far the largest and most expensive solar development in county history, and one of the largest such projects in the country. It was financed by the project's owner, Exelon Corp. of Chicago, and by a $646 million loan guarantee from the Department of Energy.
Despite backing from Washington, the project has run into problems with local governments. The company had to stop work for three months during a permit dispute with the county, and local town councils in the rural Antelope Valley are fighting First Solar over the project.
"They are definitely against the installation of this project out there," said Dexter Gauntlett, an analyst at Boulder, Colo., clean technology consultancy Pike Research. "People don't want it there."
For reprint and licensing requests for this article, CLICK HERE.
Prev Next