Former Titan of Television Looks for New Life Online
INTERNET: TV Guide to relaunch mobile app with focus on interactivity.
Monday, August 20, 2012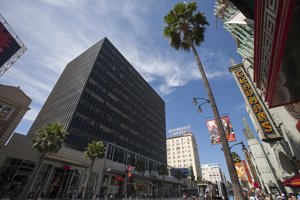 In the era of cathode-ray televisions, a TV Guide could be found on about any coffee table in America. Compact and loaded with program listings, it was virtually required reading.
Today, tablets and smartphones are keeping viewers company in front of their flat screens, doling out real-time information no print product can duplicate.
Now, TV Guide's successor company is trying to make the brand once again the go-to place for viewers, this time to make sense of the new digital media universe. The company, TV Guide Digital, is scheduled to announce a major relaunch of its mobile application this week, but it does so amid industry doubts.
"Can TV Guide regain its past glory on digital devices? I'd be really skeptical if they do," said Mark Ely, chief executive of Simple.TV, a San Anselmo company that is building a web-connected DVR to stream TV programs on mobile devices.
"In the old days (TV Guide) was one of the only places to find out what you could watch. The challenge is that there are so many innovative products that are doing the same kind of thing."
With its relaunch, TV Guide is getting into social TV, which allows viewers to use smartphones, tablets and computers to interact with friends who are tuned in. But TV Guide is far from alone in offering such second-screen features, which intend for users to promote shows in their social circles and ultimately draw advertising.
Beverly Hills social-TV startup Actv8.Me recently disclosed an investment from Fox Broadcasting Co. Miso, a San Francisco startup, has investment from the venture arm of Google Inc., while New York's GetGlue has investment from a venture arm of Time Warner Inc.
"Not a day goes by that a new entrant doesn't enter the social discovery side of TV," said Eric Elia, president of New York-based software company CainKade. "People are trying to establish audience and winning products that would hopefully pay off over time."
Online alternatives
Media pioneer Walter Annenberg published the first issue of TV Guide in 1953, combining local listings with feature articles in a national publication. The magazine rose to pop culture status as TV became the centerpiece of most households. By 1970, circulation reached about 20 million.
But the proliferation of cable program guides in the 1980s and, later, the introduction of online alternatives cut deeply into the magazine's popularity. In response, TV Guide launched its own cable channel to broadcast its listings in 1981, which is now called TV Guide Network. Annenberg's Triangle Publications sold off the business in 1988 to News Corp. for $3 billion, including other assets.
After other ownership changes, the money-losing magazine was sold in 2008 to Beverly Hills private-equity firm Open Gate Capital for the assumption of its substantial liabilities and a token $1. The magazine still exists, but it guarantees advertisers a circulation of just 2 million.
Meanwhile, Lions Gate Entertainment Corp., the Santa Monica independent movie studio, bought the cable channel and digital assets in 2009 for $255 million as part of an effort to build its TV business. Lions Gate has since sold a 49 percent stake to One Equity Partners, a private-equity arm of JPMorgan Chase & Co.
Currently, TV Guide Network reaches up to 80 million households, primarily broadcasting reruns of shows such as "Ugly Betty" and "Weeds," along with its channel guide. The channel has recently been increasing its original programming.
But the rapid shift toward digital viewing has also caused ownership to invest in making TV Guide more mobile. The TV Guide app was among the first crop of second-screen applications a few years ago. TV Guide makes listings as well as some entertainment news available through the app. It has so far been downloaded about 7 million times and has drawn advertising. For example, A&E Networks promoted its miniseries "Bag of Bones" with an expansive campaign on the app last year.
With its relaunch this week, TV Guide is hoping to fortify its place in the hands of viewers with a range of new features.
One is a social check-in that tells friends what the viewer is watching. Another notifies viewers where they can see their favorite programs, sports teams or even actors on various platforms. So, for example, a viewer who enjoys Showtime's "Dexter" might find out that a recent show could be seen live or streamed on a website. There also is a chat feature.
The relaunch has been led by the digital unit, which operates from offices in Hollywood, New York and Chicago. The Hollywood building lost its "TV Guide" illuminated sign several years ago.
'Positive catalyst'
Still, it's unclear how much patience the current owners will have with the TV Guide assets.
In its most recent annual report, Lions Gate disclosed that the TV Guide cable channel and digital assets lost $28.5 million for the year ended March 31, 2011. Meanwhile, rumors of a TV Guide channel and digital sale have been reported, with Lions Gate and One Equity hiring an investment bank to guide the process.
Lions Gate and TV Guide executives declined to be interviewed for this story.
An estimate from analysts at Evercore Partners in New York placed the cable channel's value at $230 million to $270 million. The digital assets, including TVGuide.com and the mobile app, were valued at $25 million to $50 million.
Others weren't quite as generous. After the disclosure of the most recent annual loss at TV Guide, analyst Benjamin Mogil at Stifel Nicolaus & Co. in Toronto slashed his estimate for the value of the assets in half – to about $100 million in total.
He wrote that he "would view any sale as a very positive catalyst" for Lions Gate, in a research note this month
For reprint and licensing requests for this article, CLICK HERE.