Canned Heat
RECYCLING: Acrylatex's business of treating and reselling old paint should get boost from expanded state program.
Monday, August 20, 2012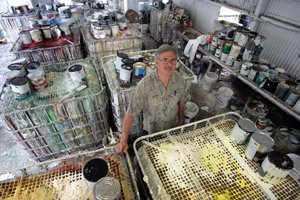 Excess paint is usually nothing more than a hassle for most people, something that takes up space in a closet or garage. For Gary Erb, it's worth at least $1 million a year.
Erb is a co-owner of Acrylatex Coating & Recycling, an Azusa company that is one of only four paint recyclers in California and the only one in Los Angeles County.
The business collects old paint, then processes and resells it for uses ranging from architectural coatings to asphalt sealers. Now, after years of receiving most of his paint from suppliers who collect it from municipal hazardous household waste drop-off sites, Erb is about to get a whole lot more business.
A state law will go into effect Oct. 19 that will add a surcharge to the price of paint to pay for the costs of developing a wider drop-off program with sites at popular retailers.
"It's a win-win situation," said Erb. "We need to keep recycling our products. We can't just keep dumping our leftovers into the landfills."
The bill, AB 1343, gained support from both the American Coatings Association, a leading paint industry trade group in Washington, D.C., and non-profit environmental organizations such as Californians Against Waste.
Signed into law in 2010, it was modeled after the country's first paint stewardship program in Oregon and requires a manufacturer's surcharge, which is passed on to consumers. The surcharge ranges from 35 cents for a pint to $1.60 for a five-gallon container. The revenue will be funneled to PaintCare, a non-profit organization backed by the paint industry that also operates the Oregon program.
PaintCare is working with paint, hardware and home-improvement stores to help create drop-off locations for consumers, and is contracting with transportation companies to send the paint to recycling companies. Other paint recyclers include Amazon Environmental Inc. in Riverside and California Paint Recyclers Inc. in Sacramento.
The state's Department of Resources Recycling and Recovery estimates that 2.6 million gallons of latex and oil-based paint were recycled last year. PaintCare hopes to raise that number to about 3.6 million gallons within two years.
"We're working as fast as we can to get the right permitting and approvals to add the paint collection program to the stores," said Marjaneh Zarrhaparvar, executive director of PaintCare, which is headquartered in Washington, D.C., but has in-state staff for each state program.
Deluge of paint
Acrylatex got its start in 2004 as a disposal company for hazardous waste. It was co-founded by Erb, 67, who had been in transportation and warehousing, and partner Brian Brittain, 51, who had made a career in the disposal business.
Prev Next
For reprint and licensing requests for this article, CLICK HERE.