Canned Heat
RECYCLING: Acrylatex's business of treating and reselling old paint should get boost from expanded state program.
Monday, August 20, 2012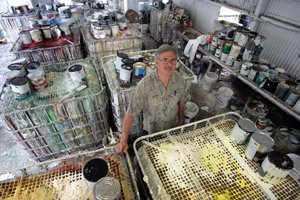 Excess paint is usually nothing more than a hassle for most people, something that takes up space in a closet or garage. For Gary Erb, it's worth at least $1 million a year.
Erb is a co-owner of Acrylatex Coating & Recycling, an Azusa company that is one of only four paint recyclers in California and the only one in Los Angeles County.
The business collects old paint, then processes and resells it for uses ranging from architectural coatings to asphalt sealers. Now, after years of receiving most of his paint from suppliers who collect it from municipal hazardous household waste drop-off sites, Erb is about to get a whole lot more business.
A state law will go into effect Oct. 19 that will add a surcharge to the price of paint to pay for the costs of developing a wider drop-off program with sites at popular retailers.
"It's a win-win situation," said Erb. "We need to keep recycling our products. We can't just keep dumping our leftovers into the landfills."
The bill, AB 1343, gained support from both the American Coatings Association, a leading paint industry trade group in Washington, D.C., and non-profit environmental organizations such as Californians Against Waste.
Signed into law in 2010, it was modeled after the country's first paint stewardship program in Oregon and requires a manufacturer's surcharge, which is passed on to consumers. The surcharge ranges from 35 cents for a pint to $1.60 for a five-gallon container. The revenue will be funneled to PaintCare, a non-profit organization backed by the paint industry that also operates the Oregon program.
PaintCare is working with paint, hardware and home-improvement stores to help create drop-off locations for consumers, and is contracting with transportation companies to send the paint to recycling companies. Other paint recyclers include Amazon Environmental Inc. in Riverside and California Paint Recyclers Inc. in Sacramento.
The state's Department of Resources Recycling and Recovery estimates that 2.6 million gallons of latex and oil-based paint were recycled last year. PaintCare hopes to raise that number to about 3.6 million gallons within two years.
"We're working as fast as we can to get the right permitting and approvals to add the paint collection program to the stores," said Marjaneh Zarrhaparvar, executive director of PaintCare, which is headquartered in Washington, D.C., but has in-state staff for each state program.
Deluge of paint
Acrylatex got its start in 2004 as a disposal company for hazardous waste. It was co-founded by Erb, 67, who had been in transportation and warehousing, and partner Brian Brittain, 51, who had made a career in the disposal business.
In February 2006, California designated all paint as a "universal waste," which means it was banned from landfills that handle regular household and commercial trash. Previously, the state permitted smaller amounts of paint to be dumped into the trash, with certain restrictions.
After the law went into effect, the company found itself deluged with old paint and decided in 2008 to go into the paint-recycling business.
"We did some paint recycling before then, but we started getting so much paint in that we decided to change the business to paint recycling," Erb said.
Acrylatex, like all paint recyclers in California, only recycles latex paint. After putting the old paint through a proprietary chemical process, five main products are made in more than 20 colors each. Most of them are sold to contractors and the like and used as regular paint. Some of the paint is used for graffiti abatement and a low-quality grade is made into asphalt sealants.
Acrylatex sells the products for about half the price of new paint, with a minimum purchase of five gallons at $8 to $12 a gallon. The paint is sold through retail distributors nationwide. Customers can also make online orders or stop in at its headquarters. Sales topped $1 million last year.
The company receives about 90 percent of its paint from household waste disposal programs that may be operated by cities or counties, while the rest comes from companies and the general public. Oil-based paints, governed by separate regulations, are sent out of state to be recycled.
Because paint cannot be disposed of in regular landfills, Acrylatex is able to charge $2 per gallon to its suppliers of paint. The company processes about 20,000 gallons a month but expects that figure to rise by up to one-third after the new program is fully implemented, Erb said.
Generating traffic
In California, there are about 120 locations statewide where consumers can drop off paint. PaintCare's goal is to make a location available to most California residents within a 15-mile radius of their home, boosting the locations to about 750.
PaintCare expects to receive $25 million to $35 million in fees from the program in its first year. In addition to public education, marketing and staff, that money will pay the recycling companies for processing the paint and contractors to deliver it from the drop-off sites.
However, PaintCare is not paying retailers to operate the sites, arguing it is a community service that will draw customer traffic and business.
"It's the retailers showing that shared responsibility," said Zarrehaparvar, who is in talks with retailers now.
Among the companies that have agreed to participate is Dunn-Edwards Corp., an L.A.-based paint manufacturer that sells its products in 100 Dunn-Edwards-branded stores nationwide, with the majority in California.
Dunn-Edwards Chief Executive Karl Altergot said his company is participating because if this voluntary industry-led program does not work, it's likely the government will enact one in its place.
"At the end of the day, it's better to have the industry solve this problem than government-run collection facilities. Because it is our belief that we can do it more efficiently," he said.
Meanwhile, Acrylatex is getting ready for an expansion. The company employs 14 and expects to hire five more to handle the additional paint, even as it automates several jobs.
"We anticipate that due to the convenience factor, more people will bring in their old paint to recycle, which would generate more income for us," said Erb. "We expect to be hiring more people, and we are looking at larger facilities. It's a good thing for everyone."
For reprint and licensing requests for this article, CLICK HERE.