Blowout Fallout?
Crackdown may level hair-straightener playing field
Monday, April 16, 2012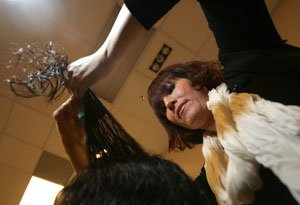 The maker of popular hair straightener Brazilian Blowout has taken a few haircuts this year, fending off regulators and paying more than $5 million to settle lawsuits over the cancer-causing formaldehyde in its signature product.
What's more, Brazilian Blowout and similar products have been banned in Canada, several European nations and even Brazil. Though there's no U.S. ban, some domestic beauty supply distributors are backing away as well.
That's bad news for GIB LLC, the North Hollywood company behind the Brazilian Blowout brand. But it's turned out to be great news for another San Fernando Valley company, Pacoima's Zerran International Corp., which makes a vegan formaldehyde-free hair straightener called Reallisse.
Zerran introduced that product 15 months ago, just a few months before federal officials said Brazilian Blowout created health risks for salon workers and customers. Since then, Zerran's sales have increased 40 percent, thanks mostly to sales of Reallisse and the shampoos and conditioners that go with it.
"We've had a gigantic increase in sales in Europe, Eastern Europe, Scandinavia, North Africa," according to Cindy Van Steelandt, Zerran's director of marketing, who just returned from a trade show in Italy where she said there was plenty of demand for Reallisse. "We got a boost because two weeks before we arrived, the Italian government banned two dozen different brands of Brazilian Blowout-type products."
As recently as 2010, the company had no sales abroad. Foreign sales made up 23 percent of its revenue last year and Zerran executives expect that number will continue to grow. To keep up, the company this month moved into new offices with a warehouse and distribution center, more than doubling its space.
A few miles south at GIB, there's no expansion under way and the company has seen the writing on the wall. It's agreed to include a warning on its products to settle lawsuits filed by the California Attorney General's Office, and by stylists and customers who said they were harmed by Brazilian Blowout. It can no longer sell its main product in Europe because of bans there, and domestically, some suppliers say many stylists don't want to use products that contain formaldehyde.
GIB officials declined to comment.
Despite the warning and the well-publicized health risks associated with breathing formaldehyde fumes, the company still makes a product known for its superior results. Stylists, competitors and even scientists agree that Brazilian Blowout, generically a Brazilian keratin smoothing treatment, makes hair straighter and keeps that form longer than other treatments.
Prev Next
For reprint and licensing requests for this article, CLICK HERE.