Blowout Fallout?
Crackdown may level hair-straightener playing field
Monday, April 16, 2012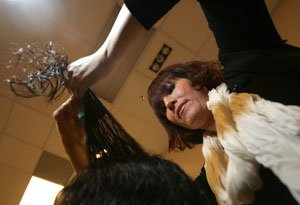 The maker of popular hair straightener Brazilian Blowout has taken a few haircuts this year, fending off regulators and paying more than $5 million to settle lawsuits over the cancer-causing formaldehyde in its signature product.
What's more, Brazilian Blowout and similar products have been banned in Canada, several European nations and even Brazil. Though there's no U.S. ban, some domestic beauty supply distributors are backing away as well.
That's bad news for GIB LLC, the North Hollywood company behind the Brazilian Blowout brand. But it's turned out to be great news for another San Fernando Valley company, Pacoima's Zerran International Corp., which makes a vegan formaldehyde-free hair straightener called Reallisse.
Zerran introduced that product 15 months ago, just a few months before federal officials said Brazilian Blowout created health risks for salon workers and customers. Since then, Zerran's sales have increased 40 percent, thanks mostly to sales of Reallisse and the shampoos and conditioners that go with it.
"We've had a gigantic increase in sales in Europe, Eastern Europe, Scandinavia, North Africa," according to Cindy Van Steelandt, Zerran's director of marketing, who just returned from a trade show in Italy where she said there was plenty of demand for Reallisse. "We got a boost because two weeks before we arrived, the Italian government banned two dozen different brands of Brazilian Blowout-type products."
As recently as 2010, the company had no sales abroad. Foreign sales made up 23 percent of its revenue last year and Zerran executives expect that number will continue to grow. To keep up, the company this month moved into new offices with a warehouse and distribution center, more than doubling its space.
A few miles south at GIB, there's no expansion under way and the company has seen the writing on the wall. It's agreed to include a warning on its products to settle lawsuits filed by the California Attorney General's Office, and by stylists and customers who said they were harmed by Brazilian Blowout. It can no longer sell its main product in Europe because of bans there, and domestically, some suppliers say many stylists don't want to use products that contain formaldehyde.
GIB officials declined to comment.
Despite the warning and the well-publicized health risks associated with breathing formaldehyde fumes, the company still makes a product known for its superior results. Stylists, competitors and even scientists agree that Brazilian Blowout, generically a Brazilian keratin smoothing treatment, makes hair straighter and keeps that form longer than other treatments.
Because of that, many U.S. salons say their customers aren't likely to switch unless the product is banned. Cynthia Heisser, senior vice president at downtown L.A. beauty supply distributor Ultimate Beauty Cos., said she has used keratin treatments herself in the past and that less harsh products don't measure up.
"I've had them done years ago and it's heaven. It changes your lifestyle. It changes your time management in the morning," she said. "With other products, there is still a good amount of frizz."
Blowout blow-up
A Brazilian keratin treatment uses a mixture of animal protein keratin and chemicals to break down and reform bonds in hair that create curls and frizz. In the past four years, the treatments became a hot trend among women looking to tame curly locks – and among salon owners looking to boost revenue. Clients pay between $150 and $600, depending on the salon and the length of their hair.
"It's been a spectacular success," said Mike Nave, president and publisher of the Beauty Industry Report, a trade publication based in Calabasas. "It satisfies a lot of women by effectively changing the texture of their hair. And it came along at a great time. In these lean times, it literally kept some (salons) in business."
A key ingredient in many such products is methylene glycol, a liquid form of formaldehyde, which evaporates when treated hair is straightened with a heated flat iron, said David Andrews, a senior scientist with the Washington, D.C., consumer watchdog Environmental Working Group.
The resulting fumes can burn customers' and stylists' eyes, and cause blistering or nosebleeds, especially when used in poorly ventilated areas.
"It's kind of a sulfur smell. When you put the hot iron on it, you get the fumes," said Domingo Serquinia, co-owner of salon Paint Shop Beverly Hills. "It will burn your eyes if you're right up close to it."
Governments worldwide have studied the side effects of Brazilian keratin systems, and products that contain or release high levels of formaldehyde were banned even in Brazil where the technique was first developed.
Anticipating that ban, a salon supplier in Sao Paolo, Brazil, in 2005 asked Zerran to develop a formaldehyde-free hair straightener. Zerran, founded in 1987, sold shampoos, conditioners and styling products in Brazil at the time and had developed products for other companies. The company ultimately developed Reallisse, which, like Brazilian Blowout, smooths or straightens hair for about three months. That product was released in January of last year.
The key difference between Reallisse and a typical Brazilian keratin system is that a keratin system uses formaldehyde to bond animal proteins to hair, while Reallisse uses a special high-heat iron – one that stays at 450 degrees, hotter than most models – to bond vegetable proteins to hair.
The product has been a big hit, especially among women in Europe and Canada, where keratin treatments are now banned. This month, Zerran started shipping Reallisse to Brazil and expects that country to represent its largest market.
"It looks like international sales are going to grow even more this coming year," said Steve Saute, Zerran's president. "We're probably going to double them."
No deterrent
Though popular abroad, Reallisse hasn't taken off in the United States, where keratin treatments are still legal. That's largely because, as Saute acknowledged, Reallisse and other products don't straighten hair as well as a keratin treatment.
"It's not a substitute for the Brazilian Blowout," he said. "You can't get the same results."
Indeed, Serquinia, at Paint Shop Beverly Hills, said customers rarely choose Reallisse over a keratin treatment, with customers generally being more concerned about results than possible health risks.
"We've used (Reallisse) on girls who are pregnant and are freaked out about the formaldehyde," he said. "Those people are on board right away. But most clients come in and say they don't think (the formaldehyde) is going to be that big a deal."
That's despite more than a year's worth of bad publicity for GIB and other companies that make keratin treatments. The Food and Drug Administration in August warned the company that its products were dangerous and misbranded, specifically objecting to GIB's claims that Brazilian Blowout is formaldehyde free.
In January, the company's settlement with the state Attorney General's Office required it to pay $600,000 in fines and legal fees, and to include on its products a Proposition 65 warning indicating that they contain carcinogens. Last month, GIB paid $4.5 million to hair stylists and clients who had sued over side effects of Brazilian Blowout in a settlement that requires the company to remove "formaldehyde-free" claims on packaging nationwide.
Nave of Beauty Industry Report said regulations on formaldehyde in cosmetics will almost certainly be tightened. Already, Congress is looking at several bills that would make it easier for the FDA to stop the sales of products such as Brazilian Blowout.
But so far GIB doesn't appear concerned. The company's chief executive, Michael Brady, even told the New York Times that the recent class-action settlement was "the acquittal we've been waiting for" and that it ensured the company can "sell the product forever without reformulation."
While distributors say many stylists want to switch to other products, customers still want Brazilian Blowout. Marjan Jazabry, owner of the M Salon in Beverly Hills, said she's actually seen more interest in keratin treatments since the formaldehyde issue sprang up.
"I suppose it was negative advertising, but more people heard about it," she said. "I tell them about the formaldehyde and most of them still want the Brazilian Blowout."
For reprint and licensing requests for this article, CLICK HERE.