Apparel Makers Suit Up for China
Program fashions export plan for L.A. companies.
Monday, September 12, 2011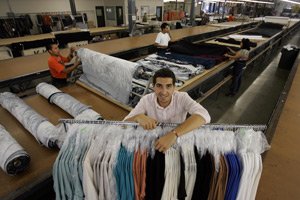 "Made in U.S.A." labels on clothes stacked on the shelves of stores in China?
Those in the fashion industry say that's no fantasy. American-made clothes are becoming hot items for a growing Chinese middle class.
And efforts are under way to help L.A.'s apparel companies get ahead of the trend. The California Fashion Association, the Port of Los Angeles and the Department of Commerce recently began working with downtown L.A. apparel maker Velvet Heart to export its locally made trendy clothes to China.
If Velvet Heart succeeds, it could open the door to a huge new market for more of the area's fashion companies, which employ 120,000 workers.
"There is a cachet about America all over the world and we aren't taking advantage of it," said Ilse Metchek, executive director at the California Fashion Association, a downtown L.A. trade group. "The opportunities are enormous."
But American apparel companies don't do much exporting. Metchek said less than 10 percent of apparel made domestically is sold in other countries.
What little exporting has been done has been the domain of big fashion houses. The many small and medium-size companies that make up L.A.'s apparel industry find it particularly challenging to export. A Chinese distribution partner must be enlisted, and the exporter has to deal with rules that can change overnight, sometimes stranding shipments for months.
Velvet Heart was selected for the pilot program because Chief Executive Moshe Tsabag already tried and failed to get his clothes into China. About five years ago, he spent hundreds of thousands of dollars on legal fees, translators, merchandise and other expenses to export to China clothes made by an apparel company he previously owned, Hot Kiss. The effort never paid off.
Of course, China is known for manufacturing and finishing apparel that it sends to the United States. But Tsabag is willing to try again to send a reverse stream to China – now that he's getting help.
"I'm interested in exporting 'Made in U.S.A.,' " Tsabag said. "All of my career, I've been importing from China. I want to export over there. China's economy is growing, there's money over there and the consumer wants 'Made in U.S.A.' "
If Tsabag succeeds this time, other local apparel companies would like to follow him, including women's clothing makers A.B.S. by Allen Schwartz; Tadashi Shoji; and Karen Kane, a family business that includes Marketing Director Michael Kane.
Geraldine Knatz, executive director at the Port of Los Angeles, said that would be a likely scenario.
Prev Next
For reprint and licensing requests for this article, CLICK HERE.